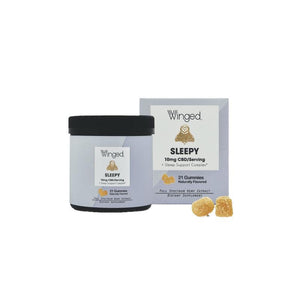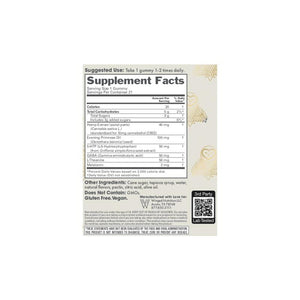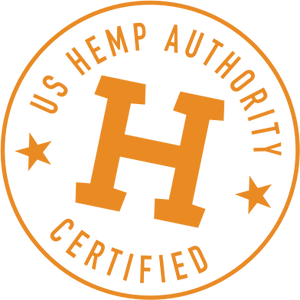 Winged Sleepy CBD Gummies – 10mg per serving (30 count)
Winged Sleepy CBD Gummies - 10mg per gummy
Winged Sleepy CBD Gummies 10mg Cannabinoid Hemp Extract per serving, 210 per bottle
Concentration per Container: 210mg Full Spectrum CBD per container
Concentration per Serving: 10mg hemp-derived CBD extract per serving; 1 gummy; 21 servings per container 
Carrier: Evening Primrose Oil
Extraction Process: CO2 Extraction
Additional Product Specifications
Packaging: Plastic container with plastic lid. Approximately 5.4oz by weight.
Product Specifications: Each container has 21 gummies containing 10mg concentrations of CBD extract. Each serving (1 gummy) of Winged CBD Sleepy Gummies provides 10mg full spectrum hemp-derived CBD extract.
210mg of active Cannabinoids per bottle
10mg Active Cannabinoids per serving
Full Spectrum Cannabinoid Extract
Carried in Evening Primrose Oil
Plant-based ingredients
Made in the USA
Winged Sleepy CBD Gummies is conveniently packaged in a plastic container and provides a dozy concentrated dose. Proudly manufactured in Kentucky from Kentucky grown hemp.
Flavor, Ingredients & Allergens
Flavor: Lemon
Product Ingredients: CBD from Full Spectrum Hemp, Evening Primrose Oil, Melatonin, 5-HTP Amino Acid, GABA Amino Acid, L-Theanine Amino Acid, Cane Sugar, Tapioca Syrup, Water, Natural Flavors, Pectin, Olive Oil, Citric Acid, Organic Fruit and Vegetable Juice (color) 
Allergens: none
How to Use Winged Sleepy CBD Gummies
Suggested Use: Take 1-2 gummies daily. Increase as needed or as directed by your medical professional. Take after a meal or a high fat snack.
210mg Cannabinoid Spectrum Table
Winged Sleepy CBD Gummies 210mg Cannabinoid Spectrum
| | |
| --- | --- |
| Cannabinoid | mg/gummy |
| CBD | 10.07 |
| THC | <0.3% |
| Total | 10.07 |
| Max CBD | 10.07 |
| Max THC | <0.3% |
Disclaimers & Disclosures
*** Use caution if subject to urinalysis.
*** Hemp Extract CBD Oil is not intended for use under the age of 18. Do not take if you are pregnant or lactating. Consult your physician before use if you have a medical condition or are taking any medication. Do not exceed recommended serving size.
***These statements and product has not been evaluated or tested by the FDA and are not intended to diagnose, treat or cure any disease.
About Winged
What Are Winged Sleepy CBD Gummies?
Winged Sleepy CBD Gummies are small, yummy treats that hold carefully measured amounts of CBD per each gummy. With a delicious, all-natural, fruit tasting gummy, they provide customers with a yummy, simple solution for their CBD needs. Full of 10mg of active cannabinoids per serving, Winged Sleepy CBD Gummies provide users necessary relaxation-promoting nutrients. Also, they taste good enough to block any pesky aftertaste that comes with raw CBD. 
Additionally, users can consume Winged Sleepy CBD Gummies at any time throughout the day. However, the company suggests consuming them before wanting to go to sleep, as they help relax the mind and body. Winged Sleepy CBD Gummies are dietary supplements that hold no added preservatives or GMOs.
Specifically formulated for women with sleep difficulties, Winged Sleepy CBD Gummies use full spectrum hemp extract to provide various additional components of the hemp plant, necessary for sustained health and continued wellness. This also enhances necessary nutrients from the cannabis plant that help put your mind at ease.
Moreover, each gummy contains all-natural ingredients from industrial hemp. This makes Winged Sleepy CBD Gummies the perfect way to add things like terpenes, fatty acids, flavonoids, and cannabinoids to one's dietary regimen. With 210mg of CBD per bottle, Winged Sleepy CBD Gummies gives sufficient relaxation support to calm one's overactive mind and enhance their quality of sleep. As if that wasn't enough, they also work to relieve all kinds of mental stress.
Even more, many seem to find ingesting CBD hard because of its unmistakable earthy tone and flavor. Winged Sleepy CBD Gummies, though, combine CBD with oils and flavors to produce a taste much better than raw CBD. Specifically, the company uses Evening Primrose Oil, cane sugar, tapioca syrup, water, natural flavors and more in their formula to produce a yummy product.
Winged Sleepy CBD Gummies also offer the same relaxing benefits of CBD other products do but in a more delicious way. Consuming Winged Sleepy CBD Gummies everyday can help women fall asleep faster, stay asleep longer and feel more relaxed.
Why Purchase Winged CBD Gummies Or Winged Products?
To first learn why Winged Sleepy CBD Gummies can benefit you, you must first learn about Winged as a company. So, to start, Winged considers itself the first CBD oil product line made only for women by women.
The company produces all of these products in GMP-compliant facilities. Also, every single product, including Winged Sleepy CBD Gummies, is entirely gluten-free.
As if that weren't enough, Winged uses only effective and safe extraction methods when producing its products. Instead of using tough solvents to extract their oils, Winged uses a solvent-free CO2 extraction process. This method is not only safe but also much friendlier for the environment. The company uses this extraction method to make sure all of its products are free from any type of adulteration or unwanted chemicals.
That said, a leading reason on why to buy Winged Sleepy CBD Gummies is due to the company's complete transparency throughout its production process. The company sends every single product they create to a third-party lab for testing. They do so to make sure each product is safe, potent and effective when consumed. This assures their products' quality, potency and purity before putting them on the market to purchase.
Even more, the company uses only pesticide-free farming methods when they grow their hemp extract in Kentucky.
Moreover, Winged provides customers the opportunity to find their product's Certificate of Analysis (COA) right there on the package. Each product contains a label with a QR code that users can scan which will direct them to that product's COA. The COA provides consumers with all of the wanted info about their product. It contains the concentrations of all active cannabinoids that it holds such as CBDa, CBC, CBG, CBN and more. This is vital so users can know the product they are buying actually contains the amount of CBD Winged says it does.
Providing a certificate of analysis per product is just another way customers can trust Winged as a company and lets them know they're receiving some of the highest-quality CBD oil products out there.
Understanding CBD Oil And How Winged Sleepy CBD Gummies Actually Work
To fully understand the benefits of consuming Winged Sleepy CBD Gummies, it's essential to learn how CBD itself works. So what is CBD? To start, cannabis sativa plants hold hundreds of different naturally occurring compounds. Scientists have been actively studying many of these compounds due to their potential as a medicinal solution for a variety of treatments.
Specifically, the compound most interesting to scientists and researchers, as well as healthcare professionals, are cannabinoids. This is likely because they see cannabinoids as able to provide relief for a growing, wide range of medical conditions, from sleep problems to anxiety and inflammation.
Each cannabinoid within cannabis sativa and industrial hemp plants provide wildly different effects within one's body. However, each also offers different potential uses for one's health and wellness.
There are two main cannabinoids that scientists mainly recognize for their medicinal properties. These are THC (tetrahydrocannabinol) and CBD (cannabidiol). While many typically associate the two together, they actually produce very different effects on the body. For instance, THC, the main active ingredient in marijuana, is what produces the high associated with smoking cannabis.
On the other hand, however, CBD is non-intoxicating. This means users can consume it without feeling any mind-altering or intoxicating effects. Actually, studies have shown CBD can offer many calming, pain-relieving, anti-inflammatory properties.
Winged Sleepy CBD Gummies has a number of other potential uses, as it also helps relieve everyday stress and anxieties. Basically, Winged Sleepy CBD Gummies can help enhance one's sleep without providing any altered state of mind, other than to relax you.
Benefits Of Winged Sleepy CBD Oil Gummies For Sleep Support
Problems falling and staying asleep usually don't just occur on their own. Usually, when people are troubling to fall asleep, that means there is a greater problem such as pain or anxiety and stress. With Winged Sleepy CBD Gummies, users will be able to treat these areas of discomfort that are interrupting their sleep.
Winged Sleepy CBD Gummies contain naturally sourced active amino acids such as 5-HTP, GABA and L-Theanine. These constituents function to support melatonin production as well as help calm an overactive mind and relieve muscle discomfort. L-Theanine is actually found in green tea and helps negate  the stimulating effects of caffeine. It also helps promote a state of pure mind relaxation.  
Even more, melatonin is the body's natural sleep hormone that helps regulate one's sleep cycle. Winged Sleepy CBD Gummies actually are made with a small amount of melatonin itself too to help promote a deep and effective night's sleep.
There are lots of benefits from taking Winged Sleepy CBD Gummies to help you sleep. For instance, discomfort definitely keeps people awake at night. If you're experiencing any joint or chronic pains, you definitely know what it's like to go months with poor quality sleep. Winged Sleepy CBD Gummies contains CBD derived from hemp with anti-inflammatory properties, making it an organic pain reliever. With Winged Sleepy CBD Gummies, users are able to reduce their discomfort and therefore, fall asleep quicker and more effectively. 
While aches, pains and joint inflammation can often keep individuals awake at night, physical ailments aren't the only things that impact one from receiving a good night's sleep. Actually, anxiety, depression, stress and other mental conditions can significantly impact one's sleep cycle. By taking Winged Sleepy CBD Gummies before going to bed at night, individuals can experience an improved quality of sleep.
Get Sleep Relief With Winged Sleepy CBD Gummies For Women – At Anavii Market
Anavii Market is a number one seller of Winged Sleepy CBD Gummies. Offering CBD oil products for sleep support, we are devoted to providing our customers with the highest-quality CBD oil products that help support their overall health.
If you have any questions or concerns regarding Winged Sleepy CBD Gummies or CBD products for sleep support in general, please feel free to at 502-209-8808 or Connect with Us here.
Winged CBD is a proud member of the Kentucky Proud and US Hemp Roundtable.
Winged is a Proud Member of: 
Their products are amazing and the customer service is unparalleled! The representatives are always kind and courteous, they are patient and willing to answer any question that you may have about their products.
Quentina
I researched Anavii for quite a long time. They are a very reputable company. Every experience I have had with Anavii has been professional, expedient, and exact. I am very pleased with every transaction I have had. All the products that we have used has worked as described.
Kathleen