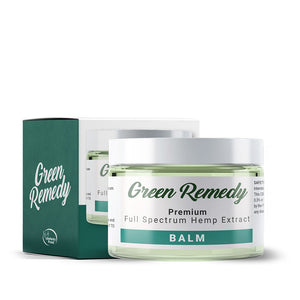 Green Remedy 200mg CBD Oil Balm
Green Remedy 200mg CBD Oil Topical
Product Specifications
Concentration per container: 200mg CBD oil and cannabinoid rich extract
Concentration per serving: 4mg hemp-derived hemp extract per serving (1g); 60 servings per container
Carrier: Grapeseed Oil
Fragrance: Fragrance free, No Artificial Fragrances
Aroma: Plant based essential oils: Citrus
Extraction Process: Supercritical CO2


Additional Product Specifications

Packaging: Glass jar with plastic top. Approximately 5.3oz by weight.

Product Specifications: 2 fl oz (60ml) bottle contains 200mg of hemp-derived extract. Each serving provides 4mg of full spectrum hemp-derived extract.
Full Spectrum Hemp Extract
100% Plant-based ingredients
No artificial fragrances
All natural herbal extracts
Non-GMO
Vegan
Gluten free
BPA-free packaging
Ingredients & Allergens
Product Ingredients: Grapeseed Oil, Black Pepper Oil, Roman Chamomile Flower Oil, German Chamomile Flower Oil, Cinnamon Leaf Oil, Citronella Oil, Yellow Beeswax, Peppermint Oil, Coconut Oil, Sweet Basil Leaf Oil, Eucalyptus Leaf Oil, Helichrysum Flower Oil, Ginger Root Oil, Pink Grapefruit Peel Oil, Juniper Berry Oil, Lemongrass Oil, Pine Needle Oil, Ravensara Oil, Rosemary Leaf Oil, Spearmint Oil, Wild Oregano Oil, Organic Cypress Oil, Fennel Oil, Lemon Peel Oil, Full Spectrum Hemp Extract

Allergens: Contains coconut
How To Use Green Remedy CBD Oil Balm
Suggested Use: Apply to localized area as needed. Do not use on open wounds.
Green Remedy 200mg CBD Oil Balm Cannabinoid Spectrum
| | |
| --- | --- |
| Cannabinoid | mg/ml |
| CBD | 4.01 |
| CBC | 0.15 |
| THC | 0.14 |
| Total | 4.30 |
| Max CBD | 4.01 |
| Max THC | 0.14 |
About Green Remedy CBD Oil Balm
What is Green Remedy CBD Oil Balm?
People have been using hemp extracts topically to remedy skin conditions, rashes and irrational for hundreds of years around the world. CBD oil products are available in many forms; they come in oils, isolates, tinctures, capsules, wax, lotions, balms and even dog treats!
Green Remedy CBD Oil Balm is an organic CBD topical cream that's used to treat affected areas of the skin. It holds a specified amount of CBD to benefit inflammation, rashes and pain. Green Remedy CBD Oil Topical produces soothing relief to those who use it.   
When users apply Green Remedy CBD Oil Balm to spots of discomfort, it alleviates pain in targeted areas. Even more, not only does Green Remedy CBD Oil Balm supply healing properties but also makes users smell wonderful! With a light, breezy all-natural fragrance, you won't have to worry about your body odor ever again. In addition, there are no artificial fragrances, so users can ease concerns of parabens and aluminum when applying the cream.
Green Remedy CBD Oil Topical is a great fit for those with chapped skin, sore muscles and achy joints. Carefully crafted using plant-based ingredients, Green Remedy CBD Oil Topical combines 25 of the most well-known herbal extracts. This is to promote wellness across the body.
With soothing effects, this balm mixes 200mg of hemp-derived extract with tons of essential oils like pink grapefruit, citronella and eucalyptus. When combined, these natural elements work to help fight against dry, irritated and aged skin. Green Remedy CBD Oil Balm revitalizes skin, leaving it moisturized and promoting a more youthful appearance.  
Does Green Remedy CBD Oil Balm Really Work? Absolutely. Here's how:
Hemp-infused topicals like Green Remedy CBD Oil Balm are not only safe but also very efficient to use. Basically, when in lotion form, CBD works by interacting with a network of CB2 receptors in the skin, as well with the TRP channels found in the plasma membrane. TRP channels are not part of the classical encdocannabinoid system, but receive cannabinoids like CBD. TRP channels mediate sensations like pain, temperature, taste and pressure. Present throughout the body, CB2 receptors and TRP channels are activated either by endocannabinoids that our bodies naturally produce or by chemical compounds known as phytocannabinoids found in cannabis and hemp plants, like CBD and THC.
Our Green Remedy CBD Oil Balm is hemp-derived but may contain trace quantities of THC, however, fear not, you will not feel intoxicated. Beyond the low concentration of THC (less than 0.3% by law), cannabinoids have a difficult time seeping into the bloodstream when ingested topically. So instead of being received by CB1 receptors or other cannabinoid receptors, cannabinoids ingested externally only affect the CB2 receptors and TRP channels. So, rather than full body relief, this type of administration is the perfect solution for smaller, localized areas. Think sprained ankles, lower back relief, and sore joints!
Green Remedy CBD Oil Balm is a topical, which means none of the ingredients, like CBD, reach one's bloodstream. Rather, Green Remedy CBD Oil Balm quickly absorbs into the skin, creating a faster experience of pain relief.
Recommended Use of Green Remedy CBD Oil Balm for Best Results
As with any new health and wellness product, it's important to speak with your healthcare provider before trying CBD. This is especially essential if you're already taking other medications. It's unlikely that CBD, when used topically, would cause any drug interactions. However, there is little data regarding drug interactions and CBD so it is always important to speak with a doctor beforehand, especially if you're pregnant or have any severe medical conditions.
Likewise, as with any new skincare product, start by applying a small amount to an area like your arm and leave it overnight. This is to make sure you don't have any allergic reactions to the new cream. After making sure you're not allergic, feel free to apply the Green Remedy CBD Oil Balm to any area you're experiencing pain or irritation. Start with a small amount, as a little goes a long way!
People typically use CBD creams and balms on their hands, feet, back, knees and neck. You can massage Green Remedy CBD Oil Balm onto any muscles or joints that are bothering you throughout the day.  Focusing on difficult areas, Green Remedy CBD Oil topical provides a relaxing sense of relief, but topicals are traditionally for short-term effects and should be re-applied often for best results.
When applying Green Remedy CBD Oil Balm, make sure to wash, clean and dry the area beforehand. It's also essential that you keep the lotion away from any children, open wounds and out of your eyes. If, for some reason, any discomfort or irritation should occur, cease using the cream and consult your physician as soon as possible.
Will Using Green Remedy CBD Oil Topical Really Help Me?
CBD has health benefits, according to the World Health Organization, along with many other acclaimed publications. However, due to federal restrictions, we can't definitively claim the medical benefits of using Green Remedy CBD Oil Balm. Though, there exists a large amount of anecdotal evidence online regarding the benefits of Green Remedy CBD Oil Balm and other topicals.
We highly encourage users to search the Internet and look through the various amount of information regarding CBD online. There, you'll easily be able to find many resources regarding CBD oil topicals, like Green Remedy CBD Oil Balm, and their many possible medical or therapeutic benefits.
However, once applied to the skin, CBD topicals like Green Remedy CBD Oil Balm work rather quickly to provide relief. This is because applying CBD topically lets people get to the exact source of their pain.
Most users find that regular application provides a soothing effect that significantly reduces localized soreness and aches. Users commonly use CBD for pain relief, but research shows that CBD can reduce inflammation and pain in those with arthritis, psoriasis, and other skin conditions. With this in mind, scientists continue to actively research the effects of CBD oil, meaning they're likely to reveal many other potential benefits soon.
Green Remedy CBD Oil Topical — Leading CBD Oil Balm Only at Anavii Market  
Devoted to sustainably developing the United States hemp industry over the past ten years, Anavii Market cares tremendously about the quality of our CBD oil products. All CBD products sold through Anavii Market, like Green Remedy CBD Oil Balm, go through a rigorous third-party verification system. This is to ensure top quality, potency, contamination, and overall safety.
For further questions or concerns regarding our CBD oil topicals like Green Remedy CBD Oil Balm, please feel free to give us a call at 502-209-8808 or if you'd prefer, Contact Us here. We're more than happy to assist you!  
Disclaimers & Disclosures
*** Disclaimer: Hemp Extract Oil is not intended for use under the age of 18. Do not take if you are pregnant or lactating. Consult your physician before use if you have a medical condition or are taking any medication. Do not exceed recommended serving size. Do not apply to open wounds.
This is a hemp-derived CBD product. It contains less than 0.3% THC by concentration and is legal across all 50 states.
***These statements and product has not been evaluated tested by the FDA and are not intended to diagnose, treat or cure any disease.
Their products are amazing and the customer service is unparalleled! The representatives are always kind and courteous, they are patient and willing to answer any question that you may have about their products.
Quentina
I researched Anavii for quite a long time. They are a very reputable company. Every experience I have had with Anavii has been professional, expedient, and exact. I am very pleased with every transaction I have had. All the products that we have used has worked as described.
Kathleen