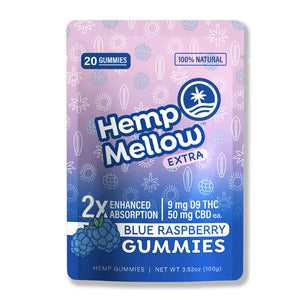 Hemp Mellow 10mg THC Gummies
Hemp Mellow 10mg THC Gummies are delta9 thc gummies and all natural. These 10mg thc gummies offer a delightful way to unwind with their tantalizing Blue Raspberry flavor and precisely measured THC per gummy. Crafted to provide a gentle, yet effective relaxation experience, these gummies are the perfect solution for those seeking a soothing escape from the stresses of daily life. With Delta 9 THC's potential for promoting a sense of calm and tranquility, these gummies are a fantastic choice for those looking to unwind after a long day or simply to enhance their overall well-being. The delectable blue raspberry taste adds an extra layer of enjoyment to the experience, making these gummies a tasteful and convenient way to explore the soothing effects of Delta 9 THC. Get yours today at Anavii Market!
Their products are amazing and the customer service is unparalleled! The representatives are always kind and courteous, they are patient and willing to answer any question that you may have about their products.
Quentina
I researched Anavii for quite a long time. They are a very reputable company. Every experience I have had with Anavii has been professional, expedient, and exact. I am very pleased with every transaction I have had. All the products that we have used has worked as described.
Kathleen