What is the best hemp oil for Dogs? We are here to discuss everything CBD hemp oil for dogs. Keep reading to learn more about CBD hemp oil benefits for dogs and hemp oil dosage for dogs. We will also discuss the best CBD hemp oil for dogs that we carry on our site.
From Labradors to Shi Tzus. Poodles and Schnauzers. Chihuahuas and Mastiffs. Every breed of canine can benefit from hemp oil for dogs. Pet owners far and wide have reported to Veterinarians that CBD has helped their dogs with arthritis, seizures, and anxiety.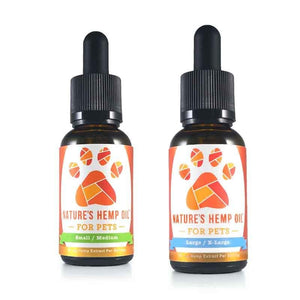 Nature's Hemp Oil For Pets - S/M dog (250mg) or L/XL dog (500mg)
$24.85
So what is the best hemp oil for dogs? Answer: verified CBD from a trusted site like Anaviii Market. We have a Hemp for Pets collection that has hemp oil for dogs that has been lab tested and verified. These hemp oil for dogs products have been specially formulated for our canine friends.
Furthermore, we are here to answer your hemp oil dosage for dogs questions. We are also happy to discuss hemp oil benefits for dogs if you think hemp cbd oil might be right for your dog.
What is the Right Dosage of Hemp Oil for Dogs?
Before we dive further into more details of how hemp oil for dogs can benefit your canine. Let's give a brief overview of hemp oil dosage for dogs. 
Hemp Oil Dosage Guide
In order to find the proper hemp oil dosage for your dog, you must first determine the weight of your dog. 
For every 10lbs body weight you will want to give your dog around 1mg per CBD. You can give them more of course and they won't overdose. However, we recommend 1mg per 10lbs as the standard starting dose for hemp oil for dogs. (Example: 35 pound dog will get 3.5 mg CBD)
Keep in mind why you are giving your dog hemp oil. If your dog is in severe pain you may want to increase these dosage recommendations. If you are just hoping to keep your pup healthy or help with mild anxiety, then just stick with the standard dose.
What are the Benefits of Hemp Oil for Dogs?
Hemp oil benefits for dogs are numerous. It is not a miracle cure, but you will absolutely notice an increase in your dog's quality life. CBD Hemp oil is essential to any wellness program for your dog. It delivers results to help your canine that you will notice without producing any intoxicating effects.
If your dog has arthritis, anxiety, cancer, or seizures then CBD hemp oil is a great supplement for your dog. Moreover. Many pet owners have been turning to hemp oil for dogs as a natural way to keep their dogs happy and healthy. CBD hemp oil is also a great option for pet owners just hoping to help their dogs maintain a good quality of life.
See below for a list of conditions that Hemp oil for Dogs may help support:
Arthritis
Scares
Stress
Digestion
Inflammation
Skin Conditions
To really understand CBD hemp oil benefits for dogs, we suggest ordering a bottle and seeing how your dog responds. You may very well be amazed. Pet owners have reported that it has given life back to their dogs that have suffered mobility issues due to arthritic pain. Reduction in seizures might be one of the most measurable benefits that CBD has shown for humans and dogs.
We are delighted that there is a natural alternative that people can choose for themselves and their dogs. We hope you shop with us, but even if you don't we highly encourage reading the below considerations for buying hemp oil for dogs. 
What to Look For When Buying Hemp Oil For Dogs
The process of buying CBD oil can be confusing and time consuming. CBD products are everywhere. How do you know what is best and which brands to stay away from? Luckily, we are here to give you the information you need while also exhibiting our selection of third party verified and lab tested CBD oil. Anavii Market is a one-stop shop for all of your hemp needs.
We are always so pleased to help explain the benefits of hemp oil for dogs to customers. Pet owners have remarked at how much CBD has helped their dog. Unfortunately, not all CBD is created equal. Some people have been selling CBD that contains little or no CBD essentially ripping off the customer.
So how do you know you are getting quality hemp oil for your dog? When buying CBD hemp oil for your dog you should consider the following:
Certificate of Analysis to verify there is CBD in the product and it is free from contaminants. If a product has not been lab tested, then that would be a red flag.
Credence attributes like USDA Organic or US Hemp Authority Certified. Buying organic US Hemp Authority Certified is a great way to make an educated buying decision.
Appropriate dosage for your size dog. You want the right dosage that is easy to administer to your dog.
Full Spectrum vs CBD Isolate. Full spectrum always is more effective than CBD Isolate.
Best Hemp Oil For Dogs From Anavii Market
Anavii Market carries a number of Hemp oil for dogs products that have been lab tested to ensure label accuracy and purity. Please see below for the list of hemp oil for dogs products we carry and be sure to reach out if you have any questions or need assistance with an order.
Our dogs are central and very important to our lives, and we are happy that there are natural options to help them. Dogs are often prescribed harmful drugs like phenobarbital to help control seizures. CBD hemp oil for Dogs allows pet owners to help improve their dog's life the natural way.
There has been a general wellness trend with people looking for healthier alternatives like plant-based medicines. We often see people trading in ibuprofen for CBD oil. Now we have the same option for dogs. CBD hemp oil for dogs can help support relief of conditions they may have while also promoting balance and homeostasis.
We want our dog's to have the best life possible. Ensuring they are free from stress and inflammation so they can stay happy and agile is important. CBD hemp oil for Dogs is the best way to do that. CBD for Pets from Anavii Market is a safe and effective CBD supplier for you and your furry friend.

Anavii Market is a leading seller of CBD Hemp Oil for Dogs. We also carry a durable hemp rope dog toy on our online store. Anavii Market is here to help with hatever your canine hemp needs are. Furthermore, if you are interested in getting some CBD for yourself, then we have just the deal for you. Our Nature's Hemp Oil- CBD Combo Deal- Pet Friendly package is just what you need when your are shopping for hemp oil for your self and your dog.

If You're Looking for the Best Hemp Oil for Dogs, Contact Anavii Market Today!