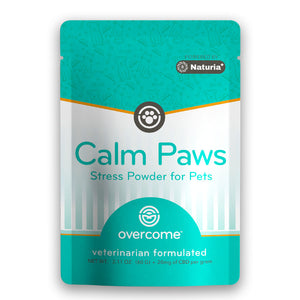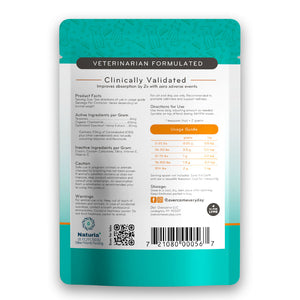 This food topper for pets comes in a powder form which has been veterinarian proven to be safer and more effective than other CBD pet products. With a blend of ingredients such as chamomile, cannabinoids and terpenes combined with Naturia+, our patented bioavailability technology, it is sure to calm your pet. When given daily it can help with stresses such as separation anxiety, loud fireworks and thunder or just everyday anxiety that your pet may experience. 
Our clinical trial in dogs recorded an average of 2x absorption increase over MCT oil with 0 adverse events. Conversely, MCT oil recorded 50% adverse reactions primarily consisting of digestive issues.

Feeding instructions: Use twice daily, adjusting amount as needed. Sprinkle on top of food during AM/PM meals. See usage guide on package for dosing.
Their products are amazing and the customer service is unparalleled! The representatives are always kind and courteous, they are patient and willing to answer any question that you may have about their products.
Quentina
I researched Anavii for quite a long time. They are a very reputable company. Every experience I have had with Anavii has been professional, expedient, and exact. I am very pleased with every transaction I have had. All the products that we have used has worked as described.
Kathleen