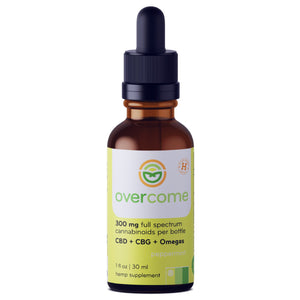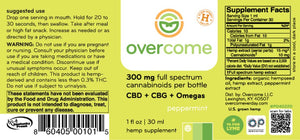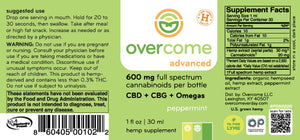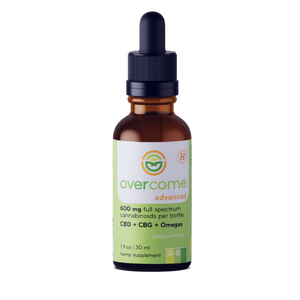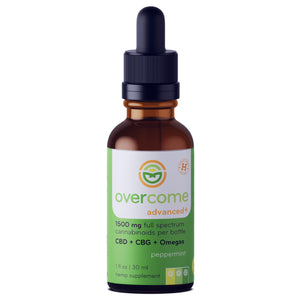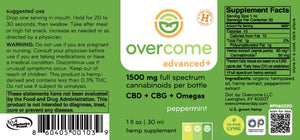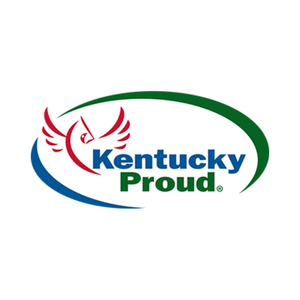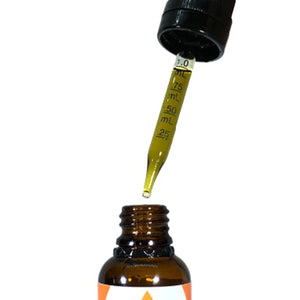 Overcome Full Spectrum CBD Oil 
Formerly Nature's Hemp Oil
Concentration: 300mg bottle, 600mg bottle, 1500mg bottle
Serving Size:
300mg bottle - 10mg cannabinoids per ml
600mg bottle - 20mg cannabinoids per ml 
1500mg bottle - 50mg cannabinoids per ml 
Carrier: Organic hempseed oil
Extraction Process: Ethanol & CO2 extraction
Product Ingredients & Allergens
Product Ingredients:  hempseed oil, full spectrum hemp extract, peppermint oil
How to Use Overcome CBD Hemp Oils
Suggested Use: Start with 1ml daily. Take after a meal or a high fat snack. Increase as necessary or as directed by your physician.
CBD Oils can have a very subtle effect. If you don't feel results, take the product for 2 weeks straight, then stop and see if you notice a difference. Traditional servings are anywhere between 20mg to 100mg per serving depending on intended use. 
Disclaimers & Disclosures 
*** Hemp Extract CBD Oil is not intended for use under the age of 18. Do not take if you are pregnant or lactating. Consult your physician before use if you have a medical condition or are taking any medication. Do not exceed recommended serving size.
***These statements and product has not been evaluated or tested by the FDA and are not intended to diagnose, treat or cure any disease.
*** Use caution if subject to urinalysis.
About Overcome 
About Overcome Hemp Oils
Overcome Hemp Oils were formerly named Nature's Hemp Oil. While the products underwent a name change they are still the owned by the same company. The brand was simply rebranded to better match the social mission of the company, formulating cannabinoid products to help those trying to overcome life's greatest challenges. 
Overcome Hemp Oil are formulated by Anavii's co-founder Annie Rouse. A company that like Anavii, was started to help Annie overcome her battle with Lyme Disease. In fact 1% of all sales are donated to Lyme Disease research and education. 
Overcome Hemp Oils come in three concentrations which allow you to find the right serving size. New to CBD? Overcome recommends starting with their 300mg or 600mg then increasing to the 1500mg once you have found the serving size that works best for you. 
Overcome 300mg is an introductory bottle that contains 10mg per ml (1 dropperful). Overcome 600mg is the advanced formula that contains 20mg per ml (1 dropperful). And Overcome 1500mg is the advanced formula that contains 50mg per ml (1 dropperful). And what's more is the droppers contain a markings so you know exactly how to measure your oils. 
If you don't like or are unsure about tasting the oils, Overcome also has a selection of capsules that support both Every Day and Every Night functionalities. 
What is in Overcome Hemp Oils
Overcome Hemp Oils contain 3 simple ingredients: hempseed oil, full spectrum hemp extract and peppermint flavoring. 
Overcome uses hempseed oil as its carrier oil. Like all CBD oils, the CBD must be "carried" in another oil, otherwise the CBD-extract would be thick and gooey like honey, but is not palatable. Therefore CBD oils are mixed with other oils to help the CBD be more palatable but also absorb better in the body. 
Overcome chose hempseed oil as the carrier for two reasons:
1. Hempseed oil is considered an LCT oil, meaning a long-chain triglyceride oil. LCT oils are comparable to MCT oils or medium-chain triglyceride oils. An example of MCT oils is coconut oil or palm oil. CBD oils mixed with LCT oils absorb better in the body, meaning you make a more effective experience with your product. 
2. Overcome is also highly supportive of growing the domestic hemp market. This means not just for CBD but also hemp grain products, like hempseed oil. Overcome only sources from US grown hempseed oil that is sustainably sourced from family farmers. This way Overcome also supports the hemp economy beyond its support for CBD products. 
In addition to hempseed oil, Overcome hemp oils also contain full spectrum hemp extract. Full spectrum hemp extract is the concentrated floral material that contains cannabinoids like CBD. Full spectrum means that it doesn't just contain CBD but also other cannabinoids, including legal amounts of ∆-9-THC.
In particular Overcome's full spectrum hemp extract contains important cannabinoids that were formulated to help stimulate health and general well being in the body. These cannabinoids include CBD, CBDA and CBG. Many know of the important benefits of CBD like its ability to support proper immunological response and general stresses.
Like CBD, CBDA and CBG also have important benefits. For instance, CBDA is highly effective as an anti-inflammatory agent and CBG helps support mood and a healthy fatigue response. Combined together these cannabinoids help you to Overcome Every Day! 
The final ingredient is a light peppermint flavoring. This peppermint flavoring helps to mask the earthy tone the hempseed oil and hemp extract bring to the formula. Overcome thinks it helps shape the flavoring, making it more palatable, and we agree! 
Overcome CBD and their Supply Chain
Overcome Hemp Oil CBD products are produced in central Kentucky using Kentucky grown hemp that is organically grown and processed. The founders and company in general are dedicated to building a sustainable supply chain for hemp and Overcome is a first step in creating this pathway. 
The company minimizes its environmental impact by sourcing ingredients within a 100 mile radius of its supply chain. This reduces transportation impact. The company sources from organic hemp which helps minimize the agricultural impact that can be harmful to waterways and soils. Overcome also makes the product in a facility that runs on renewable energy. This means every bottle made has a minimal impact on carbon-intensive energy. 
Finally, Overcome minimizes plastic within its supply chain. That's why you'll find most of Overcome's products in glass with limited plastic packaging wherever possible. 
The company also doesn't look at environmental impact as part of their sustainability measures but also social impact. This is why Overcome has a social cause attached to its brand. Beyond donating countless hours to help the hemp industry establish its roots in America, Overcome also donates 1% of its sales to Lyme Disease research and education. 
Last, of course product quality is at the core of Overcome's supply chain sustainability, because a quality product will sustain the future of Overcome's business. All Overcome products are tested throughout the various points in the supply chain to ensure potency and consistency while limiting contamination. With traceability from farm to finished product, rigorous supplier qualifications and GMP product capabilities, Overcome products are a trusted source for quality products. 
Anavii Market - A leading reseller of Overcome Hemp Oils
Anavii Market is a leading retailer of Overcome Hemp oils as well as other CBD oils, capsules, softgels, topicals, pet products and so much more. Anavii Market is the leader in quality verified CBD products where our third-party verification set the standard for quality products in the industry.
For further questions regarding Overcome Hemp Oils or other products in general, please give us a call at 502-209-8808 or Contact Us here. 
Their products are amazing and the customer service is unparalleled! The representatives are always kind and courteous, they are patient and willing to answer any question that you may have about their products.
Quentina
I researched Anavii for quite a long time. They are a very reputable company. Every experience I have had with Anavii has been professional, expedient, and exact. I am very pleased with every transaction I have had. All the products that we have used has worked as described.
Kathleen