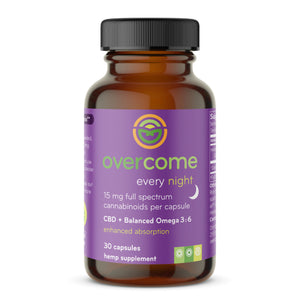 Overcome Every Night 30 capsules - 15mg of Full Spectrum CBD per capsule
Overcome (formerly Nature's Hemp Oil) Every Night Capsules 15mg Cannabinoid Hemp Extract
Concentration: 15mg Full Spectrum CBD per bottle
Serving Size: Start with one to two capsules nightly. Increase as needed, or as directed by your physician.
Carrier: Organic hempseed oil
Extraction Process: CO2 extraction
Ingredients & Allergens
 Product Ingredients:  Cream, Rice fiber, Organic tapioca starch, Organic gum arabic, Organic suflower oil, Organic agave fiber (fructan), Full spectrum hemp cannabinoid extract, Organic hempseed oil, Vegetable capsule
Allergens: Contains Milk
How to Use Overcome Every night
Suggested Use: Start with one to two capsules nightly. Increase as needed, or as directed by your physician.Swallow the capsules with water
It usually takes between 20 minutes to 1 hour to feel the effects of Overcome Every Night Capsules. For best results, take the product with a high fat snack approximately 30 minutes or one hour before bed. 
While these are meant for night time supplementation, these Overcome Every Night Capsules may be taken at any time of day; however, they may make you feel fatigue.
Disclaimers & Disclosures 
*** Hemp Extract CBD Oil is not intended for use under the age of 18. Do not take if you are pregnant or lactating. Consult your physician before use if you have a medical condition or are taking any medication. Do not exceed recommended serving size.
***These statements and product has not been evaluated or tested by the FDA and are not intended to diagnose, treat or cure any disease.
*** Use caution if subject to urinalysis.
About Overcome 
About Overcome Every Night
Overcome Every Night capsules contain a full spectrum blend of cannabinoids that are formulated to encourage the best night's sleep. The product includes CBD, CBN and ∆-9-THC in a combination that is optimal to encourage sleep and soothe restlessness without a morning "hangover." That's right no drowsiness or grogginess the next morning.
Combined with hempseed oil and Overcome's patent-pending enhanced absorption delivery method called, Naturia+, this capsule will provide you with a more effective experience and offers a better return on your purchase. These capsules will have you craving more, in a good way, as you drift away to sleep. 
Their products are amazing and the customer service is unparalleled! The representatives are always kind and courteous, they are patient and willing to answer any question that you may have about their products.
Quentina
I researched Anavii for quite a long time. They are a very reputable company. Every experience I have had with Anavii has been professional, expedient, and exact. I am very pleased with every transaction I have had. All the products that we have used has worked as described.
Kathleen