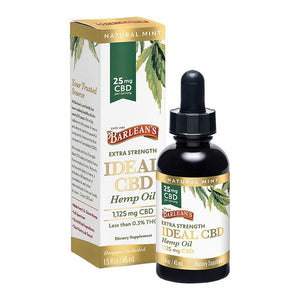 Barlean's Extra Strength Ideal CBD Hemp Oil - 25mg Per Serving 
Concentration: 1,125mg Full Spectrum CBD Hemp Oil per bottle
Serving Size: 25mg of CBD hemp oil per serving (ml); 45 servings per bottle
Carrier: MCT oil
Extraction Process: Ethanol & CO2 extraction
Location: Colorado hemp
Additional Product Specifications
Packaging: Plastic bottle with plastic cap.
Product Specifications: 45 servings in bottle. Each serving provides 25mg of full spectrum hemp-derived extract.
Barlean's Extra Strength Ideal CBD Hemp Oil contains 1,125mg of active cannabinoids in each 1ml serving with 25mg per serving.
Gluten Free
Vegan
All natural flavoring

No artificial ingredients

US Grown
Flavors, Ingredients, & Allergens
Flavor: Mint
Product Ingredients: MCT (coconut and/or palm oil), full spectrum cannabinoid hemp extract, natural mint flavor
Allergens: Contains coconut
How to Use Barlean's CBD Hemp Oil
Suggested Use: Take 1ml under the tongue & then swallow. Increase as needed or as recommended by your health care professional. Best taken with a meal or high fat snack. 
Barlean's CBD Hemp Oil Cannabinoid Content
BARLEAN'S EXTRA STRENGTH IDEAL CBD HEMP OIL 25MG 
| | |
| --- | --- |
| Cannabinoid | mg/ml |
| CBD | 28.45 |
| CBGA | 1.2 |
| CBC | 0.10 |
| THC | <0.3% |
| Total | 30.00 |
| Max CBD | 28.45 |
| Max THC | <0.3% |
This product is derived from federally legal hemp. This product contains less than 0.3% THC by law and is non-intoxicating
Disclaimers & Disclosures
*** Use caution if subject to urinalysis 
*** Disclaimer: Cannabinoid Oil is not intended for use under the age of 18. Do not take if you are pregnant or lactating. Consult your physician before use if you have a medical condition or are taking any medication. Do not exceed recommended serving size.
***These statements and product has not been evaluated or tested by the FDA and are not intended to diagnose, treat or cure any disease.


Why Barlean's CBD Hemp Oil?
Barlean's Extra Strength Ideal CBD Hemp Oil
Barlean's Ideal CBD Hemp Oil, sometimes referred to as Barlean's Extra Strength CBD Oil depending on the serving size per dose, is an excellent product to consider when reviewing CBD tinctures that are right for you.
Barlean's has been producing healthy oils for over 25 years, and Barlean's Ideal CBD Hemp Oil is of the utmost quality Barlean's customers have come to expect with every product they produce.  Great care and consideration is added before Barlean's adds any new product, including Barlean's Ideal CBD Hemp Oil.
Barlean's Ideal CBD Hemp Oil comes in 2 different serving sizes.  The first is Barlean's 15mg CBD Hemp Oil, and the second is Barleans 25mg CBD Hemp Oil.
The Barlean's 25mg CBD Hemp Oil is the one most commonly referred to as Barlean's Extra Strength CBD Oil due to the increased concentration in each serving size.
Product Specs
Below are product specifications for Barlean's Extra Strength Ideal CBD Hemp Oil.  The product specs below apply to both products – the Barlean's 15mg CBD Hemp Oil and the Barlean's 25mg CBD Hemp Oil.  Both products:
Are made from hemp grown in the United States

Contain no artificial ingredients

Are full spectrum

Are vegan and gluten-free

Are 3

rd

party lab tested for purity & potency levels

Contain a level of THC that is less than 0.3%

Have a natural mint flavoring
Barlean's Ideal CBD Hemp Oil utilizes MCT oil as the carrier oil and is produced from industrial hemp grown on U.S. farms.  This is important, as is the 3rd party testing, as customers should want to be sure the products they are purchasing are authentic and pure.
Directions for Use:
When using Barlean's Extra Strength Ideal CBD Hemp Oil, Barlean's suggests placing up to 20 drops under your tongue as you see fit.  This is about 75% of a full dropper. As with all CBD products, you may want to use a small amount at first but then slowly & gradually increase it depending on your needs.
Growing Popularity of CBD Oil and How Barlean's Fits In
Barlean's entering the CBD market is noteworthy, as they are well known for only selling brands that they truly believe in; ones that are not only healthy but also make an impact for social good.  Barleans entering the CBD space with their Barleans Ideal CBD Hemp Oil and several other CBD oil products shows that they are giving much credit to the belief that CBD oil can have many positive, healthy effects.
CBD oil has become extremely popular, and has been noted by multiple publications as one of the hottest trends.  It is said to have many positive benefits, and is in a variety of different products and forms. CBD oil can come in the form of tinctures, capsules, and balms, and is found in products ranging from lotions to pet treats to food and beverages (although in the United States CBD is not allowed to be consumed via food or beverages until the FDA reviews and approves it for such use).
Barlean's has a very high level of trust with their customers, and vet all of their products and business partners extensively.  Adding CBD oil to their collection of products shows a high level of trust, and as more brands follow suit by carrying CBD oil, this will only continue to strengthen the trust of consumers of CBD oil to help them with a variety of different uses.
Barlean's Ideal Hemp Oil – For The Social Good
Barlean's believes strongly in doing social good in terms of every product they offer and every company they do business with.  They are dedicated to improving the lives of people both in the U.S. and around the world. They have implemented many steps to achieve their goal, including ensuring the farmers they work with are paid fairly for their work, as well as supporting many charitable organizations both here and abroad.
Barlean's impact on people and the environment is also reflected with the products they sell – all of which are designed to be very healthy and good for people to consume.  In addition to selling CBD products including Barlean's Extra Strength Ideal CBD Hemp Oil, Barlean's also sells a variety of products for healthy living, including organic flax seed oils, fiber powders, Omega 3 oils, fish oils, coconut oils and more!
Barlean's Extra Strength Ideal CBD Hemp Oil - Anavii Market
Anavii Market is proud to sell Barlean's Ideal CBD Hemp Oil products and many others!  Like Barlean's, we ensure all of our products are of the highest quality by the most reputable manufacturers.
Do you have questions about Barlean's Ideal CBD Hemp Oil products CBD Hemp Oil in general?  Please feel free to call is at 502-209-8808 or you may Contact Us here.  
Anavii Market is a leading retailer of Barlean's Extra Strength Ideal CBD Hemp Oil and is located in Lexington, Kentucky.
BARLEAN'S IS A PROUD MEMBER OF:
Their products are amazing and the customer service is unparalleled! The representatives are always kind and courteous, they are patient and willing to answer any question that you may have about their products.
Quentina
I researched Anavii for quite a long time. They are a very reputable company. Every experience I have had with Anavii has been professional, expedient, and exact. I am very pleased with every transaction I have had. All the products that we have used has worked as described.
Kathleen