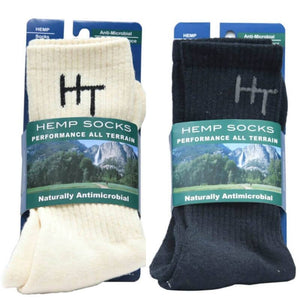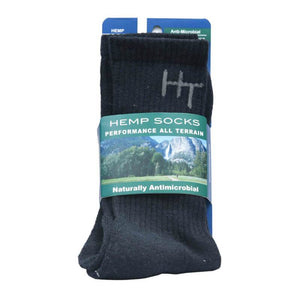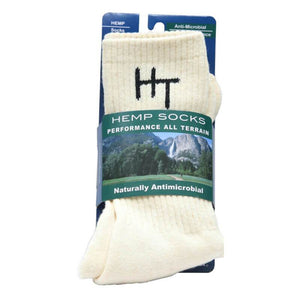 Hemptopia Hemp Socks | Anavii Market Exclusive
You haven't lived until you have owned a pair of hemp socks! Naturally antimicrobial and antibacterial these socks will keep your feet comfortable and dry. They are lightweight but also have excellent durability. There are two sizes S/M and L/XL.
Materials: 51% hemp, 38% cotton, 11% spandex
What are Hemptopia Hemp Socks?
Founded in 2005, Hemptopia was formed to enhance one's quality of life and planet through industrial hemp. The company designs and produces the highest quality hemp apparel, selling to retail stores all around the world! Hemptopia also supplies raw hemp material as well as promotional hemp products like hemp towels, hemp bedding and even hemp protein powder to shops everywhere!
Helping companies integrate hemp products into their sustainable practices, Hemptopia produces eco-friendly hemp products in a modern fashion. Even more, combining comfort and functionality with style is just what Hemptopia products are all about—which is why your feet will be thanking you when you buy these black Hemptopia Hemp Socks.
Hemp socks are made from eco-friendly hemp fibers, as well as other sustainable materials, making them all natural and organic. Using only eco-friendly, natural materials, Hemptopia hemp socks are made of 51% hemp, 38% cotton and 11% spandex.
Combining hemp with natural and organic cotton yarn produces a cozy combination like no other! Excellent socks for both work and play, Hemptopia hemp socks keep your feet comfortable and refreshed throughout the day.
They also provide natural antimicrobial properties to resist any moist or mildew. Due to the hemp fabrications and fibers in Hemptopia Hemp Socks, these socks naturally wick away moisture better than any average sock, so your feet can stay dry for the entire day.
These Hemp Socks by Hemptopia are almost weightless and can quickly adjust to your foot's unique shape. Able to be worn on any terrain, Hemptopia Hemp Socks are the number one choice for any sort of physical activity, whether backpacking or traveling, due to their unattainable level of durability.
In addition, these black hemp socks are extra soft. Possibly most important when it comes to finding the perfect pair of socks for your feet, they are odor resistant, leaving your feet smelling like roses even after a long day. These socks are also able to absorb moisture better than the average sock, ensuring clean and hygienic feet.
How to Wear Hemptopia Hemp Socks
Our Hemptopia Hemp Socks look great with every outfit because black hemp socks go with everything! All of our natural fiber hemp socks can be worn by both men and women. Our hemp socks are available in two sizes: S/M (6-10) and L/XL (11-15).
These hemp socks are light and breathable, perfect for summer weather or wearing around the house. Considered a medium weight sock, they are heavy enough to keep your feet warm during those frosty winter nights, yet because of the hemp, they are breathable enough to be worn all year in Southern Florida.
Best Way to Care For Your Hemptopia Hemp Socks
For best results, be sure to wash your socks in warm or cold water using a gentle laundry detergent. If possible, air dry your hemp socks on a drying rack or clothesline or put them in a dryer but only on a low heat setting.
No matter what, do not use bleach when washing.
Benefits of Wearing Hemp Socks
There are a number of benefits of choosing natural hemp fibers over synthetic ones, and even cotton — both for the consumer and also for the environment. 

To start, socks made out of hemp are beneficial for the environment merely because hemp fibers are very eco-friendly and sustainable. In fact, growing hemp actually leaves soil in an improved condition.
Hemp requires less chemical pesticides and fertilizers for cultivation, and is man's strongest natural plant fiber. After harvesting hemp, its nutrient-rich roots are gone, leaving behind healthy compounds for the soil and helping to prevent soil erosion. Also, hemp only requires a small amounts of water to survive, in contrast to cotton.
Hemp fibers produce the most versatile and UV-protective clothing out there! Hemp keeps you comfortable in all temperatures at any time during the year; Hemptopia hemp socks keep you cool in the summer sun and warm during the brittle winter nights. Hemp can also block more UV light than any other natural fiber.
Even more, hemp is more breathable than conventional fibers, which helps to eliminate and reduce the growth of anaerobic bacteria. Hemp's natural properties are resistant to bacteria found in sweat, so after wearing Hemptopia hemp socks even during a long workout, you will be left feeling fresh all throughout the day! 

Hemptopia Hemp Socks - Premium Hemp Socks Sold at Anavii Market
Don't worry, be hempy! At Anavii Market, we've got the hemp socks you're looking for. Treat your feet to our ultra-comfy Hemptopia hemp socks and help our environment in the process! If you are new to hemp apparel, a pair of all-natural, sustainable hemp socks are the perfect way to introduce yourself, your friend or family member, to all the benefits of hemp clothing!
If you have any questions regarding our Hemptopia Hemp Socks or about hemp apparel in general, please feel free to call us today at 502-209-8808 or you can Contact Us here. Our supportive team at Anavii Market is here to serve you and make your feet happy!
Their products are amazing and the customer service is unparalleled! The representatives are always kind and courteous, they are patient and willing to answer any question that you may have about their products.
Quentina
I researched Anavii for quite a long time. They are a very reputable company. Every experience I have had with Anavii has been professional, expedient, and exact. I am very pleased with every transaction I have had. All the products that we have used has worked as described.
Kathleen