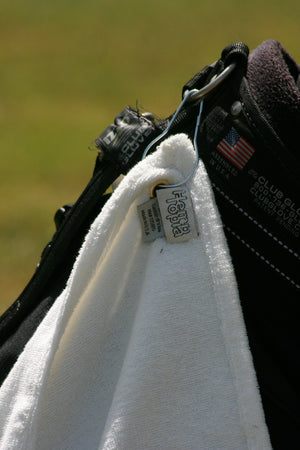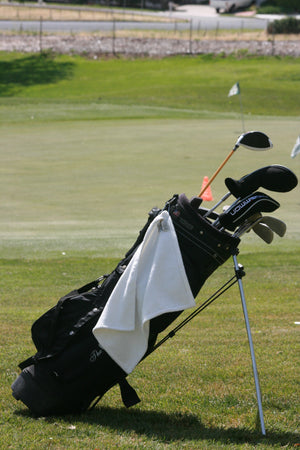 Hemptopia Golf Hand Towel | Anavii Market Exclusive
One of a kind hemp golf hand towels. Made from 55% hemp and 45% organic cotton. They feature an eyelet with quick attach clasp. All natural hemp provides superior durability and anti-bacterial properties.

Dimensions: 17" x 13"
Material: 55% Hemp 45% Organic Cotton
Made in the USA

What Is The Hemptopia Golf Towel?

At Anavii Market, we know it's not easy staying dry in those scorching hot summer months. That is exactly why we offer our adored consumers the opportunity to purchase and own the Hemptopia Golf Towel. This Hemptopia Golf Towel is the perfect addition to your golf attire for a sunny day hitting in the range.

Maybe the best thing about this hemp golf towel is that it is small enough to take with you on the go. However, it is also powerful enough to soak up any sweat that might be dripping from your hands. Are you afraid of your club flying from your hands and hurting someone due to sweaty palms? You're not alone.
The Hemptopia Golf Towel soaks up your perspiration so no one else has to! Perhaps the best thing is not worrying about smelling bad on the course even when it is over 90 degrees outside. That's because the Hemptopia Golf Towel gets it all. Use it places other than just your hands. Wipe your sweat out of your eyes so you can finally see where you're hitting the ball!
 Why Should I Buy Hemp Golf Towels?
There are lots of reasons to buy the Hemptopia Golf Towel for you or a loved one. First, it is extremely durable due to being produced from exclusively sustainable materials like hemp. Hemp is actually one of the strongest sustainable fibers in the world. This means that this hemp golf towel is strong enough not to wear and tear throughout time, giving you the most bang for your buck in the long run!
Secondly, this hemp towel is compact enough to fit in the pocket of your golf bag. This Hemptopia Golf Towel is not just great for golfers and professional athletes. Rather, it is ideal for travelers, hikers, and people of all kinds. That's because it fits almost anywhere and is the perfect way to stay cool while you're out and about. Since these towels are so compact, they take up a very little amount of space compared to regular towels. For that reason, the Hemptopia Golf Towel is extremely useful for a range of things, from going to the gym or going for a long bike ride.
Thirdly, this hemp towel is incredibly fast drying. So, while you are going for a jog, long bike ride, playing 18 holes of golf, or just sitting down on a hot day, it doesn't matter. Using the Hemptopia golf towel will be the solution to your problems.
No more pit stains, running makeup, or getting sweat in your eyes so you can't see where you're hitting your ball. Just dab the hemptopia golf towel to soak up your sweat. And the best news is, ten minutes later, you can do it all again. This towel is everything you've been looking for.
Buy The Highly Absorbent Hemptopia Golf Towel – Only The Best From Anavii Market
Stay fresh wherever you go with this Hemptopia Golf Towel – an exclusive from Anavii Market. It even performs well under almost all changing temperatures and weather conditions, so it's perfect for almost anyone!
Producers create the hemptopia golf towel with natural antimicrobial properties. So, this hemp golf towel is meant specifically to avoid all molds and mildews. Also, due to the hemp fibers in this towel, it can naturally absorb or retain moisture better than standard towels. This way, you can have fun in the sun without having to worry about staying dry.
If you have any questions about the Hemptopia Golf Towel or other hemp apparel, please feel free to give us a call at 502-209-8808 or you can Contact Us here, where we would be more than happy to help.
Their products are amazing and the customer service is unparalleled! The representatives are always kind and courteous, they are patient and willing to answer any question that you may have about their products.
Quentina
I researched Anavii for quite a long time. They are a very reputable company. Every experience I have had with Anavii has been professional, expedient, and exact. I am very pleased with every transaction I have had. All the products that we have used has worked as described.
Kathleen