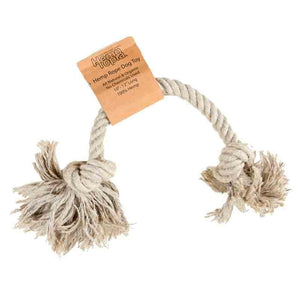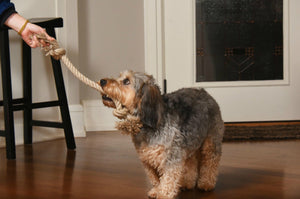 Hemp Rope Dog Toys Are Perfect for Your Pup!
Your dog will love this 100% Organic hemp crew toy. This 3/4 inch thick chemical free rope will keep your furry friend entertained. Perfect for playing tug of war. This product is American made and has a breaking strength of 4092 lbs, so its built to last!
Why Hemp Rope Dog Toy?
Did you know some of the oldest rope used in the world was hemp rope. From the Vikings to the Mayflower to the US Navy, hemp rope has been a staple across the globe for centuries. And there's a reason for that - Hemp is the strongest natural fiber in the world. So when combined into a rope, your dog will be sure to tug and pull but will have trouble breaking this durable hemp rope dog toy!
What Is A Hemp Dog Toy?
The hemp dog toy from Anavii Market is a rope created using only organic industrial hemp. It is all-natural and durable so your dog will be entertained throughout the entire day!
Even more, most pet parents are willing to do anything for their animal's overall happiness and wellbeing. If you care for your dog like one of your own children, you will buy her or him a hemp toy.
Also, hemp is the most durable material of all of the natural textiles, meaning that a hemp dog toy will last longer than regular dog toys. In this way, it is not only ecological and environmentally-friendly but also fun! Try playing fetch with this hemp toy or a game of tug of war and your dog will adore you!
Available in two different specific sizes, this hemp dog toy is perfect for dogs of all kinds. Also, this hemp dog toy is perfect for promoting exercise and activity! It is also great for giving a way for you and your dog to connect and play together. 
Perhaps most important, this hemp toy provides a natural alternative to the harmful synthetic dog toys on the market. 
What Are The Potential Benefits Of Buying My Pet An Organic Hemp Dog Toy?
Well, to start, most regular dog toys break quite easily, as your dog continues playing with it. Over time, the general wear and tear will not only create a mess all over your house but can also become a choking hazard for your precious pet. For these reasons, using a hemp dog toy made from rope is simply the better option. That's because hemp has remained the strongest natural fiber in the world for centuries. With this hemp dog toy, your pet will surely struggle to break off any bits and pieces of rope.
This hemp dog chew toy is the perfect toy for your pets! First of all, dogs love the smell and feel of natural hemp. Also, due to the textile's strength, this hemp dog toy will last all day, giving your pup a source of continued entertainment.  Also, this toy helps clean your dog's teeth and stimulate their gums while playing with it.
Additionally, playing tug of war with this hemp dog toy gives your dog a ton of mental and physical exercise. It is also a great way to strengthen the bond between master and dog. If your dog does not enjoy playing tug of war, consider throwing it for a game of fetch!
Also, keeping your pooch healthy demands much more than just a healthy diet and a few trips to the vet. In fact, giving your dog exercise is just as, if not more, important. Doing so helps them tone their muscles, move their joints, stimulate their brain all while promoting good social behaviors.
Playing with your pup is also necessary to help them remain at a healthy weight. Dogs who are overweight tend to develop back and knee problems over time. More importantly, keeping your dog active with this hemp dog toy is necessary for their prolonged health and vitality.   
Another great thing about this hemp dog toy is that this rope is water-resistant. In fact, this toy resists moisture and won't get all smelly and gross like traditional cotton rope dog toys. This also means that it is harder for your dog to consume, and will not be able to swallow it!
That said, however, we like to advise consumers that it is important to watch your dog whenever you give them a new toy. Just as your dog is able to chew through bones, they are likely able to chew through a lot.
Therefore, it is important to watch your dog to make sure he or she does not consume any unwanted materials. We do not recommend leaving your dogs alone with this toy. To clarify, this hemp dog toy should be used for playing and is not a toy meant to be chewed.
Finally, playing with this hemp dog toy will promote an overall vitality in your pooch. Ultimately, tug of war will never be as fun then with this hemp dog toy!
How Can This Hemp Dog Toy Impact My Pooch?
Hemp has become one of the most talked about health trends for both people and animals. This is because of the various benefits that come from hemp.
To start, hemp is one of the greatest sources of Omegas on the market. Hemp seed gives dogs an almost exact 3-to-1 ratio of Omega-3 and Omega-6 fatty acids. This makes hemp one of the most naturally balanced ways to add essential fatty acids to your dog's diet.
In case you didn't know, omega fatty acids are essential for your pup. They help support healthy looking skin while softening your pup's shiny coat. Even more, Omega supplements are beneficial for your dog because they promote hip and joint health. Also, vital omega fatty acids help with heart function and immune system responses in your pet.
So, clearly, hemp is one of the best ingredients to add to your pet's diet. If that doesn't prove to you how safe and healthy this hemp dog toy really is, I'm not sure what will.
Is A Hemp Dog Chew Toy Safe For My Furry Friend?
The hemp dog toy from Anavii Market is very safe and free from chemicals, making it only the best for your four-legged friend.
First of all, hemp is naturally resistant to bacteria and other harmful things like mold. So, actually, this toy is more than safe for your playful pup! In fact, it is not only safe for it to play with but is actually also preventing any damaging things. You don't want your dog to get sick from bacteria found on other dog toys. So, give your dog only the best with the number one hemp dog toy!
Even more, this hemp dog toy is resistant to mildew and is a natural antimicrobial. Most importantly, however, it is hypoallergenic. So, if your puppy gets itchy ears or paws, or maybe sneezes a lot, this hemp dog toy is perfect for your pet.
Additionally, this hemp dog toy made from hemp rope is also very friendly to the environment. In fact, it is actually completely biodegradable. Even more, hemp is an incredibly renewable resource that does not require things like pesticides or weed killers to grow.
It also does not contain or require heavy bleaching, like cotton does. Additionally, no dyes are used when creating this interactive hemp dog toy. Perhaps most important, however, is the fact that this hemp dog toy is completely free from chemicals and is non-toxic.
In this way, you can be completely worry-free, knowing your canine companion is not chewing or swallowing anything synthetic when playing with this hemp toy. Actually, fortunately, this hemp rope toy will not harm your dog if he or she ingests parts of it while playing.
Give Your Adored Four-Legged Friend Some Much Needed Attention And Battle Him Or Her To A Game Of Tug-O-War Using The All-Natural Hemp Dog Toy From Anavii Market   
For more information about The Hemp Dog Toy from Anavii Market or any concerns about our other pet hemp products in general, please feel free to give us a call at 502-209-8808 or Contact Us here.
Their products are amazing and the customer service is unparalleled! The representatives are always kind and courteous, they are patient and willing to answer any question that you may have about their products.
Quentina
I researched Anavii for quite a long time. They are a very reputable company. Every experience I have had with Anavii has been professional, expedient, and exact. I am very pleased with every transaction I have had. All the products that we have used has worked as described.
Kathleen