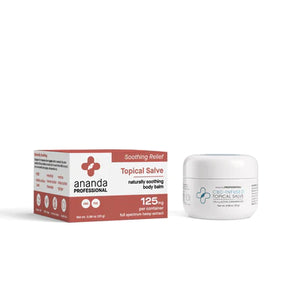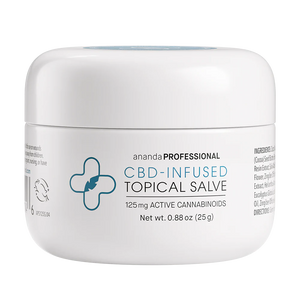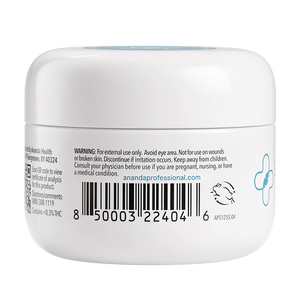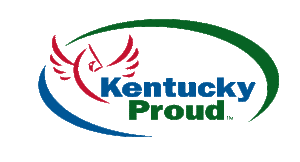 Ananda Hemp 125MG Full Spectrum CBD Oil Topical Salve *NEW FORMULA*
Ananda Hemp Spectrum Salve 125
125 MG Full Spectrum CBD Oil and Cannabinoid Rich Hemp Salve for topical use
Concentration per Container: 125mg Full Spectrum CBD & Cannabinoid oil blend
Concentration per Serving: 5mg CBD per gram

Serving Size: 5mg CBD per gram; apply as needed
Carrier: Coconut Oil
Extraction Process: Ethanol
Additional Product Specifications
Packaging: Plastic container with box

Product Specifications: Topical contains 125mg of full spectrum hemp-derived extract CBD oil and minor cannabinoids
Full Spectrum Hemp Extract - CBD oil and minor cannabinoids
Made in USA
Organic Ingredients
FDA compliant
Manufactured using cGMP
No synthetic fertilizers, herbicides or pesticides
Certified cruelty free
100% Non GMO
Ananda Hemp provides full spectrum ingredients, rich in US-grown CBD oil and other active minor cannabinoids. Ananda Hemp's topical "Spectrum Salve" is great for localized areas. Rub directly on skin for optimal effects and radiant skin. 
Flavors, Ingredients & Allergens
Fragrance: Fragrance free, No Artificial Fragrances

Aroma: Plant derived essential oils including Wintergreen, Eucalyptus, Peppermint, Lavender, Ginger
Product Ingredients: Butyrospermum Parkii (Shea) Butter,
Theobroma Cacao (Cocoa) Seed Butter,
Helianthus Annuus (Sunflower) Seed Wax
Polyhydroxystearic Acid, Stearyl Behenate
Cannabis Sativa (Hemp) Seed Oil, Menthol,
Cannabis Sativa (Hemp) Flower Extract, Salix
Alba (Willow) Bark Extract, Arnica Montana
Flower Extract, Capsicum Frutescens Fruit
Powder, Calophyllum Tacamacha Seed Oil,
Boswellia Serrata Resin Extract, Cocos
Nucifera (Coconut) Oil, Orbignya Oleifera
Seed Oil, Glycine, Soja (Soybean) Oil,
Astrocaryum Murumuru Seed Butter,
Theobroma Grandiflorum Seed Butter,
Eucalyptus Globulus Leaf Oil, Gardenia
Taitensis Flower Extract, Lavandula
Angustifolia (Lavender) Oil, Mentha Piperita
(Peppermint) Oil, Zingiber Officinale (Ginger)
Root Oil, Glycerin Carthamus Tinctorius
(Safflower) Seed Oil, Copernicia Cerifera
(Carnauba) Wax, Lauryl Laurate, Tocopherol,
Tocopheryl Acetate.
Allergens: None
How to Use Ananda Hemp CBD Topical
Suggested Use: Use as directed or as suggested by your physician. Keep out of eyes. Stop use and consult physician if rash occurs. Do not use on open wounds.
Ananda Hemp Topical Cannabinoid Content
Ananda Hemp Topical CBD Spectrum
| | |
| --- | --- |
| Cannabinoid | mg/g |
| CBD | 4.75 |
| CBDV | 0.17 |
| CBN | 0.14 |
| CBG | 0.20 |
| CBC | 0.21 |
| THCV | 0.10 |
| THC | 2.19 |
| Total | 7.76 |
| Max CBD | 4.75 |
| Max THC | 1.74 |
Disclaimers & Disclosures
*** Disclaimer: Cannabinoid Oil is not intended for use under the age of 18. Do not take if you are pregnant or lactating. Consult your physician before use if you have a medical condition or are taking any medication. Do not exceed recommended serving size.
***These statements and product has not been evaluated or tested by the FDA and are not intended to diagnose, treat or cure any disease.
About Ananda Hemp

What is the Ananda Hemp Spectrum CBD Salve 125mg?
The Ananda Hemp Spectrum Salve is a CBD Oil topical infused with 125 mg total of active cannabinoids. CBD-filled balms are a perfect example of how different types of CBD products appeal to different people. This is because CBD topicals, like the Ananda Hemp Spectrum Salve, are not only accessible and safe, but their potency attracts users with varying needs.  
In general, CBD oil topicals are an ideal way to try CBD for the first time. This is why the Ananda Hemp Spectrum Salve is perfect for people who may be hesitant to ingest CBD products orally. Most importantly, the Ananda Hemp 125MG CBD Oil Salve provides continued relief to targeted areas where someone may experience discomfort.
With its natural and savory aura, the Ananda Hemp Spectrum Salve makes you smell wonderful. Even more, its organic ingredients help promote a youthful appearance in the regions in which you use it.
Additionally, CBD oils are quite simple to use. With ingredients such as capsicum, coconut, and shea butter oils, beeswax, and organic hemp extract, the Ananda Hemp Spectrum Salve is an all-natural product that goes a long way. Specifically, in a tightly packaged container that is tiny enough to travel with you on the go.
Does Ananda Hemp Spectrum Salve 125 Really Work?
While it can be easy to envision our bodies absorbing things by ingestion or injection, either through the bloodstream or digestive system, it can be rather challenging to imagine how rubbing a cream or lotion on your skin would actually function at a deeper, cellular level. But, believe it or not, the skin is a wildly active organ — the largest, in fact. The skin ultimately acts as a hurdle to block potentially dangerous, unknown substances. It also is fast to soak up oils, much like the ones in CBD topicals.
When you apply the Ananda Hemp Spectrum Salve, the lipids in the wax transport cannabinoids across skin cell membranes. This is where the CBD begins its therapeutic potential on the local cell and tissue layers. Because of this, the Ananda Hemp Spectrum Salve is perfect for conditions like joint discomfort, localized exercise-induced inflammation and other skin-specific ailments. This is due to the fact that you can target the CBD directly to the source of discomfort.
Individuals can use the Ananda Hemp Spectrum Salve bountifully when necessary and directly to troubled areas.  The Ananda Hemp Spectrum Salve Topical is used for everything, ranging from making your skin radiate to supporting daily discomfort within the body. It is the perfect treatment for raw, cracked skin as well as joint aches and spasms. This cream is the ideal resolution for those looking to target specialized areas with a potent dose of CBD.  
How Does Ananda Hemp CBD Oil Salve Affect the Body?
To understand how CBD oil really works, it's important to know what exactly CBD is. CBD is one of over 120 compounds found in the cannabis sativa plant known as cannabinoids.
While tetrahydrocannabinol, or THC, is also a cannabinoid, people typically confuse the two. THC is the main active ingredient in marijuana that produces a psychoactive effect on the brain. CBD, on the other hand, doesn't impact the same receptors as THC. Therefore, CBD has no "high" associated with it. This means you can experience all of the therapeutic effects of CBD without altering your state of mind.
As humans, we have what's known as the endocannabinoid system (ECS). The ECS receives and sends instructions from cannabinoids, while also producing some of its own cannabinoids, called endocannabinoids. The ECS helps to regulate a variety of physiological functions like appetite, sleep, immune-system responses, and pain. When individuals consume THC, they are activating their endocannabinoid receptors known as CB1. This stimulates the brain's reward system and produces rewarding chemicals like dopamine.
CBD however primarily targets CB2 receptors and other receptors throughout the body. CB2 receptors  regulate analgesic and anti-inflammatory effects as well as mitigates the psychotropic effects of THC. There are CB2 receptors all throughout the body. Endogenous cannabinoids activate these receptors allowing the cannabinoids to regulate balance within pain points, sleep and more. CBD mimics some of these endogenous cannabinoids and helps activate these receptors producing a varying degree of effects on the body.
Is the Ananda Hemp Spectrum Salve Safe to Use?
The short answer is yes! CBD and cannabis products are typically safe to apply to the epidermis and are unlikely to produce negative side effects. Even if the topical contains THC, psychoactive effects are not likely to occur with this application method.
That said, it's vital that you test a small dab of CBD creams or lotions on your skin before spreading a substantial amount to the affected region. This is to test that you aren't allergic to any of the ingredients. If you do have an allergic reaction, it might not necessarily be due to the CBD or cannabinoids. Rather, it could be a response to an additive in the product. Always be sure to use products that only contain CBD, cannabinoids, essential waxes, oils and the base, like coconut oil or hemp seed oil.
Can Ananda Hemp Topical Cream Help Relieve Common Skin Irritations?
As a topical cream, individuals can apply Ananda Hemp Spectrum Salve directly to affected areas of the skin. For optimal results, it is best to use the salve on areas where the discomfort is close to the surface of the skin, or the localized area has thin skin. Salves are best used in areas like hands, feet, ankles, and along the spine, neck and swollen glands. If you have deep discomfort, we recommend a dual punch of both a topical and an orally ingested CBD product, like Ananda Hemp's Spectrum Tincture or Ananda Hemp's Spectrum Softgels!
First and foremost, it's always important to speak with a doctor before using any new medication, including CBD. This is especially essential if you're already consuming other medications that might interact with the compound. When using CBD topically, like the Ananda Hemp Spectrum Salve, it's highly unlikely to experience the effects of any drug interactions. However, we at Anavii Market highly recommend speaking with your healthcare provider just to be on the safe side.
Once you ensure you don't have any allergies to the product, you can liberally apply the Ananda Hemp Spectrum Salve to any place you might have discomfort or skin irritations. People typically use CBD lotions and balms on their hands, knees, feet, back and neck—mainly, areas in which they may be experience discomfort.
For best results, massage the Ananda Hemp Spectrum Salve onto the affected areas of your skin to experience all the therapeutic effects CBD topicals have to offer. Even more, its intense moisturizing attributes will do all the work, making your skin not only glow but also feel exceedingly smooth. Needing a sense of relief in those localized areas? Replace your regular balms with the Ananda Hemp Topical to experience necessary support from rashes, irritation, and aches and aggravations.
How are Ananda Hemp Salve reviews?
At Anavii Market we strive to offer the most transparent offerings to you. That's why we obtain reviews on all our products, including Ananda Hemp Salve reviews. Check out our reviews section on each product page to gain insight into real customer experiences, with not edits or deleted reviews. These Ananda Hemp Salve reviews are truly from how our customer's feel about this product. We recommend scrolling through the reviews of this Ananda Hemp Spectrum Salve 125 to see what others feel about this product. 
Ananda Hemp Full Spectrum 125MG CBD Oil Salve for Skin Care Relief — Anavii Market's Number One CBD Oil Balm
Feel refreshed and rejuvenated with Ananda Hemp CBD Oil Salve as it works to relax your aching muscle and moisturize dry skin. Just a small amount of this CBD balm will give you long-lasting relief and protection from overexposed, irritated skin.  
Anavii Market is a top distributor of Ananda Hemp Topical Salves and more. Check out our Ananda Hemp reviews to see what others have to think! 
For any questions regarding the Ananda Hemp Spectrum Salve or CBD Oil lotions in general, please feel free to Contact Us here or give us a call at 502-209-8808. We're more than happy to help! 
Their products are amazing and the customer service is unparalleled! The representatives are always kind and courteous, they are patient and willing to answer any question that you may have about their products.
Quentina
I researched Anavii for quite a long time. They are a very reputable company. Every experience I have had with Anavii has been professional, expedient, and exact. I am very pleased with every transaction I have had. All the products that we have used has worked as described.
Kathleen