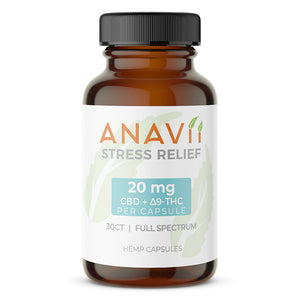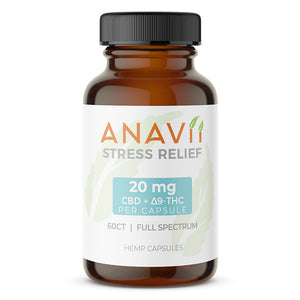 Anavii Stress Relief Capsules - 20mg
Anavii Stress Relief capsules - 20mg CBD + 1mg ∆9-THC per capsule
Concentration: 20mg Full Spectrum CBD + 1mg ∆9THC per capsule
Serving Size: Start with one to two capsules daily. Increase as needed, or as recommended by your physician. Take after a meal or high fat snack.
Servings per Bottle: 30 capsules or 60 capsules
Extraction Process: CO2 extraction
Other Products Details
20:1 ratio of Cannabinoids to ∆9-THC - perfect for supporting normal anxiety 
Full Spectrum formulation
Naturia+ for improved bioavailability (absorption)
Manufactured in a sustainable supply chain - utilizing renewable energy
Sourced from organic hemp
Ingredients & Allergens
Product Ingredients: Rice fiber, Cream, Organic tapioca starch, Organic gum arabic, Organic Sunflower oil, Organic agave fiber (fructan), Vegetable capsule, Full spectrum hemp cannabinoid extract, Organic hempseed oil 
Allergens: Contains Milk
How to Use Anavii Stress Relief

Suggested Use: Start with 1-2 capsules daily. Increase as needed, or as recommended by your physician. Take after a meal or high fat snack.

It usually takes between 20 minutes to 1 hour to feel the effects of Anavii Stress Relief Capsules. Take the product with a high fat snack for best results.

Anavii Stress Relief Cannabinoid Profile
Anavii Stress Relief CBD Capsules contain 20mg cannabinoids per capsule
| | |
| --- | --- |
| Cannabinoid | mg/unit |
| CBC | 1.05 |
| CBD | 17.38 |
| CBDA | 0.08 |
| CBDV | 0.05 |
| CBG | 0.25 |
| CBGA | 0.0 |
| CBN | 0.34 |
| D9-THC | 0.9 |
| THCA | 0.0 |
| Total Cannabinoids | 20 |
| Total THC | <0.3% |
Disclaimers & Disclosures
*** Disclaimer: Do not take if you are pregnant or lactating. Consult your physician before use if you have a medical condition or are taking any medication. Do not exceed recommended serving size. Do not use if subject to urinalysis. 

***These statements and product has not been evaluated or tested by the FDA and are not intended to diagnose, treat or cure any disease.
About Anavii Stress Relief Capsules
Why Anavii Relief Capsules?
Anavii Stress Relief Capsules are the perfect ratio of cannabinoids to ∆9-THC to support relief from normal anxiety. With 20mg total cannabinoids and 1mg ∆9-THC you will find the stress relief you've been seeking! 
Anavii Stress Relief capsules are made using organic hemp and we minimize our environmental impact by sourcing ingredients within 100miles of our manufacturing facility. In addition, the facility utilizes renewable energy reducing the demand for coal-powered energy. 
Anavii Stress Relief capsules are formulated using Naturia+. Naturia+ is a 100% all natural, synthetic free bioavailability technology that biomimicks a natural process in the body to allow your cannabinoids to absorb more readily and last longer in the body. This all-natural process is supported by science offering a 2.2x absorption over traditional carrier oils. This means with Anavii Stress Relief, as well as Anavii Energy and Anavii Relief capsules, you'll get more every time! 
What is the difference between Anavii Relief capsules and Anavii Stress Relief Capsules? 
Anavii Relief capsules support relief from inflammatory concerns by harnessing the cannabinoid CBDA which acts as a COX2 inhibitor. COX2 inhibitors are a newer type of NSAID that blocks the COX2 enzyme at the site of inflammation. While this blocks the COX2 enzyme it does not block the COX1 enzyme which is essential for protecting the stomach lining. While more research is needed for CBDA and COX2 inhibitors in human studies, current research is promising. 
Conversely, Anavii Stress Relief don't contain high concentrations of CBDA and therefore are not intended for inflammatory relief. Rather Anavii Stress Relief is meant for Stress and supporting relief from normal anxiety. With Anavii Stress Relief you can breathe easy and think less! :) 
Their products are amazing and the customer service is unparalleled! The representatives are always kind and courteous, they are patient and willing to answer any question that you may have about their products.
Quentina
I researched Anavii for quite a long time. They are a very reputable company. Every experience I have had with Anavii has been professional, expedient, and exact. I am very pleased with every transaction I have had. All the products that we have used has worked as described.
Kathleen