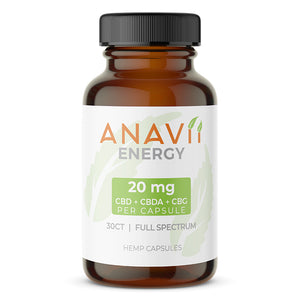 Anavii CBD Energy Capsules
Anavii CBD Energy Capsules - 20mg CBD+CBDA+CBG+CBGA
Concentration: 20mg Combined Full Spectrum CBD, CBDA, CBG + CBGA, Vitamin B12 12mcg, Caffeine 90mg, CoQ10 10mg, L-Theanine 60mg *Per Capsule
Serving Size: 1 Capsule
1 capsule = 1 cup of coffee
Servings per Bottle: 30 capsules
Extraction Process: CO2 extraction
Other Product Details
20mg cannabinoids per capsule
Organic CBD, CBDA, CBG, CBGA + other minor cannabinoids
Vitamin B12 (as Methylcobalamin) - it's the best kind ;) 
90mg Caffeine per capsule - equivalent to 1 cup of coffee
10mg CoQ10 - for energy metabolism
60mg L-Theanine - great for reducing caffeine jitters
Contains Naturia+ - for improved bioavailability (absorption)
Sustainable supply chain - utilizing renewable energy and organic practices
Ingredients & Allergens
Product Ingredients: Rice fiber, Cream, Organic tapioca starch, Organic gum arabic, Organic Sunflower oil, Organic agave fiber (fructan), Caffeine 90mg, Vegetable capsule,  Cannabinoid hemp extract, L-Theanine, CoQ10, Vitamin C, Vitamin E, Vitamin B12, hempseed oil
Allergens: Contains Milk
How to Use Anavii Energy

Suggested Use: Start with 1-2 capsules daily. Increase as needed, or as directed by your physician. 
1 capsule = 1 cup of coffee
For best results, take the product with a high fat snack. Effectiveness may depend on cannabinoid tolerance.
While the capsules can be taken at any time, this formula is designed to be energizing, therefore it is not recommended for night time use
Anavii CBD Energy Capsule Cannabinoid Content
Anavii CBD Energy Capsules contain 20mg Cannabinoids per Capsule
| | |
| --- | --- |
| Cannabinoid | mg/unit |
| CBC | 0.74 |
| CBD | 6.72 |
| CBDA | 7.34 |
| CBDV | 0.0 |
| CBG | 2.44 |
| CBGA | 2.38 |
| CBN | 0.085 |
| D9-THC | 0.30 |
| THCA | 0.085 |
| Total Cannabinoids | 20.1 |
| Total THC | <0.3% |
Disclaimer & Disclosures
*** Disclaimer: Do not take if you are pregnant or lactating. Consult your physician before use if you have a medical condition or are taking any medication. Do not exceed recommended serving size. Do not use if subject to urinalysis. 

***These statements and product has not been evaluated or tested by the FDA and are not intended to diagnose, treat or cure any disease.
About Anavii CBD Energy Capsules
Why Anavii CBD Energy Capsules
Anavii CBD Energy Capsules are a functionally formulated blend of CBD + energizing cannabinoids like CBDA and CBG. CBDA supports a healthy inflammatory response by acting as a natural NSAID. It is 5x more potent than CBD for these purposes and additionally is more bioavailable in the body meaning it improves the efficacy of the compound as well as its surrounding cannabinoids like CBD. 
The formula also contains CBG. CBG is also an energizing cannabinoid that can aid in mood support and focus. Included in this formula is also other important energizing and stabilizing ingredients including Vitamin B12, CoEnzyme10 (CoQ10), Caffeine and L-Theanine. 
Vitamin B12 and CoQ10 support energy through the mitochondria allowing for a more sustained energy whereas caffeine provides the energy burst. This combination allows this functional CBD energy capsule to have both immediate and long lasting effects. 
In addition, the L-Theanine coupled with the CBD allows Anavii CBD Energy Capsules to have the needed energy burst but also stabilizing effects that reduce the caffeine jitters often experienced from coffee. 
Energy without Coffee Breathe
Anavii CBD Energy Capsules are an excellent choice for work days with back to back meetings or conferences with face to face contact. Hate Coffee Breathe! We do too! That's what makes Anavii CBD Energy Capsules a perfect solution to this problem. One Anavii CBD Energy Capsule is equivalent to one cup of coffee and is significantly cheaper than your Starbucks! Skip the lines and the bad breath and try an Anavii CBD Energy Capsule. 
Anavii CBD Energy Capsules are more Bioavailable
Bioavailability is the absorption of a compound into the body. Fat-soluble compounds like CBD, CoQ10, Tumeric, and other fatty compounds absorb poorly in water and since our body's are primarily water, these compounds absorb poorly in the body. 
But Anavii CBD Energy Capsules utilize a patented technology called Naturia+. Naturia+ is a 100% all natural, synthetic free bioavailability tool that allows these fat soluble compounds to absorb better in the body. This means that you absorb more of what you pay for, giving you a better deal and a better product! 
Don't worry, Caffeine is water soluble so you won't absorb more than what you would normally. 
Their products are amazing and the customer service is unparalleled! The representatives are always kind and courteous, they are patient and willing to answer any question that you may have about their products.
Quentina
I researched Anavii for quite a long time. They are a very reputable company. Every experience I have had with Anavii has been professional, expedient, and exact. I am very pleased with every transaction I have had. All the products that we have used has worked as described.
Kathleen