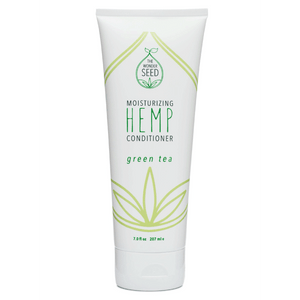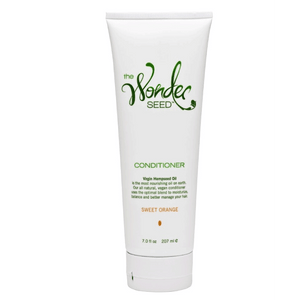 The Wonder Seed - Hemp Seed Oil Conditioner
Wonder Seed - Hemp Conditioner

Hemp Seed Oil Conditioner
Serving Size: apply as needed
Packaging: 7 Fluid Ounce Bottle
Product Specifications: All Natural Formula - optimal blend of Virgin Organic Hemp Seed Oil
No parabens, sulfates, gluten, artificial colors or fragrances

100% vegan and cruelty free
Aroma, Ingredients & Allergens
Fragrance: Fragrance free, No Artificial Fragrances

Aroma: Plant based essential oils including Sweet Orange
Product Ingredients: Purified Water (Aqua), Organic Virgin Hemp Seed Oil, Orange Essential Oil, Organic Jasmine Blossom Extract, Organic Aloe Vera, Ginseng Extract, Camphor Essential Oil, Mandarin White Oil, LYCD (Live Yeast Cell Derivative), Nettle Extract, Coconut Oil, Burdock Extract, Palm Kernel Glyceride, Soy Protein, Apple Cider Vinegar, Hyaluronic Acid (Natural Plant Based), Soluble Natural Plant Collagen, Cetyl Alcohol (Coconut Oil Based), Decanoic Acid, Lauryl Glucoside, Green Papaya Concentrate, Lemongrass Extract, Potassium Stearate (Natural Plant Based), Geranium Extract, Carnauba Wax, Cetyl Esters, Sorbitan Stearate (Strawberry Based), Isostearyl Palmitate (Palm Oil Based), Horseradish Extract, Behenic Acid (Natural Plant Based), Nutmeg Oil Extract and Sea Salt
Aroma: Plant based essential oils including Green Tea

Product Ingredients: Purified Water (Aqua), Organic Virgin Hemp Seed Oil, Green Tea Essential Oil, Organic Green Tea Extract, Organic Aloe Vera, Ginseng Extract, Mandarin White Oil, LYCD (Live Yeast Cell Derivative), Nettle Extract, Coconut Oil, Burdock Extract, Palm Kernel Glyceride, Soy Protein, Apple Cider Vinegar, Hyaluronic Acid (Natural Plant Based), Soluble Natural Plant Collagen, Cetearyl Alcohol (Natural Plant Based), Decanoic Acid, Lauryl Glucoside (Lauryl Oil Based) Green Papaya Concentrate, Lemongrass Extract, Potassium Stearate (Natural Plant Based), Geranium Extract, Carnauba Wax, Cetyl Esters, Sorbitan Stearate (Strawberry Based), Isostearyl Palmitate (Palm Oil Based), Horseradish Extract, Camphor Essential Oil, Behenic Acid (Natural Plant Based), Nutmeg Oil Extract and Sea Salt
How to Use Wonder Seed Hemp Conditioner
Suggested Use: Directions for use: Massage into hair and scalp after shampoo. For external use only. Use daily for best results. If irritation occurs, stop use immediately.
Disclaimers & Disclosures
***These statements and product has not been evaluated or tested by the FDA and are not intended to diagnose, treat or cure any disease.
About Wonder Seed Hemp Conditioner 
Wonder Seed Hemp Conditioner is a color-safe hemp seed oil conditioner designed to nourish and style all hair types.  Made with an all-natural formula, this hemp conditioner works to balance your scalp's natural oils as well as provide a variety of nutritional benefits that help strengthen and replenish the hair, giving you the luminous hair you've been looking for.
Infused with hempseed oil, Wonder Seed Hemp Conditioner can help restore moisture and shine so that you can leave the house with hair feeling totally pure and revitalized! Not only does this product work to treat damaged hair with vitamins and proteins, Wonder Seed's Hemp Conditioner offers the most hydrating solution to renewing your hair's natural beauty.
What are the Benefits of Wonder Seed Hemp Conditioner?
When hempseed oil is added to products like conditioner, you are given a nourishing blend of natural hemp ingredients fused with essential vitamins and proteins for the purest hair restoration. 
Wonder Seed Hemp Conditioner offers an enriching combination of hempseed oil benefits, including healthy hair and skin promotion, as well as a variety of minerals that tackle common problems faced with damaged hair.  Hempseed oil includes rich omega fatty acids and non-greasy compounds which are both known to promote healthy hair growth while moisturizing and hydrating the scalp.
In addition, hemp seed oil also includes Vitamins C and E, which work to protect the scalp from the sun and prevent further hair damage. This natural balance can help protect your hair against external damages caused by free radicals, aging and harsh climates, such as dry weather conditions. For those who live in particularly cold or extremely dry temperatures, your scalp will certainly benefit from using Wonder Seed Hemp Conditioner.
Wonder Seed's conditioner is not only made from an optimal blend of Virgin Organic Hemp Seed Oil, this rejuvenating product contains zero parabens, sulfates, gluten, artificial colors and fragrances. A100% vegan and cruelty free conditioner, Wonder Seed offers a variety of benefits to help nourish the hair and scalp, leaving you with a beautiful, natural glow.
How to Use the Wonder Seed Hemp Conditioner For the Best Results
For the best results, we recommend using Wonder Seed's CBD oil conditioner on a daily basis. This product is gentle enough to be used once a day and is even an excellent conditioning source for treated hair as it helps boost the color.
When applying this hemp conditioner to the scalp, simply place a quarter-sized amount in the palm of your hand and gently massage the product throughout the hair. Depending on the length and thickness of your hair, you may need slightly more or less. Then rinse the conditioner out with water.
The Wonder Seed Hemp Conditioner is an all-natural hair softening and enriching product that should be used at least two to three times a week. For best results, avoid taking hot showers and enjoy the glowing aesthetics of Wonder Seed. 
Is Wonder Seed Hemp Conditioner Safe to Use? 
Simply put, yes. Not only is Wonder Seed Hemp Conditioner safe to use but it is also legal, thanks to the 2018 Farm Bill. Like all products that contain less than 0.3% THC, this hemp conditioner is completely legal and safe to use, in fact hempseed oil products are officially considered Generally Recognized As Safe (GRAS) in accordance with the Food and Drug Administration's GRAS status. 
Have More Questions about Wonder Seed Hemp Conditioner? Ask Anavii Market Today!
For more information about Wonder Seed Hemp Conditioner, feel free to contact Anavii Market below and we'll be happy to answer any questions you have:
Call – 502-209-8808
Email – wellness@anaviimarket.com
Message us on social media – @anaviimarket 
Their products are amazing and the customer service is unparalleled! The representatives are always kind and courteous, they are patient and willing to answer any question that you may have about their products.
Quentina
I researched Anavii for quite a long time. They are a very reputable company. Every experience I have had with Anavii has been professional, expedient, and exact. I am very pleased with every transaction I have had. All the products that we have used has worked as described.
Kathleen