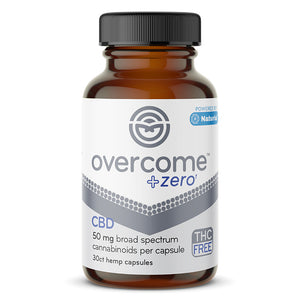 Overcome Zero THC Capsules 30 count - 50mg broad spectrum cannabinoids per capsule 
Overcome Zero THC Capsules 
Concentration: 50mg broad spectrum cannabinoids per capsule
Serving Size: Take 1-2 capsules daily. Increase as needed or as recommended by your physician. Take after a meal or a high fat snack. 
Carrier: Organic hemp seed oil
Extraction Process: CO2 extraction
Ingredients & Allergens
Product Ingredients:  Cream, Rice fiber, Organic tapioca starch, Organic gum arabic, Organic sunflower oil, Organic agave fiber (fructan), Vegetable capsule, Cannabinoid hemp extract.
Allergen(s): Contains Milk

How to Use Overcome Zero THC 

Suggested Use: Take 1-2 capsules daily with water, after a meal or a high fat snack.

It usually takes between 20 minutes to 1 hour to feel the effects of Overcome Zero THC Capsules
Disclaimers & Disclosures 
*** Hemp Extract CBD Oil is not intended for use under the age of 18. Do not take if you are pregnant or lactating. Consult your physician before use if you have a medical condition or are taking any medication. Do not exceed recommended serving size.
***These statements and product has not been evaluated or tested by the FDA and are not intended to diagnose, treat or cure any disease.
*** Use caution if subject to urinalysis.


Their products are amazing and the customer service is unparalleled! The representatives are always kind and courteous, they are patient and willing to answer any question that you may have about their products.
Quentina
I researched Anavii for quite a long time. They are a very reputable company. Every experience I have had with Anavii has been professional, expedient, and exact. I am very pleased with every transaction I have had. All the products that we have used has worked as described.
Kathleen