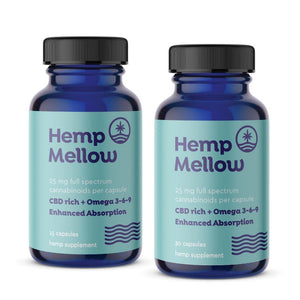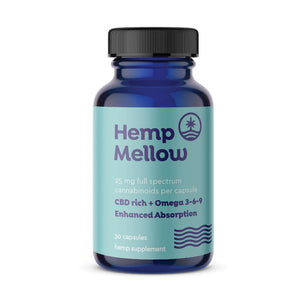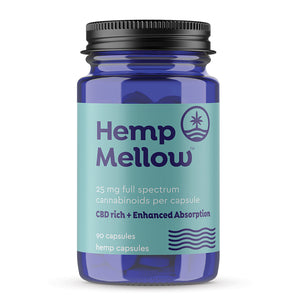 Hemp Mellow 25mg Full Spectrum Cannabinoid Capsules - 30ct, or 90ct
Hemp Mellow Capsules
Make Life a Breeze
Stress Free Mind-Body Relief
Naturia+™ Enhanced Absorption
Concentration per bottle: 
30ct bottle - 750mg active cannabinoids
90ct bottle - 2,250 active cannabinoids
Concentration per serving: 
25mg active cannabinoids per capsule
Serving Size: 1 or 2 capsules as needed

Carrier: Hempseed oil
Extraction Method: CO2 Extraction


Additional Product Specifications:


750mg or 2,250mg of active full spectrum cannabinoids per bottle
25mg active full spectrum cannabinoids per serving
Patent-pending Naturia+ for maximum absorption
Flavors, Ingredients, & Allergens
Ingredients: Cream, rice fiber, organic tapioca starch, organic gum arabic, organic sunflower oil, organic agave fiber (fructan), full spectrum hemp cannabinoid extract, hempseed oil, vegetable capsule
Allergens: Contains Milk
How to Use Hemp Mellow CBD Capsules 
Suggested use: Take one or two capsules with water daily or when feeling stressed. Increase as necessary or as recommended by your physician.
Hemp Mellow CBD Cannabinoid Spectrum 
Cannabinoid
mg/g
CBD
38.71
CBDA
ND
CBC
3.61
CBG

0.74

CBN

0.44
THC
.29%

Total
Max CBD
38.71
Max THC
.29%

Disclaimers & Disclosures
This product is derived from federally legal hemp. Each serving contains less than 0.3% THC by law and is non-intoxicating
*** Disclaimer: CBD hemp oil is not intended for use under the age of 18. Do not take if you are pregnant or lactating. Consult your physician before use if you have a medical condition or are taking any medication. Do not exceed recommended serving size.
***These statements have not been evaluated or tested by the FDA. This product is not intended to diagnose, treat, cure, or prevent any disease.
***WARNING: Do not use if you are pregnant or nursing. Consult your healthcare provider if you are using any prescription medications or have a medical condition. Discontinue use if unusual symptoms occur. Keep out of reach of children. This product is hemp-derived and contains less than 0.3% THC. Use caution if subject to urinalysis.
About Hemp Mellow
What are Hemp Mellow CBD Capsules? 

Hemp Mellow delivers 25mg of full-spectrum cannabinoids per capsules. These potent cannabinoid rich capsules are an excellent choice for stress relief. These capsules are some of the strongest and most effective CBD capsules on the market.  Each capsule contains 25mg of CBD and 1.65mg of THC. This THC level is below the 0.3% legal limit, but it allows for a potent full-spectrum effect. 
Moreover, Hemp Mellow utilizes a patent-pending delivery system called Naturia+ to enhance the delivery of cannabinoids into the body. This delivery system uses the power of mother nature and natural ingredients to help deliver and ensure maximum absorption.

The proprietary technology used to formulate the capsules bypasses the liver's first pass metabolism allowing cannabinoids to be first absorbed in the bloodstream. This method of delivery gives you the most value and will leave you feeling relaxed and stress free knowing that you are absorbing all the cannabinoids you ingest in the most effective manner possible. 


What's The Best Way to take Hemp Mellow Capsules?

Hemp Mellow Capsules are meant to be easy to take. We suggest taking one to two capsules daily or nightly. It may take between twenty minutes to one hour to feel effects. It may take longer based on your metabolism, but as always we suggest taking CBD with food especially a high fat snack. CBD has been scientifically proven to be more effective when ingested in combination with a high fat snack. 


What Are Some of The Benefits of Hemp Mellow Capsules?
Hemp Mellow Capsules are an excellent choice for relaxing, having a stress-free day, keeping calm, getting away from the every day stresses.

These capsules have enhanced absorption technology, so you can rest assured you're getting a safe and effective product. 

Hemp Mellow Capsules - Available Exclusively at Anavii Market!
Anavii Market is a leader in the health and wellness industry and is a distributor of all things CBD oil products, such as the Hemp Mellow capsules. We are an exclusive seller of Hemp Mellow. Buy today only at Anavii Market. 
We also offer a wide selection of other CBD products! For any questions or inquiries about any of our CBD oil products, please feel free call us at 502-209-8808 or Contact Us here. Our team of CBD experts will be more than happy to assist you!
Their products are amazing and the customer service is unparalleled! The representatives are always kind and courteous, they are patient and willing to answer any question that you may have about their products.
Quentina
I researched Anavii for quite a long time. They are a very reputable company. Every experience I have had with Anavii has been professional, expedient, and exact. I am very pleased with every transaction I have had. All the products that we have used has worked as described.
Kathleen