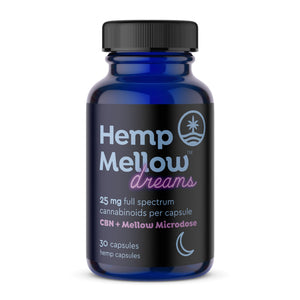 Hemp Mellow Dreams -25mg full spectrum cannabinoids per capsule + CBN + Mellow Microdose
Hemp Mellow Dreams Capsules
Make Sleep a Breeze
Stress Free Sleep
Naturia+™ Enhanced Absorption
Concentration per bottle: 
30ct bottle - 750mg active cannabinoids
Concentration per serving: 
25mg full spectrum cannabinoids per capsule
Serving Size: 1 - 2 capsules as needed

Carrier: Hempseed oil
Extraction Method: CO2 Extraction


Additional Product Specifications:


750mg of active full spectrum cannabinoids per bottle
25mg active full spectrum cannabinoids per capsule
Patent-pending Naturia+ for maximum absorption
Flavors, Ingredients, & Allergens
Ingredients:  Rice fiber, Cream, organic tapioca starch, organic gum arabic, organic sunflower oil, organic agave fiber (fructan), Terpenes, vegetable capsule, cannabinoid hemp extract, Vitamin C, Vitamin E, hempseed oil
Allergens: Contains Milk
How to Use Hemp Mellow Dreams CBD Capsules 
Suggested use: Take 1-2 capsules nightly, 30 minutes before bed. Increase as needed or as directed by your medical professional. Take after a meal or a high fat snack. 

Their products are amazing and the customer service is unparalleled! The representatives are always kind and courteous, they are patient and willing to answer any question that you may have about their products.
Quentina
I researched Anavii for quite a long time. They are a very reputable company. Every experience I have had with Anavii has been professional, expedient, and exact. I am very pleased with every transaction I have had. All the products that we have used has worked as described.
Kathleen