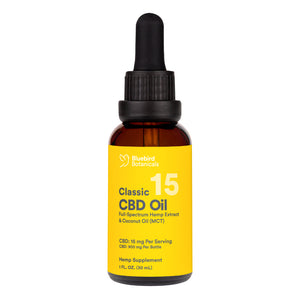 Bluebird Botanicals Classic CBD Oil
Bluebird Hemp Classic CBD Oil - 900mg per Bottle
Bluebird Hemp Classic combines full spectrum cannabinoids with organic hemp seed oil.  

Strength per Bottle: 900mg CBD Oil per 1oz Bottle
Strength per Serving:15mg
NEW 900mg per 1oz Bottle: 15mg per serving(0.5ml)
Carrier: Organic hemp seed oil
Extraction Process: Supercritical CO2 extraction
Location: Colorado-grown hemp
Additional Product Specifications
Packaging: Glass bottle with plastic dropper top.
Product Specifications:
 NEW 900mg per Bottle! (1oz bottle) 
1oz or 30ml Bottle 900mg 15mg per serving (0.5ml)
Full Spectrum Cannabinoid Extract with terpenes, omega fatty acids, trace minerals, vitamins and more
Organically-grown cold pressed hemp seed oil
All natural, plant-based ingredients
Grown & processed in the USA
This Bluebird Botanicals product is an all-natural hemp extract with no added flavors. The taste may have a strong earthy flavor. If you don't like the taste, enjoy it in smoothies or other beverages, like coffee. Otherwise, try the Bluebird Botanicals Hemp Classic formula in softgels. Alternatively, Anavii Market has a diverse selection of other brands with flavored products.
Flavors, Ingredients, & Allergens
Flavor: All Natural (Earthy notes)
Product Ingredients: Organic Hemp Seed Oil, 900mg(1oz) of CBD and Cannabinoid Rich Hemp Extract 
Allergens: None
How to Use Bluebird Botanicals Classic CBD Oil
Suggested Use: Take one serving as specified on bottle once daily under the tongue, or as desired. Hold in mouth for 20-30 seconds, then swallow. Store at room temperature. Take in day or night, preferably after a meal or high fat snack
Bluebird Botanicals Classic 500mg CBD Oil - Cannabinoid Spectrum
| | |
| --- | --- |
| Cannabinoid | mg/ml |
| CBD | 7.41 |
| CBDA |  0.5 |
| CBDV | 0.36 |
| CBC | 0.29 |
| THC | <0.3% |
| Total | 8.93 |
| Total CBD | 7.91 |
| Total THC | <0.3% |
Bluebird Botanicals Classic 1500mg CBD Oil - Cannabinoid Spectrum
| | |
| --- | --- |
| Cannabinoid | mg/ml |
| CBD | 47.89 |
| CBDa |  0.83 |
| CBDV | 0.56 |
| CBG | 1.09 |
| CBN | 0.02 |
| CBC | 1.94 |
| THC | <0.3% |
| Total | 54.26 |
| Total CBD | 48.72 |
| Total THC | <0.3% |
Disclaimers & Disclosures
Anavii Market only retails hemp-derived cannabinoid oils. All products sold contain less than 0.3% THC and are federally legal. 
*** Disclaimer: Hemp Extract is not intended for use under the age of 18. Do not take if you are pregnant or lactating. Consult your physician before use if you have a medical condition or are taking any medication. Do not exceed recommended serving size.
***These statements and product has not been evaluated or tested by the FDA and are not intended to diagnose, treat or cure any disease.
About Bluebird Botanicals


Bluebird Botanicals Classic CBD Oil - A Leading Seller at Anavii Market
What Is Bluebird Botanicals Classic CBD Oil?
Bluebird Botanicals Classic CBD Oil is an organic nutritional supplement that provides calming effects to those who use it. This is due to the active cannabinoids per each serving of drops. With 60 servings per bottle, users make sure to get the bang for their buck. Bluebird Botanicals operates under The Colorado Department of Agriculture's Industrial Hemp Program supporting farmers in their local economy.  Bluebird Botanicals systematically uses expansive hemp cultivars for manufacturing the raw ingredients used to create CBD Oil to improve the diverse array of nutrients and terpenes the plant has to offer. 
The Bluebird Botanicals Classic CBD Oil – 2oz bottle – is a cannabis oil extracted from hemp, and is a potent and pure full spectrum hemp extract.  Please keep in mind that these Bluebird Botanicals Classic CBD are 2oz bottles, meaning the 600mg Classic CBD contains 300mg per 1 ounce and the 3000mg Classic CBD Oil contains 1500mg per 1 ounce. 
Bluebird Botanicals Classic CBD Oil is a special blend of CBD oil mixed with organic hemp seed oil. This oil is cold-pressed from seeds grown in Canada. Made from only all-natural elements, Bluebird Botanicals Classic CBD Oil combines together varying phytocannabinoids, terpenes, and flavinoids, that includes CBD but also other minor cannabinoids like CBDA.
Other than the naturally-occurring cannabinoids found in the company's hemp extracts, there are also tons of other natural elements present. These are molecules like amino acids, vitamins like B1, B2, and D, minerals like iron, zinc, and calcium, flavonoids, alkanes, pigments, and terpenes. Combined, these ingredients produce an organic recipe for balancing one's body. With no added artificial flavors, Bluebird Botanicals Classic CBD Oil uses a plant-based formula. This produces an earthy, all natural tone without a rough aftertaste.
Who Is Bluebird Botanicals?
Bluebird Botanicals is a leading manufacturer in the hemp industry, distributing organically grown hemp infused CBD oil products. Bluebird Botanicals is located in the heart of Colorado, and produces products such as Bluebird Botanicals Classic CBD Oil, Botanicals Hemp CBD Capsules, concentrated CBD Oil, CBD Isolates, CBD Vape Oil, CBD Pet Products, and more.  
Honored as #1 hemp CBD company at the 2016 Cannabist Awards, Bluebird Botanicals primarily cares about producing safe CBD products. That said, the hemp plants go through either environmentally-friendly alcohol or extraction systems. Bluebird Botanicals uses a supercritical CO2 extraction system to pull out the botanical compounds in all of their products.
Even more, Bluebird Botanicals feels passionately about thoroughly testing its products for any unwelcome chemicals. That's why they use a high-tech quality control program where they check to make sure all of Bluebird Botanicals products are free from pesticides, herbicides, heavy metals and residual solvents.
To ensure safe products, every item Bluebird Botanicals produces is created following the FDA's Current Good Manufacturing Practices. They also each tested at third-party labs to identify any unusual components before arriving at your home. As if that wasn't enough, all of Bluebird Botanicals products have a certification label on their website available for anyone. That way, you can know specifically what's inside Bluebird Botanicals Classic CBD Oil before using it!
Benefits of Antioxidants - How Bluebird Botanicals Classic CBD Oil Fits In:
Antioxidants are molecules that fight damage to cells caused by free radicals, highly reactive unstable molecules, by preventing a process called oxidation. Antioxidants do this by providing extra electrons to free radicals to neutralize them.
The human body constantly produces free radicals during metabolism, but more often than not, the amount of free radicals in a person's body is much more significant than the amount of the antioxidants produced by our bodies. So, to maintain a balance where the antioxidants found in your body remove all free radicals, external antioxidants are necessary. Without antioxidants, free radicals could cause serious damage to our bodies.
Antioxidants are present in everyday products, like vitamins C and E, minerals, other foods, and you guessed it — CBD! Unfortunately, due to FDA regulations, we can't make any definitive statements regarding the health benefits of CBD. However, there is tons of scientific evidence showing the benefits of antioxidants.
The benefits of antioxidants are scientifically verified, and Bluebird Botanicals Classic CBD Oil can be termed an antioxidant. However, the FDA has not yet fully reviewed the information and data on Bluebird Botanicals Classic CBD Oil or Bluebird Botanicals Classic Hemp Extract. Therefore, any possible data or known benefits to one's health are relatively unknown as of date. Considering Bluebird Botanicals Classic CBD Oil contains flavonoids, and flavonoids are a source of antioxidants, we can confidently state that antioxidants, like the ones found in CBD oil, are essential.
Any vitamins or minerals that contain antioxidant elements are essential nutrients, meaning they're necessary for other aspects of our health. So regardless, you should regularly be consuming them. Antioxidants are complicated, so it might help to see them explained more thoroughly here.
Best Way to Use Bluebird Botanicals Classic CBD Oil:
Bluebird Botanicals recommends to keep this product refrigerated, although this is suggested and not required.  Under normal conditions, most users of Bluebird Botanicals 600mg CBD Oil should swallow a recommended serving of 10-15 drops, but that the exact amount of Classic CBD Oil can vary greatly depending on the user, and also depending on weight, use and whether or not you use other cannabis products.
Bluebird Botanicals Classic CBD Hemp Oil can be taken during the day or in the evenings, and taking it after a meal is recommended.  Because this is a natural supplement taken from plants, the taste can be a little bitter at first and may take some getting used to. Like many natural supplements, including Bluebird Botanicals CBD Oil, you want to start with a low dosage until you've taken it enough times to know what dosage works best for you.
As with all supplements, we'd also like to mention that before starting to take CBD Oil products, it's always recommended to be on the safe side but consult your physician, especially if you are taking other medication or are suffering from a disease or illness.
Bluebird Botanicals Hemp Classic Review – Best on the Market
Bluebird Botanicals Hemp Classic is just one of the many various hemp extract oil products the company offers. The two other main products offered are Bluebird's signature and complete blends. Not only does the Bluebird Botanicals Hemp Classic come packed full of a wide range of cannabinoids per serving, but also is extremely concentrated.
 If you're looking for a stronger CBD oil product, look no further. The Bluebird Botanicals Hemp Classic comes in two possible sizes: 600mg or 3000mg of full-spectrum Cannabinoids and CBD oil. With 30 servings per ounce and packaged in a 2 ounce bottle, the Bluebird Botanicals Hemp Classic is a really cost-efficient product for users to get their daily dose of CBD.
Even more, the Bluebird Botanicals Hemp Classic contains 5mg of full-spectrum cannabinoid concentration per serving. Designed specifically for those who have trouble swallowing or eating in general, this exceptional product offers one of the easiest ways to consume a high quantity of CBD quickly and conveniently.
Additionally, the Bluebird Botanicals Hemp Classic comes with a plastic dropper for perfect precision. This way, users can adjust their serving sizes or the amount of CBD they consume easily and efficiently. Also, users can safely mix the Bluebird Botanicals Hemp Classic with other CBD oil products to fine-tune their serving size while creating new and exciting mixtures to get cannabidiol into their system.
In such a small container, the Bluebird Botanicals Hemp Classic is also great for those with active lives. This is because they can take this product with them wherever, in their pocket or purse, and use throughout the day.
The Bluebird Botanicals Hemp Classic is one of the company's top selling CBD oil products — for good reason, too. Not only is the product gluten and GMO-free but it is also vegan! Even more, Bluebird Botanicals Hemp Classic extract contains a variety of essential vitamins, minerals, proteins, terpenes, flavonoids, and more. The company also produces it using full spectrum extract to make sure users receive the most potent and effective CBD oil product.
The Bluebird Botanicals Hemp Classic blend is meant to be consumed orally. With an earthy taste, this product is perfect for users who have difficulty consuming typical CBD oils. This is because it has been decarboxylated instead of in its raw form. This means that the oil was heated up, turning CBDA into CBD. The decarboxylated form of CBD oil has been said to have more of a bioavailability for our bodies' CBD receptors.
Shop for Bluebird Botanicals Classic CBD Oil at Anavii Market — Leading Seller of Bluebird Botanical Hemp Extract CBD Oil Products
Bluebird Botanicals Classic CBD Oil and Bluebird Botanicals Classic Hemp Extract CBD Oil, as well as many other CBD products are all top sellers at Anavii Market.

For more information about Bluebird Botanicals Classic CBD Oil products or any CBD products in general, please feel free to give us a call at 502-209-8808 or Contact Us here, and we'd be more than glad to help!
Their products are amazing and the customer service is unparalleled! The representatives are always kind and courteous, they are patient and willing to answer any question that you may have about their products.
Quentina
I researched Anavii for quite a long time. They are a very reputable company. Every experience I have had with Anavii has been professional, expedient, and exact. I am very pleased with every transaction I have had. All the products that we have used has worked as described.
Kathleen