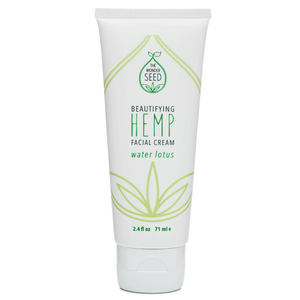 The Wonder Seed - Hemp Seed Oil Facial Cream
The Wonder Seed - Hemp Facial Cream 
Hemp Seed Oil Facial Cream 
Serving Size: apply as needed
Packaging: 2.4 Fluid Ounce Bottle
Product Specifications: All Natural Formula - optimal blend of Virgin Organic Hemp Seed Oil
No parabens, sulfates, gluten, artificial colors or fragrances
English Daisy essential oil scent
100% vegan and cruelty free
Aroma, Ingredients & Allergens
Fragrance: Fragrance free, No Artificial Fragrances

Aroma: Plant based essential oils including Water Lotus

Product Ingredients: Purified Water (Aqua), Organic Virgin Hemp Seed Oil, Organic Water Lotus Essential Oil, Grape Seed Oil, Organic Aloe Vera, Organic Water Lotus Blossom Extract, Organic Green Tea Extract, Glycerin (Vegetable), Behenic Acid (Natural Plant Based), Ginseng Extract, Mandarin White Oil, Organic Sweet Almond Oil, Jojobo Oil, Sorbitan Stearate (Strawberry Based), Soybean Oil, Vegetable Glyceryl Stearate (Natural Plant Based), Chamomile Extract, Borage Seed Oil, Cetyl Alcohol (Coconut Oil Based), Retinyl Palmitate (Natural Plant Based), Ascorbic Acid (Vitamin C), Hyaluronic Acid (Natural Plant Based), Geranium Extract, Glycyrrhiza Glabra Root Extract, Dextrin, Stearyl Alcohol (Natural Plant Based), Lauric Oil Extract, Wolf Berry Extract, Soluble Plant Collagen, Potassium Sorbate (Natural Plant Based), Lauric Oil Extract, Nutmeg Oil Extract and Sea Salt
Allergens: Contains Coconut. Free from artificial colors, fragrances, parabens, phthalates, and sulfates. 
How to Use Wonder Seed Hemp Facial Cream 
Suggested Use: Directions for use: Massage onto face. For external use only. Use daily for best results. If irritation occurs, stop use immediately.
Disclaimers & Disclosures
 ***These statements and product has not been evaluated or tested by the FDA and are not intended to diagnose, treat or cure any disease.
Their products are amazing and the customer service is unparalleled! The representatives are always kind and courteous, they are patient and willing to answer any question that you may have about their products.
Quentina
I researched Anavii for quite a long time. They are a very reputable company. Every experience I have had with Anavii has been professional, expedient, and exact. I am very pleased with every transaction I have had. All the products that we have used has worked as described.
Kathleen