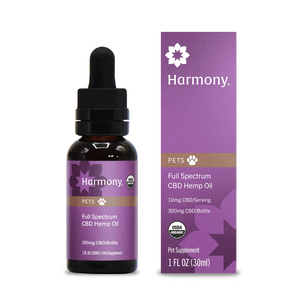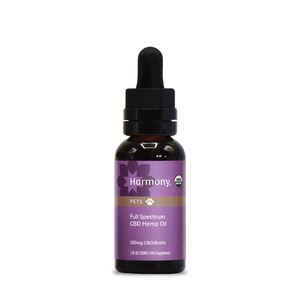 Harmony Pets - 300mg (Palmetto Paws)
Harmony CBD Oil For Pets 
(formerly Palmetto Paws with new formulation and price!)
 Concentration per bottle: 300mg Full Spectrum Blend of CBD Oil and Cannabinoids
Concentration per serving: 10mg hemp-derived CBD Oil cannabinoid extract per ml
Carrier: MCT Oil
Extraction Process: Botanical Oil Extraction - Solvent Free
Additional Product Specifications
30ml - 300 mg Full Spectrum CBD Oil (Hemp Extract) and Cannabinoid Extract Tincture with 10mg per ml
Palmetto Paws 30ml whole plant extract contains nutritious concentrations of CBD oil, minor cannabinoids, terpenes, Omega 3 and other naturally occurring plant compounds. CBD oil tinctures are a great addition to any pet treat.
Packaging: Glass bottle with box. Approximately 4oz by weight in a 3.4oz bottle
Product Specifications: Bottle contains 300mg of full spectrum hemp-derived extract CBD oil and minor cannabinoids with 10mg/ml
Full Spectrum Hemp Extract - CBD oil and minor cannabinoids
Terpene Complex
FDA compliant
Non-GMO
No synthetic fertilizers, herbicides or pesticides
No artificial flavoring or additives
Flavor, Ingredients & Allergens
Flavor: All Natural (Earthy)
Product Ingredients: Pharmaceutical-grade coconut oil (MCT oil) & whole plant hemp derived cannabinoid oil
Allergens: Contains Coconut
How To Use Harmony CBD Oil for Pets
Suggested Use: Start low and build. Suggested serving is 10mg per 100 lbs. Adjust serving size depending on weight of animal. Increase as needed or as suggested by your veterinarian.
Harmony CBD Oil Cannabinoid Spectrum Table
| | |
| --- | --- |
| Cannabinoid | mg/ml |
| CBD | 15.36 |
| CBC | 0.57 |
| CBG | 0.37 |
| CBN | 0.06 |
| CBDV | 0.06 |
| THC | 0.58 |
| Total | 17.02 |
| Max CBD | 15.36 |
| Max THC | 0.58 |
Disclaimers & Disclosures
*** Disclaimer: Consult your veterinarian before use if your pet(s) has a medical condition or is taking any medication. Do not exceed recommended serving size.
***These statements and product has not been evaluated tested by the FDA and are not intended to diagnose, treat or cure any disease.
About Harmony Pets CBD Oil
What is Harmony Pets CBD Oil Tincture?
Most pet-parents would go to great lengths to try and preserve their pet's health for as long as possible. So, many have started to consider cannabinoids like CBD oil for managing discomfort and relief. With no added preservatives and products specifically designed for pets, you can treat your pet just as you would yourself! Harmony Pets CBD Oil Tincture is a dietary supplement that contains cannabidiol oil that's legal and safe for your pet.
Harmony Pets CBD Oil Tincture is gentle enough to be used by both dogs and cats. In fact, derived from a botanical hemp plant extract, this tincture is completely organic. It also comes in two different formulas designed for cats and dogs. This product is mixed with an MCT coconut oil providing your pet with high values of Omega 3 and Omega 6. Palmetto Paws CBD Oil Tincture also comes with an easy-to-use dropper that allows simple consumption for your pet.
How Does Harmony CBD Oil for Pets Work?
Studies have shown that consuming CBD can produce similar health effects for pets like it does for humans. Like humans, pets have an endogenous cannabinoid system (ECS). This allows them to retain the plethora of benefits that many cannabinoids, such as CBD, produce. CBD and other compounds found in hemp extract stimulate the ECS by either activating or blocking its various receptors.
As CBD targets these receptors in the brain, central nervous system, organs and immune cells, it produces calming sensations. By interacting with your pet's ECS, CBD can provide daily relief and reduce exercise-induced inflammation, and calm the stressful mind when left home alone or when taken into a high-anxiety situation.
Believe it or not but pets can get extremely neurotic just like us! And you certainly don't want to sedate your dog fully whenever he sees the mailman come over. Harmony Pets 300MG Full Spectrum CBD Oil Tincture offers a new solution for your four-legged friend. It doesn't matter if your pup is afraid of airplanes, other animals, or even himself! Harmony Pets CBD Oil Tincture will surely help your pet chill out. It can even improve your senior pet's overall quality of life!
Is Harmony Pets 300MG Full Spectrum CBD Oil Tincture Safe For My Pet?
CBD (Cannabidiol) is one of over 100 cannabinoids extracted from the buds of cannabis or hemp plants. It is non-psychoactive, meaning, it does not produce intoxication.
Rather, Harmony Pets Full Spectrum CBD Oil Tinctures are created with only pet wellness in mind. With less than 0.3 mg of THC, this all-natural, plant-based solution makes for a safe supplement to add to your pet's diet. Harmony Pets CBD Oil Tincture is non-toxic and free of pesticides, chemicals and unnecessary solvents.
The CBD found within these products originates from legalized industrial hemp that's unfortunately still unregulated. However, you can rest assured. At Anavii Market, we test all of the products we sell, and required laboratory verifications. We want you to receive the best CBD possible.
Because of regulation, there has been little clinical published research on cannabis, or CBD —even though it's non-intoxicating— as a remedy for pets with anxiety, seizures, joint inflammation, or any other medical ailments. Regardless, that will ideally change soon, as a couple of studies are either in the planning stages or in progress.


How to Add Harmony Pets CBD Oil Tincture to my Pet's Diet:
If after reading this you feel that CBD oil sounds like the right remedy for your pet, then there are many different methods for adding CBD Oil to your animal's diet. These include CBD tinctures, Hemp Oil Capsules, CBD Oil Topicals and more.
The most popular way to give CBD oil to your pet is through a tincture. With a tincture like Harmony Pets CBD Oil Tincture, you can control the exact dose of CBD your animal receives. The dropper also allows you to directly insert drops of CBD in your pet's mouth. However, because this can get quite a bit messy, you can also simply place the oil into your pet's food bowl or serve it with treats.
When it comes to dosage, determining how much CBD oil is the right amount to give your pet can be rather challenging. In general, doctors and specialists advise that, like any treatment or supplement, it will take time and trial and error before finding the appropriate dosage that best works for your animal. If you want to give your pet CBD, start small and gradually increase the dosage depending on whatever reactions you see from your pet. The recommended serving is 1mg per 10lbs weight. 
A key thing to note is that once you give your pet a dose of CBD oil, it might take up to a few hours before you really start to see any effects from your pet. If you think your pet isn't feeling any better after a couple hours, increase the dose slightly either later in the day or try a higher dosage the next.
Harmony Pets CBD Oil Tincture – Anavii Market's Got You Covered!
Anavii Market is the best place to purchase your Harmony Pets CBD Oil Tincture and our many other pet products containing CBD Oil for your pets! The products at Anavii Market each go through rigorous third-party laboratory testing procedures to make sure they are up-to-date, free from unwanted chemicals, and test for potency, quality and consistency. Health-conscious pet owners everywhere trust Anavii Market to supply holistic remedies for their beloved furry best friends.

For more info about giving CBD Oil to your pets, or Palmetto Paws CBD Oil Tinctures, please feel free to give us a call at 502-209-8808 or Contact Us here; we'd love to help!
Their products are amazing and the customer service is unparalleled! The representatives are always kind and courteous, they are patient and willing to answer any question that you may have about their products.
Quentina
I researched Anavii for quite a long time. They are a very reputable company. Every experience I have had with Anavii has been professional, expedient, and exact. I am very pleased with every transaction I have had. All the products that we have used has worked as described.
Kathleen