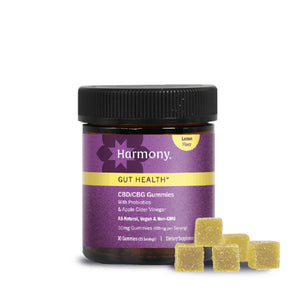 Palmetto Harmony Gut Health CBD + CBG Gummies 30ct
Palmetto Harmony Gut Health CBD Gummies with Probiotics & Apple Cider Vinegar 30ct

Concentration per Container: 900mg CBD + CBG per container
Concentration per Serving: 60mg of CBD + CBG per serving

Serving per Container: 15 servings
Additional Product Specifications
Packaging: plastic container
Product Specifications: 
- 30mg of CBD per gummy

- 2 gummies per serving
- 1 jar has 15 servings

Flavors, Ingredients & Allergens


Flavor: Natural lemon flavor
Nutritional Information:
20 calories
4g Total Carbohydrates 
4g Total Sugars
60mg CBD per serving 
Product Ingredients: Apple Cider Vinegar, Hemp Flower Distillate (CBD), Bifidobacterium Lactis & Bifidobacterium Bifidum Probiotics, CBG
Cane Sugar, Water, Non-GMO Corn Syrup, Fruit Pectin, MCT Oil, Sugar, Lemon Natural Flavor, Less Than 1% Citric Acid, Sodium Benzoate

Allergens: Contains Coconut
How to use Palmetto Harmony CBD Gummies
Directions for use: Take 2 gummies daily. Store in a cool, dry, and dark place after opening.
Disclaimers & Disclosures 
*** Disclaimer: CBD Oil is not intended for use under the age of 18. Do not take if you are pregnant or lactating. Consult your physician before use if you have a medical condition or are taking any medication. Do not exceed recommended serving size.
***These statements and product has not been evaluated tested by the FDA and are not intended to diagnose, treat or cure any disease.
About Palmetto Harmony CBD Gummies
What are Palmetto Harmony Gut Health CBD Gummies?
Palmetto Harmony CBD gummies are delicious gummy treats that create a fun, yummy way to focus on our gut health.  With ingredients like apple cider vinegar and probiotics paired with CBD these gummies are sure to help get your gut into a better state of wellness.

Why Choose Palmetto Harmony Gut Health CBD Gummies?

Harmony gummies contain CBD as well as Apple Cider Vinegar and a mix of B. Bifidum and B. Lactis Probiotics. These ingredients are great for maintaining gut health.

Harmony gummies are vegan (no ingredients derived from animals) and are also non-GMO so you can feel good about taking these supplements every day. Palmetto Harmony gets their CBD from hemp plants grown in the USA and they use only natural natural flavors for these gummies so they taste great.

How Do Palmetto Harmony Gut Health CBD Gummies Work?
Palmetto Harmony Gut Health CBD Gummies work very well for gut health and are the perfect size to carry anywhere you go. You can take these gummies any time of day and they are easily digestible. 
Palmetto Harmony Gut Health CBD Gummies work by communicating with the endocannabinoid system and other receptors throughout the body. In addition, the probiotics added to the formulations provide good bacteria to support gut health. 
Store in a cool, dry place after opening jar.
Get Palmetto Harmony Gut Health CBD Gummies Here!
Palmetto Harmony Gut Health CBD Gummies are yummy, chewable supplements, geared towards maintaining gut health. These delicious CBD gummies make a great addition to any wellness program. We are excited to carry these gummies at Anavii Market.

For questions about Palmetto Harmony CBD Gummies , please contact our team at Anavii Market below: 
Call – 502-209-8808
Email – wellness@anaviimarket.com
Message us on social media – @anaviimarket 
Their products are amazing and the customer service is unparalleled! The representatives are always kind and courteous, they are patient and willing to answer any question that you may have about their products.
Quentina
I researched Anavii for quite a long time. They are a very reputable company. Every experience I have had with Anavii has been professional, expedient, and exact. I am very pleased with every transaction I have had. All the products that we have used has worked as described.
Kathleen