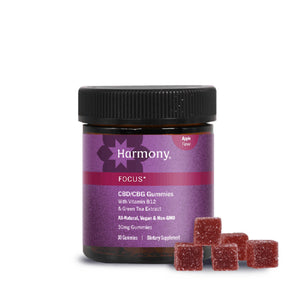 Palmetto Harmony Focus CBD/CBG Gummies 30ct
Palmetto Harmony Focus CBD/CBG Gummies 30ct

Palmettto Harmony Focus Gummies 20mg CBD and 10mg CBG per serving, 900mg per container
Concentration per Container: 900mg CBD + CBG full spectrum hemp extract per container
Concentration per Serving: 20mg CBD and 10mg CBG per serving

Serving Size: 1 gummy
Plus: Vitamin B12 and Green Tea Extract

Additional Product Specifications
 Product Specifications: Each container has 30 gummies. Each serving (1 gummy) of Palmetto Harmony Focus CBD/CBG Gummies provides 30mg full spectrum hemp-derived CBD/CBG extract plus Vitamin B12 and Green Tea Extract

900mg of CBD/CBG per container
Full Spectrum Hemp Extract
Vegan & Non-GMO
Plant-based ingredients, naturally flavored with fruit and vegetable juices

Made in the USA
Flavor, Ingredients & Allergens
Flavor: Natural Apple flavor

Nutritional Information:
11 calories
3g Total Carbohydrates 
3g Total Sugars
30mg CBD per serving
Product Ingredients: Green Tea Extract, Hemp Flower Distillate (CBD), CBG, Vitamin B12 (Methylcobalamin)Cane Sugar, Water, Non-GMO Corn Syrup, Fruit Pectin, MCT Oil, Sugar, Apple Natural Flavor, Less Than 1% Citric Acid, Sodium Benzoate

Allergens: Contains Coconut
How to Use Palmetto Harmony Focus CBD/CBG Gummies

 Suggested Use: Take 1 gummy daily. Increase as needed or as directed by your medical professional. Take after a meal or a high fat snack.
Disclaimers & Disclosures
 *** Use caution if subject to urinalysis.
*** Hemp Extract CBD Oil is not intended for use under the age of 18. Do not take if you are pregnant or lactating. Consult your physician before use if you have a medical condition or are taking any medication. Do not exceed recommended serving size.
***These statements and product has not been evaluated or tested by the FDA and are not intended to diagnose, treat or cure any disease.


About Palmetto Harmony

Palmetto Harmony is an American, vertically-integrated hemp CBD company. This means they grow, extract, bottle, and distribute all from their Conway, South Carolina facility. Vertical integration allows them to control all aspects of the supply chain, thus, ensuring that there is no break down from the specialized genetics they grow all the way through to the bottle you purchase for you or your loved ones.
Benefits of Palmetto Harmony Focus Gummies How CBD Gummies Actually Work
Harmony gummies are free of artificial flavors and colors. All flavors are made from natural ingredients.  All Harmony gummies are vegan friendly. Harmony gummies are never made with ingredients derived from animals and are also non-GMO.
Harmony gummies are infused with CBD and CBG. These particular gummies add in the benefits of Green Tea Extract, a completely natural herb that can also promote a sense of focus. Not only that, these Focus Gummies have Vitamin B12 for an added boost of wellness!
CBD gummies work by interacting with the body's endocannabinoid system. An intriguing natural system found throughout our body and nervous system. CBD gummies may help augment our body's own natural compounds, to help our endocannabinoid system promote equilibrium, or a feeling of balance and overall well-being.
Palmetto Harmony Focus Gummies are naturally flavored with vegetable and fruit juices, and combine natural and botanical ingredients. Along with full spectrum hemp, you'll get Vitamin B12 and Green Tea Extract to help boost your daily focus.
Improve concentration with Focus Gummies and Palmetto Harmony from Anavii Market
At Anavii Market, we're proud to sell Palmetto Harmony Focus Gummies, and their other great CBD products. We make a great team, because both Palmetto Harmony and Anavii Market ensure every product meets our high standards of quality.

Do you have questions about Palmetto Harmony Focus Gummies, or our other CBD products and Hemp Edibles in general? Please feel free to call us at 502-209-8808. You can also Contact Us here.  
Anavii Market is a leading retailer of Palmetto Harmony CBD, located in Lexington, Kentucky.
Their products are amazing and the customer service is unparalleled! The representatives are always kind and courteous, they are patient and willing to answer any question that you may have about their products.
Quentina
I researched Anavii for quite a long time. They are a very reputable company. Every experience I have had with Anavii has been professional, expedient, and exact. I am very pleased with every transaction I have had. All the products that we have used has worked as described.
Kathleen