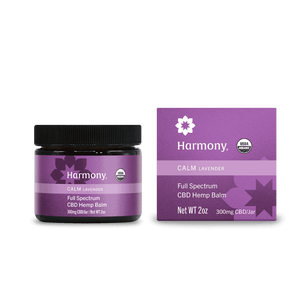 Harmony Calm Balm (Palmetto Harmony Psorian Topical) 300mg CBD
Harmony Calm Balm 300mg CBD (Palmetto Harmony CBD Oil Psorian Topical)
Concentration per Container: 300mg Full Spectrum Blend of CBD Oil and Cannabinoids
Carrier: Shea Butter, Beeswax
Fragrance: Fragrance free, No Artificial Fragrances
Aroma: Plant based essential oils: Lavender
Extraction Process: Botanical Oil Extraction - Solvent Free
Additional Product Specifications
Palmetto Harmony topicals provide treatment in localized areas. Topicals are effective for joint and skin care. Treat your largest organ by using topicals with the best CBD oil.
Packaging: 2oz glass container
Product Specifications: Topical contains 300mg of full spectrum hemp-derived extract CBD oil and minor cannabinoids
Full Spectrum Hemp Extract - CBD oil and minor cannabinoids
Terpene Complex
FDA compliant
Manufactured using cGMP
Non-GMO
No synthetic fertilizers, herbicides or pesticides
Ingredients & Allergens
Product Ingredients: East African Shea Butter, Beeswax, Gotu Kola, Comfrey Root, Calendula, Marshmallow Root, Cannabinoid Rich Hemp Extract (100mg), Lavender
How To Use Palmetto Harmony CBD Oil Topical
 Suggested Use: Use as directed or as suggested by your physician. Keep out of eyes. Stop use and consult physician if rash occurs.
This product should to be stored at 75 degrees or below. Please be aware that if this product is exposed to higher heat it can change the consistency, causing it to liquefy. If this occurs, please place in fridge overnight. Be aware this may also occur in shipping during high heat summer months.
Disclaimers & Disclosures
 *** Disclaimer: Cannabinoid Oil is not intended for use under the age of 18. Do not take if you are pregnant or lactating. Consult your physician before use if you have a medical condition or are taking any medication. Do not exceed recommended serving size.
***These statements and product has not been evaluated or tested by the FDA and are not intended to diagnose, treat or cure any disease.
About Palmetto Harmony CBD Oil
 Palmetto Harmony extracts using a proprietary botanical oil, solvent-free process.
Palmetto Harmony operates following certified Good Manufacturing Practices (cGMP). They rigorously test their products through ISO-certified laboratories.
Palmetto Harmony supports the hemp industry by providing annual donations to Vote Hemp. They are a member of the Hemp Industries Association and the National Hemp Association. They are a board member of the South Carolina Hemp Farmers Association and have been awarded one of the 20 licenses for South Carolina to grow hemp through the South Carolina Agriculture Department's Hemp Pilot Program.
What is a Palmetto Harmony CBD Oil Psorian Topical?
Palmetto Harmony CBD Oil Psorian Topical is a cream infused with a specific measured amount of hemp-derived CBD at 50mg per oz. It's made by infusing grade-A cannabis plants in a high-quality, solvent-free, botanical oil where it then extracts the active compound, CBD. Manufacturers support that it can promote reductions in acute joint pains and muscle aches.
Users can apply Palmetto Harmony CBD Oil Psorian Topical cream to various areas of their bodies. This lotion is an effective remedy for relieving discomfort and soreness, but most importantly for rubbing on irritated skin. Those with conditions like psoriasis, eczema, and dermatitis may find the Palmetto Harmony CBD Oil Psorian Topical to be a wonderful skin application for handling skin care; however, clinical trials have not been performed to prove the effectiveness. 
Because cannabidiol, or CBD, is non-intoxicating, applying it to the skin will not produce any psychoactive effects as THC can. So, getting your daily dose of CBD through a cream like the Palmetto Harmony CBD Oil Psorian Topical is a great option for anyone looking to moisturize the skin, while counter-acting free-radicals that can cause dry skin, acne and dermatitis. 
It's also great for anyone who'd prefer something other than typical steroid creams generally used for things like arthritis and joint pain. However, because the concentration of 100mg is rather low, it is likely that increased concentrations would be needed for optimal relief. Alternatively, many users choose Palmetto Harmony CBD Oil Psorian Topical because they can experience the benefits of CBD through the body's largest organ.   
Using only organic ingredients, Palmetto Harmony CBD Oil Psorian Topical blends potent hemp extract, beeswax, shea butter, terpenes, marshmallow root, and lavender. When combined, these natural elements deliver a calming, relaxing sensation to the skin. When correctly applied, this cream can be beneficial for a myriad of ailments. Palmetto Harmony CBD Oil Psorian Topical is the perfect cream and treatment for localized area comfort.
How Does Palmetto Harmony CBD Oil Psorian Topical Work?
Rather than consuming hemp CBD oil orally try applying a lotion filled with active cannabinoids providing your body with quick absorption into the affected area, providing a more localized treatment at a faster rate. Remember to reapply often though, as CBD oil topicals are generally less concentrated than oral applications. In addition, in general, CBD oil topicals have a shorter lifespan during application than oral CBD products like tinctures, softgels and capsules. 
Just like all of our CBD oil products, Palmetto Harmony CBD Oil Psorian Topical contains no psychoactive properties. Also, the compounds in this cream stimulate the endocannabinoid system by communicating with cannabinoid receptors in the skin.
Palmetto Harmony CBD Oil Psorian Topical offers an easy way for first-time users to consume CBD. This is mainly why they're one of the first thing potential customers try before jumping in to purchase stronger hemp products. Unseasoned CBD users may be more inclined to try external solutions before proceeding to try things like capsules or tinctures. But keep in mind that topical applications are meant for external needs, and may not support internal needs like capsules or tinctures.
Why Should I Purchase and Try the Palmetto Harmony CBD Oil Psorian Topical?
Lotions, salves and creams infused with CBD are ideal because they offer relief to localized areas while minimizing exercise-induced inflammation. Palmetto Harmony CBD Oil Psorian Topical is also perfect for nursing minor skin aggravations.
Hemp oil creams have also revealed to be useful in restricting the proliferation of dead skin cells. This is the itchy skin condition known as psoriasis. Researchers have been discovering lately that cannabis can support reductions in psoriasis.
Perhaps even more important is the effect that cannabis-infused creams have on those with arthritis. Recent studies have found that CBD oil can relieve arthritis pain.  Symptoms of this condition include joint inflammation, pain and stiffness. 
Another great reason to use Palmetto Harmony CBD Oil Psorian Topical is that CBD is a great source of antioxidants. Antioxidants are substances, like vitamins C and E, that fight or eliminate possibly harmful oxidizing agents in the human body.
Antioxidants ward off free radicals, the chemicals that cause the oxidation process that harms your cells and their genetic makeup. The body generates free radicals as it processes food, sunlight and other external toxins like environmental air pollution.
The primary task of antioxidants is to prevent free radical formation or to eradicate existing free radicals, so they don't cause too much damage. Not only may Palmetto Harmony CBD Oil Psorian Topical protect us from free radicals like smoke and other pollutants, but also may defend bacterial skin infections.
Even more, free radicals can cause wrinkles, making skin look older. But CBD antioxidants such as Palmetto Harmony CBD Oil Psorian Topical can prevent skin from aging and protect from the harmful and damaging effects of free radicals. And, if nothing else, Palmetto Harmony CBD Oil Psorian Topical is perfect for hot lotion massages and silky-smooth skin.
Revitalize and Rejuvinate Your Skin With Palmetto Harmony Psorian Topical Full Spectrum CBD Oil Balm
The Palmetto Harmony Psorian Topical comes in a 2 ounce jar containing 100mg of CBD and other active cannabinoids. For users who find the scent of creams overwhelming, this product is perfect for you. That's because the Palmetto Harmony Psorian cream is completely and entirely fragrance-free.
Something great about Palmetto Harmony is that the company provides a drug interaction chart on their website, along with a pamphlet stating each product's suggested use. There, users can see that they should apply Palmetto Harmony Psorian cream liberally to affected areas and directly to the skin as needed.
The company also cautions users to store this product below 75 degrees. This is because if the Palmetto Harmony Psorian cream is exposed to any higher heat than that, it can alter its consistency and cause the salve to liquify. Be warned that this can also happen during hot summer months when the product is shipped. If this occurs, users should store the product somewhere cold overnight.
Even more, the Palmetto Harmony Psorian topical cream is extracted using no synthetic fertilizers, chemicals, herbicides or pesticides. It is also manufactured in compliance with the FDA's Current Good Manufacturing Processes (cGMP). Because of this, consumers can expect that each batch and product they receive from Palmetto Harmony, like their Psorian balm, will far surpass the quality control standards they need to meet to be considered a safe and effective CBD oil product. 
Additionally, Palmetto Harmony is a family-owned company that understands the importance of finding a medicine that works for you. Wanting to enhance the quality of life of all individuals, this company makes sure to oversee each step of the manufacturing process, from when the seed is planted to when the final product arrives at your front doorstep!
Of course, since everyone is different, the amount of how much Palmetto Harmony Psorian cream one applies and uses is really contingent on each individual. What works well for one person and his or her condition, unfortunately might not yield any effect on another. We encourage consumers to test this product out for themselves and see what works best for them.
Finally, hemp-infused lotions and salves are perfect for things like bug bites, scratches, rashes, irritation and other skin abrasions. This is because they provide localized pain relief while reducing inflammation! Treat your mild skin irritations with Palmetto Harmony Psorian cream today!
Palmetto Harmony CBD Oil Psorian Topical — Best Selling Lotion at Anavii Market
Anavii Market is a primary supplier of Palmetto Harmony CBD Oil Psorian Topical and other CBD lotions, salves, and creams. Every item sold through Anavii Market goes through rigorous testing procedures. This is to ensure customers that you're receiving top-quality CBD oil products with the safest and verified formulas on the market.
If you have any questions or concerns regarding Palmetto Harmony CBD Oil Psorian Topical or any CBD oil product, give us a call at 502-209-8808 or if you'd prefer, Contact Us here. We're always more than willing to help!
Their products are amazing and the customer service is unparalleled! The representatives are always kind and courteous, they are patient and willing to answer any question that you may have about their products.
Quentina
I researched Anavii for quite a long time. They are a very reputable company. Every experience I have had with Anavii has been professional, expedient, and exact. I am very pleased with every transaction I have had. All the products that we have used has worked as described.
Kathleen