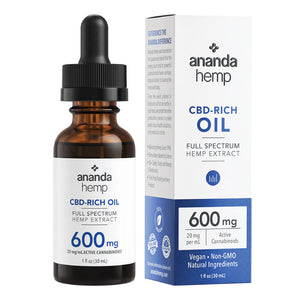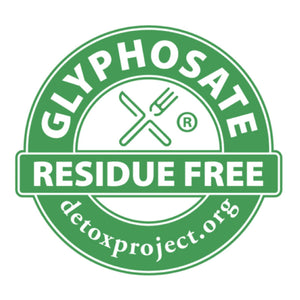 Ananda Hemp Full Spectrum CBD Oil Tincture - 300mg or 600mg
Ananda Hemp Full Spectrum Hemp Oil with CBD
Ananda Hemp oil 300 mg or Ananda Hemp oil 600mg w/ CBD and Cannabinoid Rich Hemp
Concentration: Full spectrum hemp oil with 300mg or 600mg CBD & Cannabinoid oil per bottle
Serving Size:
300mg: 10mg hemp-derived cannabinoid extract per serving; 1 dropper (1 ml); 30 servings per container 
600mg: 20mg hemp-derived cannabinoid extract per serving 1 dropper (1 ml); 30 servings per container 
Carrier: Cold-pressed hemp seed oil & MCT oil
Extraction Process: Ethanol
Location: Kentucky-grown hemp
Additional Product Specifications
Packaging: Plastic bottle with plastic dropper top. Approximately 3oz by weight.
Product Specifications: Each bottle is a 30ml bottle containing different concentrations of CBD extract. Each serving (1ml) of the 300mg Ananda Hemp CBD Oil provides 10mg full spectrum hemp-derived CBD extract. The 600mg bottle contains 20mg of full spectrum CBD oil and cannabinoid rich extract.
30ml Bottle 
300mg or 600mg of active Cannabinoids per bottle
10mg or 20mg Active Cannabinoids per serving
Full Spectrum Cannabinoid Extract
Carried in organic, cold pressed hemp seed oil and MCT coconut oil
Plant-based ingredients
Made in the USA
Ananda Hemp oil 300 mg and Ananda Hemp oil 600mg is conveniently packaged in 30ml bottle and provides a nice concentrated dose. Proudly manufactured in Kentucky from Kentucky grown hemp.
Flavor, Ingredients & Allergens
Flavor: All Natural (Earthy Flavor)
Product Ingredients: Organic Cold Pressed Hemp Seed Oil, MCT Coconut oil, Ananda Hemp Flower Extract Raw, Botanical Terpene Blend
Allergens:  Contains Coconut
How to Take Ananda Hemp Oil
Suggested Use: Take 15 drops once daily under the tongue. Hold in mouth up to one minute and swallow. Increase as needed or as directed by your medical professional. Take after a meal or a high fat snack.
300mg Cannabinoid Spectrum Table
Ananda Hemp Oil 300mg CBD Cannabinoid Spectrum
| | |
| --- | --- |
| Cannabinoid | mg/ml |
| CBD | 9.4 |
| CBDV | 0.3 |
| CBN | 0.3 |
| CBC | 0.2 |
| THC | <0.3% |
| Total | 10.2 |
| Max CBD | 9.4 |
| Max THC | <0.3% |
600mg Cannabinoid Spectrum Table
Ananda Hemp Oil 600mg CBD Cannabinoid Spectrum
| | |
| --- | --- |
| Cannabinoid | mg/ml |
| CBD | 19.8 |
| CBG | 0.3 |
| CBC | 1.1 |
| CBDV | 0.4 |
| THC | <0.3% |
| Total | 22.6 |
| Max CBD | 19.8 |
| Max THC | <0.3% |
Disclaimers & Disclosures
*** Use caution if subject to urinalysis.
*** Hemp Extract CBD Oil is not intended for use under the age of 18. Do not take if you are pregnant or lactating. Consult your physician before use if you have a medical condition or are taking any medication. Do not exceed recommended serving size.
***These statements and product has not been evaluated or tested by the FDA and are not intended to diagnose, treat or cure any disease.
This is a hemp-derived CBD product. It contains less than 0.3% THC by concentration and is legal across all 50 states.
About Ananda Hemp
What is an Ananda Full Spectrum Hemp Oil?
Ananda Full Spectrum Hemp Oil contains CBD and is an effective herbal dietary supplement. It is created by extracting CBD via hemp using a high-proof grain alcoholic solvent. This process causes any active compounds in hemp like cannabinoids to infuse more quickly and directly into the solution. Ultimately, this creates a formidable oil that provides the benefits of CBD and offers an easy-to-use format.  
People consume CBD Oil in a large number of ways, from vaping to applying salves and consuming daily capsules.  For first time users, however, the Ananda Hemp Full Spectrum CBD Hemp Extract Tincture is a favorite for CBD consumption.
Made from all natural ingredients, Ananda Hemp Oil 300 or Ananda Hemp Oil 600mg is a unique blend. The formula mixes together compounds such as CBD, CBL, CBN, CBG, CBC, CBDA, THCV, and CBDV. Each of these is called a "cannabinoid." Cannabinoids serve different functions, supporting all kinds of body systems and wellness in general. Tightly packaged in a 10ml bottle but working its way up to a 30ml bottle full of these active cannabinoids, each drop can deliver a sense of balance to users.
Benefits of Ananda Hemp Oil 600mg or Ananda Hemp Oil 300 mg
CBD Oils are one of the most popular types of CBD products. Oils (or commonly mis-referenced as tincture) are an easy and affordable way for users to meet CBD and experience its effects for the first time. For more advanced users of CBD, oils provide versatile, reliable and portable supplements that align with more active lifestyles.
Ananda Hemp oils generally contain the most efficient measurement of CBD possible per serving among all hemp oil products. So, they're perfect for those looking to try CBD for the first time or add CBD to their diet. They're also great for people who need control over the exact amount of Ananda Hemp's CBD they want to receive.
For active users of Ananda Hemp oils 300 or Ananda Hemp oils 600mg, or individuals who want to keep a consistent amount of CBD in their system, CBD oils have a low level of cannabinoids so that you can take them multiple times throughout the day. CBD itself is a non-intoxcating compound, meaning people can take it any point in the day. You won't ever have to feel worried that the supplement will negatively impact your energy levels and activities.
Although Ananda Hemp oil 300 and Ananda Hemp oil 600mg CBD oil has a naturally earthy tone, Ananda Full Spectrum Hemp Oils are infused with natural oils for a more delightful experience. More often than not, CBD oils come with a dropper. This way, consumers can more easily control their intake of the liquid. They also are able to quickly increase or reduce consumption as they play around with which amount of CBD is right for them. 
Due to federal regulations, Anavii Market cannot make any definite statements regarding the various health benefits from consuming CBD Oil. That said, researchers continue to explore the many benefits of CBD oil. So, it's highly likely that experts will soon reveal the supplement's many therapeutic effects. Regardless, we highly encourage you to read through the large amounts of anecdotal evidence before buying our CBD Oils to make sure they are the right product for you!
What is Ananda Hemp?
Originally based out of Australia, Ananda Hemp is a company that specializes in producing and distributing all things hemp. For over 18 years, Ananda Hemp's parent genetic development company, Ecofibre Ltd., has worked to cultivate hemp seeds all over. Ecofibre Ltd. currently possesses the largest official private hemp seed bank with more than 300 cultivars.
Brian Furnish, one of Ananda Hemp's founders and head of Global Farming and Production, is an 8th generation farmer from Kentucky. He has played a pivotal role in changing legislation for the cannabis industry. Working with congressmen and senators, Brian help push the only existing federally legal path for industrial hemp production and distribution—Section 7606 of the 2014 Farm Bill. When President Obama passed this bill in February of 2014, it allowed farmers to legally grow and distribute hemp.  Without Brian's efforts and the efforts of many in Kentucky, Colorado and beyond, no one would be able to grow hemp within the United States. Ananda Hemp thus abides by the law, making sure all products are up-to-date and follow all standard protocols. 
After the 2014 Farm Bill passed, Brian became one of the first farmers to be legally granted a license to grow hemp plants in the U.S. This led to the creation of the first legal hemp farm in America. Using all natural processes, all of the hemp found in Ananda Hemp's products are grown and processed in Kentucky. They are also all free from pesticides and GMOs.
Ananda Hemp's innovative production facility in Kentucky takes all of the raw materials from the harvested crops to refine them. Because Ananda Hemp is a vertically-integrated company, you can trace each product back to exactly where it was extracted. The company can also identify when extraction occurred, where the crop was cultivated, and where the seed was planted.
As if that wasn't enough, the company routinely tests each product, like the Ananda Hemp Full Spectrum CBD Hemp Extract Tincture, at every step of the process. This happens so that each item is double-checked for potency, contamination, quality and consistency. Once the product actually reaches stores, it's already been tested at least three times, if not more. Also, the company sends all CBD oil batches to an independent, third-party lab to test and analyze each batch. Then, on the website, customers can search for their product's Certificate of Analysis, ensuring that it's safe to consume. 
Anavii Market's Exclusive Ananda Hemp Oil 300 mg or 600MG - find a great source here
Anavii Market is a leading seller of Ananda Full Spectrum Hemp Oils, other CBD Oil, capsules, topicals, hemp for pets, and much more. To properly use Ananda Hemp Oil 600mg or Ananda Hemp Oil 300 start with a half a dropper to a dropper twice daily under your tongue. For best results, be sure to hold the oil in your mouth for up to a minute and then swallow. Take after a meal or a high fat snack to increase absorption. 
For further questions regarding our Ananda Full Spectrum Hemp Oil or other CBD oil in general, please feel free to give us a call at 502-209-8808 or Contact Us here.  
About Ananda Hemp
Ananda Hemp is proud to support American farmers and the ever-growing hemp industry. Ananda Hemp farms and processes all their CBD oil products in the USA, working with family farms in Kentucky.
Ananda Hemp is a subsidiary of Ecofibre Ltd. Over the last 2 decades, Ecofibre has collected and owns the largest private cannabis seed bank consisting of over 300+ cultivars, gathered from nearly every continent on Earth.
Ananda Hemp are proud members of the US Hemp Roundtable and Kentucky Proud.
Their products are amazing and the customer service is unparalleled! The representatives are always kind and courteous, they are patient and willing to answer any question that you may have about their products.
Quentina
I researched Anavii for quite a long time. They are a very reputable company. Every experience I have had with Anavii has been professional, expedient, and exact. I am very pleased with every transaction I have had. All the products that we have used has worked as described.
Kathleen