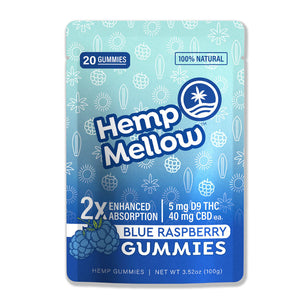 Hemp Mellow 5mg THC Gummies
Hemp Mellow's 5mg thc gummies in the luscious blue raspberry flavor, offered in a convenient 20 count bag, provide a delightful stress relief experience. Crafted with precision and care, these gummies combine the calming benefits of CBD with a subtle touch of THC, fostering a gentle sense of relaxation without the overwhelming psychoactive effects. With each bite, the essence of blue raspberry lingers, creating a harmonious blend of taste and tranquility. Perfect for those seeking a natural remedy for stress, these gummies serve as a delightful escape from the demands of the day, offering a soothing respite for both the mind and body. Whether it's a busy workday or a challenging evening, Hemp Mellow's THC gummies in the delightful blue raspberry flavor provide a welcome opportunity to unwind and find peace amidst the chaos of modern life.
Their products are amazing and the customer service is unparalleled! The representatives are always kind and courteous, they are patient and willing to answer any question that you may have about their products.
Quentina
I researched Anavii for quite a long time. They are a very reputable company. Every experience I have had with Anavii has been professional, expedient, and exact. I am very pleased with every transaction I have had. All the products that we have used has worked as described.
Kathleen