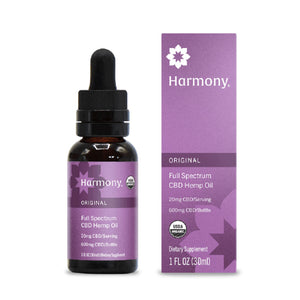 Palmetto Harmony 600MG Full Spectrum CBD Extract Tincture
Palmetto Harmony 600 mg Full Spectrum Hemp Extract CBD Tincture
Concentration per Bottle: 600mg Full Spectrum Blend of CBD Oil and Cannabinoids

Concentration per Serving: 20mg hemp-derived CBD Oil cannabinoid extract per ml
Carrier: MCT Oil
Extraction Process: Botanical Oil Extraction - Solvent Free
Additional Product Specifications
Packaging: 1oz glass bottle

Product Specifications: Bottle contains 600mg of full spectrum hemp-derived extract CBD oil and minor cannabinoids with 20mg/ml
Full Spectrum Hemp Extract - CBD oil and minor cannabinoids
Terpene Complex
FDA compliant
Non-GMO
No synthetic fertilizers, herbicides or pesticides
Flavor, Ingredients & Allergens
Flavor: All Natural (Earthy)
Product Ingredients: Pharmaceutical-grade coconut oil (MCT oil) & whole plant hemp derived cannabinoid oil
Allergens: Contains Coconut
How To Use Palmetto Harmony Full Spectrum CBD Oil
 Suggested Use: Start low and build. Take 0.5-1 dropper per day. If you feel no effects, increase by 0.25-0.5 dropper until you find relief or as suggested by your physician.
How to use Palmetto Harmony CBD Oil Tinctures
Palmetto Harmony 600MG Full Spectrum CBD Extract Cannabinoid Spectrum Table
| | |
| --- | --- |
| Cannabinoid | mg/ml |
| CBD | 20.49 |
| CBC | 0.89 |
| CBG | 0.67 |
| CBN | 0.04 |
| CBDV | 0.05 |
| THC | <0.3% |
| Total | 22.83 |
| Max CBD | 20.49 |
| Max THC | <0.3% |
Disclaimers & Disclosures
 *** Disclaimer: Cannabinoid Oil is not intended for use under the age of 18. Do not take if you are pregnant or lactating. Consult your physician before use if you have a medical condition or are taking any medication. Do not exceed recommended serving size.
***These statements and product has not been evaluated or tested by the FDA and are not intended to diagnose, treat or cure any disease.
About Palmetto Harmony CBD Oil
What is the Palmetto Harmony CBD Extract Tincture?
The Palmetto Harmony CBD Extract Tincture is a liquid form of CBD oil for sublingual use only.
Individuals can consume cannabidiol - or CBD - in a ton of different ways. From smoking, vaping and eating edibles, CBD takes on many forms. One of the most popular methods, especially for first time users of CBD, is by using a tincture.  
Producers of the Palmetto Harmony CBD Extract Tincture creates it by first soaking hemp floral material in a solventless botanical process. After, they cook this solution on low heat for quite a long period of time. This process maximizes the naturally-occurring compounds in the cannabis flowers. The result is a liquid with active cannabinoids that delivers the effects of CBD without smoking or other harmful effects.
When the liquid is finished, manufacturers typically like to add carrier oils, like lemon or peppermint, to improve the taste. The completed project should contain a lot of potent CBD and other cannabinoids and less than 0.3% THC.
Is the Palmetto Harmony Full Spectrum CBD Extract Safe?
Categorized as a phytocannabinoid, CBD is a naturally-occurring chemical compound found in the extracted resin of the cannabis or hemp plant. Producers of CBD products extract the compound from hemp and use it to make things like oil tinctures, topicals, capsules and more.
Unlike THC, the cannabinoid that produces the high individuals get from cannabis, CBD is entirely non-intoxicating. This means that users can experience the therapeutic properties of cannabis without the hallucinatory effects that come with smoking THC.  
CBD extracted from hemp is legal to distribute and use in the United States, according to the 2018 Farm Bill.
It is easy for consumers to be confused about the safety of hemp because people often use the terms hemp and marijuana interchangeably. However, this is not correct.
To an untrained individual, hemp and marijuana plants appear very similar. But if you know what you should be looking for, each plant contains individual defining features.
While both marijuana and hemp are strains of the cannabis sativa plant, it's important to recognize the difference between them.
The biggest distinction between the two is their chemical makeup, specifically in THC. As previously mentioned, THC is the compound behind any psychological effects of cannabis. A typical marijuana plant can hold anywhere from 5-20% THC.
On the other hand, hemp contains a very low concentration of THC and high amount of CBD. By law hemp must contain less than 0.3% THC. For this reason, farmers grow and use hemp for a variety of different industrial uses, including to make Palmetto Harmony CBD Extract Tincture.  
Therefore, since the Palmetto Harmony CBD Extract Tincture contains CBD derived from hemp, it is more than safe and legal for users to consume.
Recommended Way to Take Palmetto Harmony CBD Extract Tincture
Since CBD tinctures are highly concentrated, the Palmetto Harmony CBD Extract Tincture should be taken in small doses. This is precisely why it comes with a built-in glass dropper that lets users take carefully measured concise amounts.
Taking a larger amount would not cause an overdose or anything of the sort. However, therapeutic CBD users often do not need to take a large quantity. If you feel you might need more, simply add a couple more drops!
Because doses are fairly small, users can take the Palmetto Harmony CBD Extract Tincture in a number of ways. Most commonly, individuals take tinctures sublingually, by applying the drops under their tongue. Some research shows that this application method makes cannabinoids more easily obtainable to the body than other oral options.  
Another method, specifically for those who have trouble getting past the earthy tone, is to take the drops with food or beverages. Easily add the drops to your nighttime tea for added relaxation or your morning oatmeal to start your day off right!
Benefits of Using Palmetto Harmony Full Spectrum CBD Oil
As scientists are still actively investigating the benefits of CBD, we cannot definitively make any claims regarding the compound's medicinal properties.
That said, however, there are tons of advantages to using the Palmetto Harmony CBD Extract Tincture for your dose of CBD over other application methods. For instance, there are tons of practical benefits to using CBD oil tinctures.
First, since there is no preparation required or smoke associated with consuming a tincture, they are easy to discreetly consume throughout the day. This means users can take their dose of CBD any time any place.
Since the container itself is quite small, users can easily hide the Palmetto Harmony CBD Extract Tincture in a bag or pocket.
Even more, the high concentration of CBD in the Palmetto Harmony CBD Extract Tincture makes it really convenient for new users. This is because since only small amounts are necessary, it's simple to modify your daily amount with total accuracy.
Additional Advantages of Purchasing and Consuming Palmetto Harmony Full Spectrum CBD Extract Tincture
The Palmetto Harmony Full Spectrum CBD Extract Tincture is a number one seller at Anavii Market - and for good reason! With 20mg of active cannabinoids and hemp-derived CBD oil extracts per serving, this product is potent and contains a high concentration of cannabidiol.
Manufacturers of this product suggest starting out small with how much to take at first by taking .5-1mg dropper per day. If nothing occurs, increase your dosage by 0.25-0.5 dropper until you experience relief. Otherwise, please follow your physician's orders or suggestions. 
Produced with no synthetic chemicals such as herbicides, pesticides or fertilizers, the Palmetto Harmony Full Spectrum CBD Extract Tincture is an extremely safe CBD Oil product compared to others on the market.
Additionally, the Palmetto Harmony Full Spectrum CBD Extract Tincture has an earthy tone and uncommon herbal flavor. It is also made from only two ingredients: CBD oil and fractionated medium-chain triglyceride (MCT) oil. This oil contains chains of fats known as triglycerides. Because of their short length, our bodies easily digest MCTs. Even more, many health benefits are associated with the way our bodies process these fats, such as increasing energy and helping manage epilepsy.
The biggest benefit of purchasing a tincture to consume your CBD is that no inhalation of smoke is involved in the process. Individuals who smoke typically develop respiratory issues throughout their lives. Tinctures provide a way for users to experience all of the same therapeutic effects of CBD while avoiding any asthmatic effects that come with burning and breathing in hemp.
Even more, CBD Oil tinctures come in packages that are much more reliable and storable than other CBD products. For instance, the Palmetto Harmony Full Spectrum CBD Extract Tincture comes with a locking cap. This ensures there is no opportunity for a child to accidentally open and consume the contents inside.
Also, the Palmetto Harmony Full Spectrum CBD Extract Tincture comes in a glass bottle with a plastic syringe. This makes it easy to accurately measure the specific amount of CBD you want to ingest per serving. This also helps make it easier for users to play around with how much CBD works best for them.
Arguably the best thing about the Palmetto Harmony Full Spectrum CBD Extract Tincture, though, is that the arteries under the tongue quickly absorb the product's contents into the bloodstream. Therefore, users can plan to feel the therapeutic benefits within just 15-45 minutes!
Palmetto Harmony Full Spectrum CBD Oil Extract Tincture - Only at Anavii Market
Anavii Market is a leading provider of Palmetto Harmony CBD Oil tinctures and topicals. If you are interested in learning more about the Palmetto Harmony CBD Extract Tincture or CBD products in general, please contact us here or give us a call at 502-209-8808!
Their products are amazing and the customer service is unparalleled! The representatives are always kind and courteous, they are patient and willing to answer any question that you may have about their products.
Quentina
I researched Anavii for quite a long time. They are a very reputable company. Every experience I have had with Anavii has been professional, expedient, and exact. I am very pleased with every transaction I have had. All the products that we have used has worked as described.
Kathleen