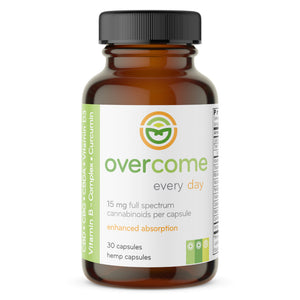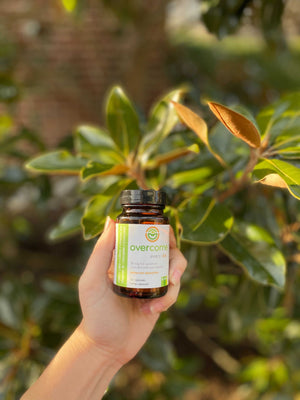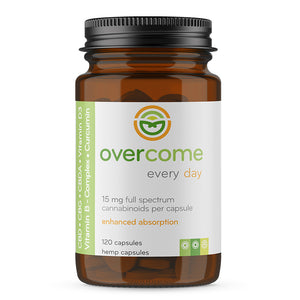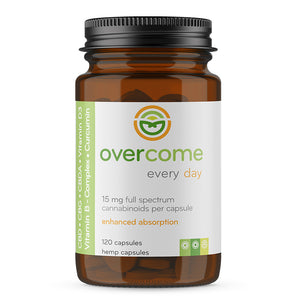 Overcome Every Day 30 ct capsules - 15mg of Full Spectrum CBD
Overcome (formerly Nature's Hemp Oil) Every Day Capsules 15mg CBD + CBDA + CBG
Concentration: 15mg CBD + CBDA + CBG per capsule
Serving Size: Take 1-2 capsules daily, after a meal or a high fat snack. 2 capsules is 100% of your daily needs for B-complex and Vitamin D3
Carrier: Organic hemp seed oil
Extraction Process: CO2 extraction
Ingredients & Allergens
Product Ingredients:  Cream, Rice fiber, Organic tapioca starch, Organic gum arabic, Organic sunflower oil, Organic agave fiber (fructan), Vegetable capsule, Cannabinoid hemp extract, Tetrahyrdocurcumin, Vitamin B3 Niacinadmide, Vitamin B5 Ca-Pantothenate, Organic hempseed oil, Vitamin B6 Pyridoxine HCI, Vitamin B1 Thiamine HCI, Vitamin B2 Riboflavin, Vitamin B9 L-5-MethylFolate, Vitamin B7 Biotin, Vitamin B12 Cobalamin, Vitamin D3
Allergen(s): Contains Milk

How to Use Overcome Every Day

Suggested Use: Take 1-2 capsules daily with water, after a meal or a high fat snack.

It usually takes between 20 minutes to 1 hour to feel the effects of Overcome Every Day Capsules. 
Disclaimers & Disclosures 
*** Hemp Extract CBD Oil is not intended for use under the age of 18. Do not take if you are pregnant or lactating. Consult your physician before use if you have a medical condition or are taking any medication. Do not exceed recommended serving size.
***These statements and product has not been evaluated or tested by the FDA and are not intended to diagnose, treat or cure any disease.
*** Use caution if subject to urinalysis.
About Overcome 
What is Overcome Every Day
Overcome Every Day capsules contain a full spectrum blend of cannabinoids that are formulated for recovery, mood, energy, inflammation. Combined with hemp seed oil and our patent-pending enhanced absorption delivery method called, Naturia+™, our cannabinoids and hemp seed oil omegas are more bio-available than the leading cannabinoid products on the market, allowing you to have a better experience time and time again.
What are the benefits of Overcome Every Day?
Overcome Every Day capsules are loaded with the most unique formulation which includes CBD, CBDA and CBG plus other minor cannabinoids. We are sure you know lots about CBD by now but what about CBDA and CBG? Well CBDA is what is known as the "precursor" to CBD. This means that CBDA is actually what the hemp plant produces in the flowers of the plant. This is called the acid form or raw form of CBD. CBDA converts into CBD under time, heat and/or pressure. CBDA is more potent than CBD, especially for inflammation. In fact it is a COX-2 inhibitor, meaning it inhibits or blocks the ability of the body to produce inflammation. 
CBG is also an important cannabinoid because it has high potential for anti-bacterial properties as well as has the ability to support mood and serve as a tool for improving the creation of antioxidants in the body. More antioxidants in the body means a healthier you!
Combining these unique cannabinoids of CBD, CBDA and CBG, Overcome Every Day has also added a complete blend of B Vitamins including, B-1, B-2, B-3, B-5, B-6, B-7, B-9, & B-12. This complex of B Vitamins is known as B-complex. These vitamins are very important for supporting cell health, energy levels, healthy appetite, brain function, digestion, eyesight, growth of red blood cells, nerve function, cardiovascular health, muscle tone, and hormone production and cholesterol production. 

Also included in the Overcome Every Day capsule is Vitamin D3 which also supports mood as well as immunity. Vitamin D3 doesn't absorb well into the body; however, combining Vitamin D3 with Naturia+, the Vitamin D3 is absorbed more readily in the body, making your body more productive at receiving this essential nutrient that most of the world is deficient in! 
Last but not least to the list of active ingredients found in Overcome Every Day is Curcumin, the active ingredient found in Tumeric. Like Vitamin D3 and Cannabinoids, Curcumin is also fat loving and therefore does not absorb well in the body, but all three of these key ingredients harness the power of Naturia+ delivery system, which improves bioavailability into the body. Curcumin is best known for its ability to also work as an anti-inflammatory and anti-oxidant. 
The combination of these ingredients are a well-researched and finely tuned formulation that are combined together in an effective serving size and discreet method that allow you to live your best life, and Overcome Every Day. 
Why Overcome Every Day? 
Overcome Every Day was established from years of research and investigation from Anavii's Co-Founder Annie. Annie was diagnosed with Lyme Disease in 2015. After visiting various doctors and trying a multitude of supplements that didn't do much, she turned to CBD to find a single dose solution. What she found was more than CBD. She discovered a few things: 
1. There is more to cannabinoid therapy than CBD
2. People with Lyme Disease don't absorb nutrients well
3. Antioxidants, mood, inflammation and fatigue were targets for improvements in Annie's health
So Annie went on a journey to build out a supply chain that would meet the needs of her health solutions. She worked with a Lyme Disease pharmacist formulator to find the missing key points. Then partnered with a team that discovered an organic pathway that improves absorption in the body. With this partnership Annie and her team partnered with this group to launch OP Innovates, the exclusive manufacturer of Naturia Plus (Naturia+) bioavailability technology.
Using Naturia+ technology that improves absorption in the body, she was able to conquer one of the major problems she discovered on her therapeutic journey, absorbing nutrients. Simultaneously she was experimenting with various cannabinoids like CBDA and CBG, among others. She found these two to be extremely helpful in her recovery. Then OP Innovates' 50+ year pharmaceutical veteran and Annie started creating a formula that would target her specific needs - something that focused on supporting antioxidant mobility, mood, inflammatory response, fatigue and general joint discomfort.
And so the solution was created - Overcome Every Day - a single capsule that can be used to conquer the biggest challenges you may face in your life. A single capsule that helps you Overcome Every Day, just like Annie has. Get your life back with Overcome Every Day capsules. 

Their products are amazing and the customer service is unparalleled! The representatives are always kind and courteous, they are patient and willing to answer any question that you may have about their products.
Quentina
I researched Anavii for quite a long time. They are a very reputable company. Every experience I have had with Anavii has been professional, expedient, and exact. I am very pleased with every transaction I have had. All the products that we have used has worked as described.
Kathleen