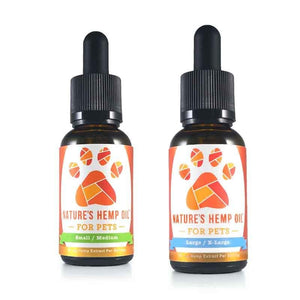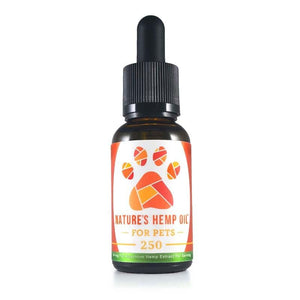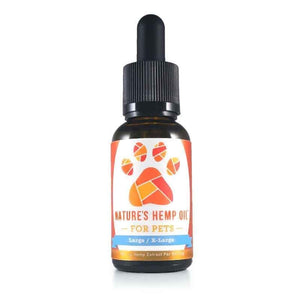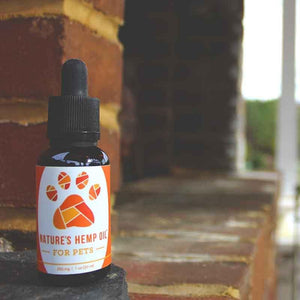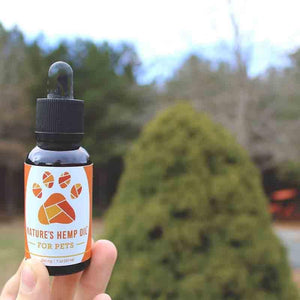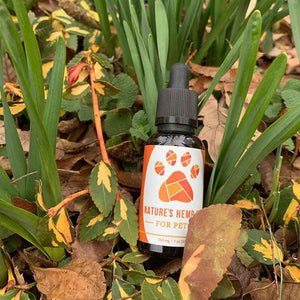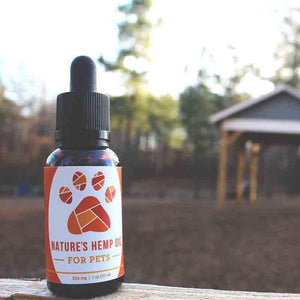 Nature's Hemp Oil CBD Oil Tincture – For Pets! - All Natural
Strength: 250mg or 500mg CBD oil and cannabinoid rich extract 
Serving Size: 8.3mg or 16mg hemp-derived hemp extract per serving; 1 dropper (1ml); 30 servings per bottle
Carrier: Organically grown cold-pressed hemp seed oil
Flavor: All Natural (Earthy Flavor)
Extraction Process: Ethanol extraction
Additional Product Specifications

Packaging: Glass bottle with graduated cylinder glass dropper. Approximately 3oz by weight.
Product Specifications: 1 fl oz (30ml) bottle contains 250mg or 500mg of hemp-derived cannabinoid hemp extract. Each serving provides 8.3mg or 16mg of full spectrum hemp-derived cannabinoid extract.
Full Spectrum Hemp Extract
Terpene Complex
Non-GMO
Vegan
Kosher
Gluten-Free
Product Ingredients: Organically sourced cold-pressed hemp oil & high concentrate hemp derived hemp extract oil
Suggested Use: Shake bottle well before each use. Drop oil on food, edible treat or under animals tongue. To start:
1mg per 10lbs weight
Increase dosage as needed. Consult your veterinarian
Nature's Hemp Oil 250mg cannabinoids for pets
| | |
| --- | --- |
| Cannabinoid | mg/ml |
| CBD | 7.99 |
| CBDa | 0.17 |
| CBC | 0.34 |
| CBDV | 0.10 |
| THC | <0.3% |
| Total | 8.93 |
| Max CBD | 8.14 |
| Max THC | |
Nature's Hemp Oil 500mg cannabinoids for pets
| | |
| --- | --- |
| Cannabinoid | mg/ml |
| CBD | 13.74 |
| CBDA | 0.15 |
| CBC | 1.39 |
| CBG | 0.22 |
| CBDV | 0.19 |
| THC | <0.3% |
| Total | 16.15 |
| Max CBD | 13.87 |
| Max THC | |
How to use Nature's Hemp Oil CBD for Pets

What is Nature's Hemp Oil for Pets?
Nowadays, there's tons of talk about CBD and its crucial health benefits for both people and pets. And for good reason! Nature's Hemp Oil for Pets is a supplement that contains an array of nutrients vital to your pet's health. It also holds tons of essential oils and is a great source of Omega vitamins. If your pooch or any four-legged friend needs a supplemental and nutritional boost, Nature's Hemp Oil for Pets is perfect for you.
Nature's Hemp Oil for Pets is a liquid solution that combines organic elements like hemp seed oil and high concentrated hemp-derived cannabinoid rich CBD oil. Together, Nature's Hemp Oil for Pets creates a 100% hemp product that is safe and legal CBD dietary supplement for your best bud.
Conveniently packaged in a small glass container, you can easily take Nature's Hemp Oil for Pets on the go! Use it at the house, the pet supplies store and even give it to your four-legged friend at the park. Even more, Nature's Hemp Oil for Pets is perfect to give to both dogs and cats. As a matter of fact, the CBD in this product is extracted using supercritical CO2 technologies, making it completely clean and all natural. Nature's Hemp Oil for Pets also comes with an easy-to-use dropper that allows for straightforward consumption.

What is CBD and How Will it Affect my Pet?
To fully understand the impact of CBD and the effects it will have on your furry friend, it's important to know everything there is to know about the compound. Basically, CBD, or cannabidiol, is a naturally-occurring constituent in cannabis and hemp plants that is received in the endocannabinoid system and through other receptors in the body.

Unlike THC, another active compound found in cannabis, CBD doesn't produce any psychoactive effects. Because our products are CBD products derived from hemp, they contain very little to no THC, so they're not only legal but also safe. Rather, your animal will retain all of the relaxing effects of Nature's Hemp Oil for Pets without any intoxication!
Does Nature's Hemp Oil for Pets Really Work? You bet. Here's how:

Believe it or not, our pets (and all animals on earth but insects!) actually have the exact same system to process cannabinoids that humans do. Known as the Endocannabinoid System (ECS), CBD activates this system by stimulating or inhibiting the group of receptors it contains. Since the ECS helps balance a variety of bodily processes, by stimulating it or inhibiting action on receptors, CBD may train your pet's body to use its own endocannabinoids for ultimate relief.   
In addition to the benefits of CBD Oil, Nature's Hemp Oil also utilizes cold-pressed hempseed oil, a hyper nutritious oil for both you and your pets. Containing essential fatty acids and other micronutrients, CBD products containing hempseed oil are also great sources of Omega-3 and Omega-6. Even more so than flaxseed or fish oils.  For secured and continued health and wellness for your buddy, try Nature's Hemp Oil for Pets today!
How Do I Administer and Use Nature's Hemp Oil for Pets?
Although there are a few topical treatments, CBD oil is usually administered orally to pets. This is because CBD oil comes with a dropper that allows for a more precise dosage and one that cannot be licked away! It also produces a more wholistic reaction than topicals, which support localized discomfort. In addition, tinctures make it easy to measure and allocate CBD concentrations, allowing pet parents to have complete control over how much CBD the pet is consuming. Nature's Hemp Oil for Pets is specifically designed with a dropper for convenient application.
Studies have shown that the best way for your pet to quickly feel the effects of CBD oil is to put it directly under his or her tongue. However, if this is too difficult or your animal is picky, you can easily add the oil to any treat or food. If taken after or with a meal, bioavailability of the CBD oil will improve by three to five times the rate.
Interactions of CBD Oil for pets has not been tested when in use with other medications and treatments; therefore, we always suggest consulting with your veterinarian before introducing Nature's Hemp Oil for Pets or any new supplement into your pet's diet.

How Much Nature's Hemp Oil Should I Give My Pet?
Whether you're giving your pet hemp CBD oil to support post workout-induced inflammatory, relieve night scares or separation stress, or support reductions in joint pain and discomfort, the correct dose can change reasonably from one situation to the next. It is also important to consider the weight of the animal when determining the serving size.
The main thing about giving your pet CBD that pet owners need to understand is that, like with most medicines, it's all about experimentation. Finding out how much CBD oil to give your pet and how often is actually not too difficult of a process.
The two main things to keep in mind when figuring out the correct dose for your pet is your pet's size as well as what you are using the product for. Using your pet's weight as a starting point is pretty effective for most people. However, if you're using Nature's Hemp Oil for Pets to help your pet heal from an injury or ailment, start with the recommended dose on the product and continue increasing slowly until you see the desired effects.  
We recommend starting with a low dose at approximately 0.5mg to 1mg per 10lbs weight.
Depending on your pet's issue, you may expect to see results anywhere from 30 minutes to an hour. However, if managing post-walk inflammatory problems or joint discomfort, you may not see results until taken regularly for two to three weeks. If there is no change after this time, increase the dose. Just keep trying to see what's best for your pet!
It's important to understand that all of our CBD oil products are safe for animals of all shapes and sizes. However, manufacturers develop each product with a specific size in mind. That said, since CBD is non-toxic, and safe for your four-legged companion.
Nature's Hemp Oil for Pets — Hemp Extract Designed Exclusively for Animals at Anavii Market

Anavii Market is a family-friendly company that specializes in verifying, distributing and selling CBD oil products for pets, like Nature's Hemp Oil for Pets. Our completely legal CBD oils, sprays and food products are all produced with the highest quality control standards. Even more, we make sure to routinely test each product for things like consistency, potency, quality, and safety. With third-party verification, you can be sure that your pet will receive some of the highest-grade CBD oil products on the market, all free from unwanted solvents, chemicals and contamination.
For questions about Nature's Hemp Oil for Pets or one of our other high-quality hemp oil products for pets, feel free to call us at 502-209-8808 or to Contact Us here! We're always looking to help other loving pet parents.
*** Disclaimer:  Do not take if animal is pregnant or lactating. Consult your veterinarian before use if your animal has a medical condition or is taking any medication. Do not exceed recommended serving size.
***These statements and product has not been evaluated or tested by the FDA and are not intended to diagnose, treat or cure any disease.
Their products are amazing and the customer service is unparalleled! The representatives are always kind and courteous, they are patient and willing to answer any question that you may have about their products.
Quentina
I researched Anavii for quite a long time. They are a very reputable company. Every experience I have had with Anavii has been professional, expedient, and exact. I am very pleased with every transaction I have had. All the products that we have used has worked as described.
Kathleen