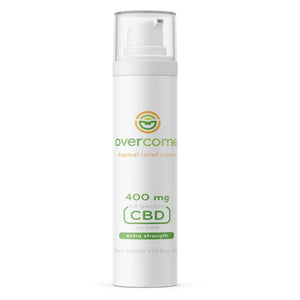 Overcome 400mg CBD Relief Topical – 5mg per pump
Overcome (formerly Nature's Hemp Oil) CBD Relief Cream 400mg Cannabinoid Hemp Extract
Concentration: 400mg Full Spectrum CBD per bottle
Serving Size: 1 dime sized amount, 3x per day; 5mg CBD per pump
Carrier: Base Pain Cream
Extraction Process: Ethanol extraction
Additional Product Specifications
Packaging: Plastic bottle with plastic top. Approximately 3oz by weight.
Product Specifications: Each plastic bottle contains 400mg CBD hemp extract as well as different concentrations a variety of cannabinoids.
400mg of Active Cannabinoids per bottle
5mg Active Cannabinoids per pump
Permeation Enhancing Base Pain Cream with 3x the CBD Absorption 
Full Spectrum Cannabinoid Extract
Carried in Rosemary Oil and Mint Oil
Plant-based ingredients
Made in Kentucky
Farm Fresh, Pharmacist Formulated
Overcome's (Nature's Hemp Oil) 400mg CBD Topical is conveniently packaged in a plastic bottle and provides a soothing cream perfect for any active user. Proudly manufactured in Kentucky from Kentucky grown hemp.
Aroma, Ingredients & Allergens
Fragrance: Fragrance free, No Artificial Fragrances
Aroma: Plant based essential oils including Rosemary and Mint
Product Ingredients:  Purified Water, Isopropyl Palmitate, Caprylic/Capric Triglyceride, Propylene Glycol, Ceteareth 20, Cetearyl Alcohol, Glyceryl Stearate, PeG-100 Stearate, Dimethicone, Octyldodecanol, Lecithin, Ethylhexylglycerin, Phenoxyethanol, Dimethylsulfoxide, Full Spectrum CBD from Kentucky Grown Hemp, Butylated Hydroxytoluene, EDTA, Rosemary Oil, Natural Mint Oil
Allergens: None
How to Use Overcome CBD Topical
Suggested Use: Apply a dime sized amount on area of concern 3x per day. Each pump contains 5mg CBD. Increase as needed or as directed by your medical professional. 
400mg Cannabinoid Spectrum Table
| | |
| --- | --- |
| Cannabinoid | mg/g |
| CBD | 8.58 |
| CBDV | 0.13 |
| CBG | 0.15 |
| CBC | 0.96 |
| THC | <0.3% |
| Total | 10.22 |
| Max CBD | 8.62 |
| Max THC | <0.3% |
Disclaimers & Disclosures
*** Use caution if subject to urinalysis.
*** Hemp Extract CBD Oil is not intended for use under the age of 18. Do not take if you are pregnant or lactating. Consult your physician before use if you have a medical condition or are taking any medication. Do not exceed recommended serving size.
***These statements and product has not been evaluated or tested by the FDA and are not intended to diagnose, treat or cure any disease.
About Overcome
What is Overcome Topical Relief Cream?
Overcome Topical CBD Relief Cream is one of the top selling CBD oil products at Anavii Market. For good reason, too! This CBD oil cream is perfect for refreshing and rejuvenating the skin. With all natural ingredients, Overcome CBD Topical Relief Cream is more than safe to use. 
For one thing, this topical is ideal for those who struggle to remember to take their supplements every day. It's also great for those who are wary of swallowing pills or too nervous to consume CBD orally. 
Even more, Overcome Topical CBD Relief Cream is an organic lotion that comes with a specific amount of cannabidiol (CBD). CBD is a non-intoxicating compound inside cannabis sativa plants.  
Overcome Topical Cream For Reduced Inflammation
When users apply Overcome Topical Relief Cream to an area of discomfort on their skin, they will experience relief like never before. This is because the skin soaks up all of the CBD, known for helping relieve common skin ailments.   
In fact, Overcome Topical Relief Cream contains a special base cream that increases permeation of CBD through the skin. The base cream actually increases absorption by 3 times the rate of other CBD oil products. So, rather than only absorbing 3% of cannabinoids, users absorb 9-10%! This is even backed by clinical research, showing just how effective Overcome Topical Relief Cream is. 
Specifically, research shows that this base pain cream will penetrate the cannabinoids into the endocannabinoid receptors in our skin, fighting to produce the desired effect. 
Even more, Overcome Topical Relief Cream uses only a plant-based recipe to help promote homeostasis and relief throughout the body. Overcome Topical Relief Cream is an all-natural combination of Rosemary Oil, Mint oil, and full spectrum CBD. When mixed together, this custom blend of essential oils and cannabinoids will help fight old, dehydrated skin. Users say that Overcome Topical Relief Cream can relieve exercise-induced pains and aches, and can even reduce inflammation! 
Overcome Topical Relief Cream offers continued relief to targeted spots on the skin. It also produces calming and therapeutic effects to those who use it. Even more impressive, Overcome Topical Relief Cream makes users smell fresh! Also, it can promote a younger look for those areas in which it is applied. 
Additionally, Overcome Topical Relief Cream is extremely easy to use. It is conveniently packed in a bottle filled with 400mg full spectrum cannabinoids that is small enough to take on the run. More importantly, though, the bottle comes with an easy to apply application nozzle. Users only have to pump the nozzle before feeling the active relief of Overcome Topical Relief Cream.
How Does Overcome Best Relief Cream Work To Provide Relief From Daily Discomfort?
As a topical product, users should apply Overcome Topical Relief Cream directly to upset areas of the skin. This is because Overcome Topical Relief Cream is an effective treatment for skin soreness, rashes, inflammation and pain. It can also help combat skin conditions such as eczema, psoriasis, and dermatitis.
In fact, research shows that the cannabinoids in CBD can be vital to managing difficult to treat pains. A study from Therapeutics and Clinical Risk Management found that CBD can produce an analgesic effect to its users. What this means is that CBD can function as an effective pain-reliever.
Specifically, users around the country are finding that Overcome Topical Relief Cream can treat their pain. This analgesic lotion will significantly reduce localized areas of discomfort. This is likely because of how CBD affects the body. CBD can increase our bodies' level of endocannabinoids by sending signals to our cannabinoid receptors. This can, in turn, help combat and relieve discomfort.

It's easy to imagine our bodies absorbing substances when we consume them. But it can be difficult to picture how rubbing a cream on your skin could impact things happening far below the surface. However, the skin is actually the largest active organ! It even functions as a blockage against potentially harmful substances. Also, it is quick to absorb oils, similar to the ones in Overcome Topical Relief Cream.
How to Use Overcome Best Relief Cream to Fight Uncomfortable Skin Ailments
People can apply Overcome Topical Relief Cream generously to troubled spots on their skin. For instance, they can use it for various skin disorders or to treat joint aches and muscle pains. Individuals use Overcome Topical Relief Cream for everything — from clearing up blemishes to decreasing inflammation from arthritis. It is also the perfect treatment for cracked, raw skin as well as muscle soreness. Ultimately, this hemp oil lotion is the ideal fix for those hoping to relieve their troubled aches and pains with a potent dose of CBD.
For the most significant results, simply pump the nozzle. Then, massage the relief cream onto any affected areas to quickly receive the calming effects of CBD. While your pains are diminishing, Overcome Topical Relief Cream will not only make your skin look younger but also feel incredibly smooth.

To experience all of the beneficial effects of CBD on your targeted areas, replace all of your regular topicals with Overcome Topical Relief Cream. If you do, you are certain to feel necessary relief from things like rashes, dryness and pains.
Is Overcome Topical Relief Cream Safe To Use?
Basically, yes! Cannabinoid and CBD oil products are generally safe to apply to the skin. It is unlikely they produce any negative effects. In fact, even if the cream contains THC, there will not be any intoxicating effects. That's because of the application method. 
That said, it's essential that users apply a small amount of Overcome Topical Relief Cream to their arm before putting a good amount to the area of discomfort. This is because testing the product beforehand will make sure not to further irritate an irritated spot.
Even more, it will make sure you don't experience any allergic reactions from a new skin product. To ensure an even safer product, be sure to use products that only have essential ingredients. Some of these include CBD, essential waxes, oils and base oil like hemp seed oil.
Overcome Topical Relief Cream For Skin Rejuvenation — From Anavii Market
Anavii Market is a leading seller of Overcome Topical Relief Cream, Lotions, Salves and more.
Do you have any questions about Overcome Topical Relief Cream or other CBD oil lotions in general? If so, please feel free to Contact Us here or give us a call at 502-209-8808. We're happy to help.
Overcome is: 
Their products are amazing and the customer service is unparalleled! The representatives are always kind and courteous, they are patient and willing to answer any question that you may have about their products.
Quentina
I researched Anavii for quite a long time. They are a very reputable company. Every experience I have had with Anavii has been professional, expedient, and exact. I am very pleased with every transaction I have had. All the products that we have used has worked as described.
Kathleen