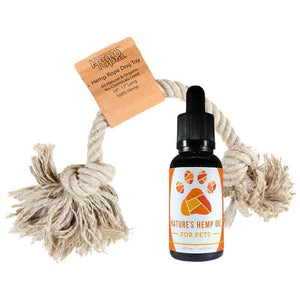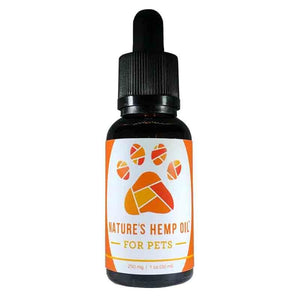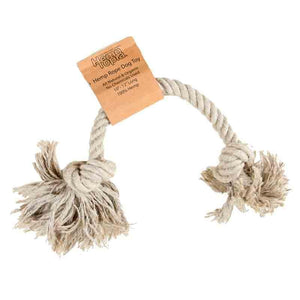 Enjoy our Hemp For Pets CBD Oil and Hemp Rope Gift Set. Ideal for your furry four legged friends! The gift set includes Nature's Hemp Oil CBD Extract for Pets and a Hemptopia hemp rope. 
Approximately 8mg per ml
Nature's Hemp Oil for Pets is a perfect all natural, 100% hemp extract that combines cold-pressed hemp seed oil with full spectrum cannabinoid rich hemp extract plus robust terpenes, flavinoids and micro-nutrients. 
The combination is bound to leave your pet wanting more. Nature's Hemp Oil for Pets is fantastic for relief, separation scares, and an overall calming mood. 
Product Ingredients: Organically sourced cold-pressed hemp oil & high concentrate hemp derived hemp extract oil
Suggested serving size varies based on weight of animal. Approximate dosage is 1mg per 10lbs weight of animal. Add CBD oil to treat or on food. Always consult your veterinarian if taking other medication. 
The Hemptopia hemp rope is a fantastic distraction for your dog or even your cat. The Hemptopia hemp rope delivers an all natural, strong fiber that will be difficult for even the biggest animals to break through. In addition, the hemp rope has no synthetic materials or dyes that can harm the animal if swallowed. 
Try the Hemptopia hemp rope and satisfy your pet's playtime! 
Don't forget to Round Up for Hemp at checkout! All proceeds benefit Hemp for Pets!
Their products are amazing and the customer service is unparalleled! The representatives are always kind and courteous, they are patient and willing to answer any question that you may have about their products.
Quentina
I researched Anavii for quite a long time. They are a very reputable company. Every experience I have had with Anavii has been professional, expedient, and exact. I am very pleased with every transaction I have had. All the products that we have used has worked as described.
Kathleen