Did you know that veterans make up 7.6% of our nation's population? That's 18.8 million veterans – 25% of whom are disabled, 15% suffer from PTSD, and 100% are deserving of sharing their stories and access to wellness resources.
This Veterans Day, Anavii Market is highlighting three inspirational veterans who represent three CBD brands on our website – Healing Harbors, Barlean's, and Life Patent. Through their remarks, together we can advocate for veteran's rights, wellness, and overall well being.
Do you serve or have you served our country as a military personnel, first responder, or government employee?
• • •
You may qualify for Anavii's Service Discount Program – click here to get 15% off CBD oil products from Life Patent, Barlean's, Healing Harbors, & Nature's Hemp Oil!
What was your role during your time with the U.S. military?

I spent most of my time as an aviation maintenance technician on HH60 helicopters out of Kodiak Alaska (e4, amt3) for the US Coast Guard.
Speak to your experience as a female in the Coast Guard.

When I was first stationed in Kodiak, my watch captain looked me in the eye and said:
"I don't respect you until you earn my respect and I don't care that you are a woman. You take this job seriously because it's a serious job and people are depending on you. You will get training by only a select few that I approve of and I expect you to work with night crew and come in on your weekends off to learn from those folks because they know the most and are the best teachers and I want you to learn it the right way."
After nearly 4 years in Alaska and beginning the transition of getting out of the USCG this same watch captain shook my hand and said:
"Well, Stacy you earned my respect and you're one of the hardest working people I have ever had the honor of supervising.
You did good and you should be really proud of yourself and the mechanic that you are. Thank you for all that you have done and you will be sorely missed."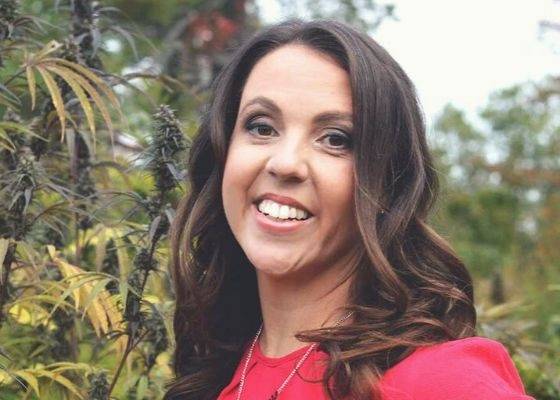 "I appreciated his honesty and realized that hard work is always noticed by those around you – and no gender, background, or other label matters when lives are at stake. I try to extend the same respect to everyone I meet in my industry now. Who's listening to their customers? Who's working hard despite their setbacks? Who's truly engaged and invested? Those are my people."
How can hemp-derived CBD oil benefit the veteran community?

I stumbled on cannabis while doing home healthcare and was blown away by the benefits. I took classes through Medical Marijuana Caregivers of Maine where I learned how to grow, extract, network with legislation, and much more.
Seeing the benefits of cannabis first hand I knew that this was a better option for me and should be an option for veterans who prefer more natural methods to healing certain ailments.
What is your positive experience with hemp-derived CBD oil?

I have found CBD products to be so helpful especially for me when I was struggling with anxiety, depression, and pain. I like the fact that there is nothing intoxicating from CBD and the different applications gives me options depending on what I am dealing with.
What sort of future would you like to see for veterans' wellness?

I would like to see more of a holistic approach to wellness if the veteran so chooses. Having more knowledge on plant based supplements, nutrition, endocannabinoid system, studies, and paying for this kind of treatment is so needed.
The hemp plant has so many uses and could be an economic boom that creates jobs, innovations, homes, oil, biofuel, super-capacitor batteries, pellets, protein, rope and so much more.
These products all provide new employment opportunities to veterans looking to learn a new trade and build a solid future for this country. So hemp really goes beyond health, with the potential to meet all of their needs for true quality of life and total wellness.
What was your role during your time with the U.S. military?

I provided missile communication during my time with the U.S. military in the late 1980s to 1990s in Kuwait and Germany.
How did that experience shape your professional life at Barlean's?

The military prepares you to work both as part of a team and on your own. I learned how to get organized and how to get from point A to point B as efficiently as possible. Most importantly, there was a strong emphasis on teamwork and communication.
Those skills allowed me to fit right into the family that is Barlean's. We have a great environment here ⁠— one that makes you want to work hard because you're doing it for your family.
What is your experience with hemp-derived CBD oil?

I have been taking CBD for five to six months now and it's really helped me. I'm a disabled veteran and I experience a lot of everyday nagging discomfort.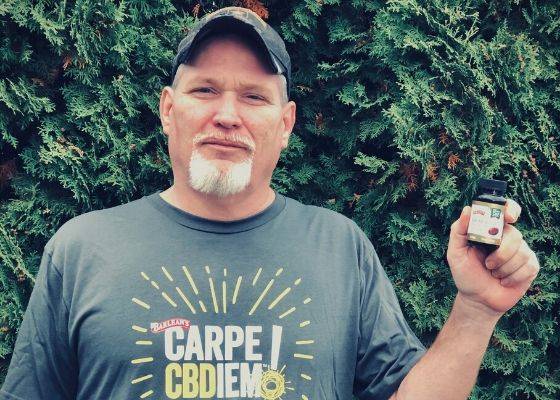 Before I started taking CBD, I admit I had that "grumpy old man" mentality and I was pretty skeptical about it working.
I'm 51 years old and it was a new thing, can you blame me?
But once I started working at Barlean's and taking CBD every day, my mentality changed.
In particular, I noticed how helpful CBD is with regular everyday stress. It really helps take the edge off.
How can hemp-derived CBD oil benefit the veteran community?

Based on my personal experiences, I believe CBD can benefit veterans and active military folks in so many ways. CBD never clouded my mind.
In my experience, you can go to work, take care of the kids and do whatever you need to get done. When I take CBD my mind stays sharp and I feel better.
I believe Barlean's really gets the importance of helping the veteran community. We just launched the "Hero Program," which is a military and first responder discount program that includes all of our products, not just CBD. Folks just need to call our Customer Service line to get it.
I really wish more companies like Anavii Market and Barlean's were doing this for our veterans.
What sort of future would you like to see for veterans' wellness?

I'd like to see veterans become more aware of things like CBD, yoga, meditation and other natural resources because I believe they can really help. There are some great natural options for veterans⁠—like CBD.
"The challenge is that these resources aren't always easy to find or centralized. We finally got a local Veteran's Administration (V.A.) clinic about 10 years ago. Before that, I had to drive about 100 miles to get to the V.A. Ultimately, I'd like to see accessibility become a priority when it comes to veteran's wellness. We're on our way, but there's much more work to be done."
What was your role during your time with the U.S. military?

I am a Korean War veteran who served for the U.S. Navy.
How did that experience shape who you are today?

Before I was drafted, I lived in Brooklyn, NY working 12 hour days, 7 days a week. I didn't know much about the world outside of my borough. Then I was drafted, an experience that was a complete eye-opener about life and what is available outside of my community.
We visited China, Japan, Panama Canal – all these places I had never been to before. That experience gave me the world view I never had – and it was incredible. I had the opportunity to understand what the world could offer.
My four years in the Navy showed me the value of how to communicate with other people and other cultures.
That set the stage for my entire life from that. It was an opportunity that helped me with my relationships with people and moving forward.
Speak to the story of creating your CBD company, Life Patent.

Well, it was a long road from the Navy to Life Patent. I was working as a retirement planner for a long time – during that experience I then met so many people talking about CBD and marijuana.
That's when I knew I had to get involved. With Keith Butler (CIO, Life Patent) and Phil Vail (COO, Life Patent), we got the company together in September of 2017.
And Life Patent is fortunate enough to know someone like Annie Rouse (co-founder, Anavii Market). That's someone who's just like us – get really great products to really help people!
"Which brings me to a letter I received in the mail awhile back from a woman using our products – she told us they saved her life. She didn't want anything, she just wanted to share her story. Holy smokes, it was unbelievable!"
How can hemp-derived CBD oil benefit the veteran community?

We want veterans to know that we understand what it takes, what it took, and how to act as a veteran – and as we grow older, we have situations that can affect our mobility, affect our sleep.
And showing our good faith for veterans, offering service discounts, listening to their stories, providing high quality hemp-derived CBD oil – all of this can benefit the veteran community.
What sort of future would you like to see for veterans' wellness?

Though I've personally never needed to utilize the V.A., I do have a Navy buddy who did for his shoulder and knee problem – but they couldn't help him.
So I sent him our CBD topical – which helped him in a way that the V.A. couldn't. I was so glad to help my friend out, but it would be nice if the V.A. took a look at CBD to help veterans move along in life.
---
Have any questions about CBD oil and the veteran community? Interested in sharing your service story? Please feel free to Contact Us here and check us out on social media. As always, we're here to help!