Looking to get your loved ones a meaningful gift they'll actually enjoy? Luckily, our team of experts at Anavii Market has put together this quick and easy CBD Holiday Gift Guide 2019.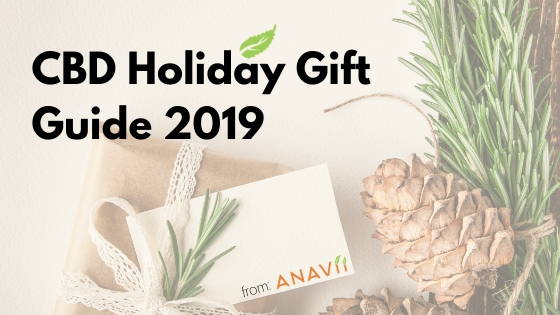 It's the holiday season, so you know what that means - spending some time and money to shower your loved ones with gifts.
In this CBD holiday gift guide 2019, we highlight some of the highest-quality CBD oils on the market that actually work!

CBD Holiday Gift Guide For Self Care Enthusiasts

CBD, or cannabidiol, the cannabis-derived hemp extract seems to be appearing everywhere these days.
This new must-have supplement is meant to provide healing and calming effects to its users.
The holidays can be an extremely stressful time. So, this holiday season, give your friends and family the gift of relaxation from this CBD holiday gift guide 2019.
Shop Best Selling CBD Products
---
Another good reason to consult our CBD holiday gift guide 2019 is if you're interested in introducing your loved ones to the world of CBD.
That's because the holidays are a wonderful time to not only spread holiday cheer but also promote mental and physical wellness.
At Anavii Market, we know that finding the right CBD oil product for someone can be a daunting challenge. With so many products available on the market, it can be difficult to know which product to choose.
However, there is no need to stress. This CBD Holiday Gift Guide 2019 will answer for you!
Best CBD Gifts To Get For This Holiday Season

Our professional team has reviewed thousands of available CBD oil products and hand-selected the very best for our CBD Holiday Gift Guide 2019.
We have arranged our CBD Holiday Gift Guide 2019 into 5 categories that will help you easily find the right CBD gift for your loved one.
1. CBD Gifts For Those Looking To Relax

Especially during the holiday season, stress can creep up on people. Between having your in-laws visit, cooking a large holiday meal and buying everyone gifts, it's easy to get overwhelmed. Is there anyone in your life who fits this category?
Or perhaps one of your close friends or family members has opened up to you about suffering from anxiety.
Maybe someone has difficulty falling asleep. Regardless, for these individuals, products that promote an overarching feeling of calmness is perfect.
For this reason, one of the first products on our CBD Holiday Gift Guide 2019 is the Ananda Hemp Full Spectrum CBD Oil Tincture.
Shop Best CBD for Stress Relief
It is available in both 10mg and 20mg CBD per serving. Even more, this oil is the perfect blend of full spectrum cannabinoid, hempseed oil and MCT oil.
Natural wellness and relaxation has never been easier with the Ananda Hemp Full Spectrum CBD Oil Tincture.
Below are some of our other CBD oil gifts we recommend for stress relief:
2. Holiday CBD Oil Gifts For Those With An Active Lifestyle

For individuals with an active lifestyle, suffering from joint and muscle aches and discomfort is basically unavoidable.
Therefore, if you know someone who is always working out, CBD oil from our CBD Holiday Gift Guide 2019 is a perfect solution.
Shop Best CBD for Muscle Soreness
The active individual in your life will truly value the benefits of CBD for aching joints and sore muscles. For this reason, one of the products we suggest is RE Botanicals Hemp CBD Relief Body Oil.
This versatile CBD oil is available in both peppermint and lavender scents. Conveniently packaged in a small glass bottle with a roller ball, this body oil is perfect for active individuals.
Your friend or family member can quickly roll the RE Botanicals Hemp CBD Relief Body Oil on the area of discomfort and feel instant relief!
Some of the other CBD oil gifts for muscle soreness and joint discomfort from our CBD Holiday Gift Guide 2019 are:
3. For Those Into Self-Care, Health and Wellness

Our most potent products are a perfect fit for those who are most familiar with CBD. They will be enthusiastic to try the latest in CBD products!
For anyone who is health-conscious, they most likely won't be afraid to try CBD. Rather, they actually might already be using the compound for its positive effects on one's body and mind.
For this reason, some of the most potent products we offer in our CBD Holiday Gift Guide 2019 fall into this category. Specifically, two of the most effective CBD oils we offer are Bluebird Botanicals Complete and Classic CBD Oils.
Shop Bluebird Botanicals CBD
These CBD oil tinctures are made with raw industrial hemp oil extract. With a proprietary mixture of CBD and cannabinoids, the Bluebird Botanicals Complete CBD oil supports a healthy lifestyle.
Here are some of the other CBD oil gifts for health-conscious loved ones from our CBD Holiday Gift Guide 2019:
4. CBD Oil Presents For Those New To The World Of CBD

In case you have experienced the benefits of CBD oil first hand and want to share with others, we've got you covered.
There might be some friends or family members who are hesitant to enter the world of CBD. Even more, they might not know where to start, or might not like the taste.
Therefore, our CBD holiday gift guide 2019 highlights the best tasting CBD oils on the market!
Specifically, Barlean's Seriously Delicious CBD Hemp Oil Chocolate Mint Emulsion is one of our most popular products. That's because with its unique absorption technologies, along with its chocolatey flavor, CBD newcomers absolutely love this product.
With a creamy taste, it goes down easy. Even more, it helps give all of the benefits of CBD with a yummy chocolate flavor! You can try this is a lemon drop flavor too.
CBD Holiday Gift Guide 2019 has lots of tasty and helpful options for those new to CBD. Some of them are:
5. The Best CBD Oil Gifts For People Always On The Move

Last but not least, some people seem to never stop moving. Going from work to home to the store, some individuals are too busy for self-care.
So, be sure to get these people CBD oil products that are quick and easy to consume! Your loved one will truly appreciate the thought in this gift.
Therefore, for our CBD holiday gift guide 2019 easy-to-use product recommendation, we suggest Barlean's Ideal USDA Organic CBD Hemp Oil.
It's right there in the name, this CBD oil is truly ideal for fast-paced individuals. It is quick to use and small enough to fit in your bag or pocket to take with you on the go!
Other Quick and Easy CBD oils we suggest in our CBD Holiday Gift Guide 2019 are:
The Best 2019 Holiday Gift Guide For CBD Oil – Jingle All The Way This Holiday Season With Anavii Market's CBD Holiday Gift Guide 2019

We hope you enjoyed our CBD Holiday Gift Guide 2019. This holiday season, celebrate your loved ones with one of our many highly effective CBD oil products.
If you're still unsure which CBD product is best for your friends or family, consider trying our CBD Oil Sample Pack.
Bundled in a box with thirteen of our favorite products plus stickers and informational material, you and your loved ones can try an assortment of products to discover what works best!
Our CBD Oil Sample Box is a fan-favorite and one of our most loved products from our CBD Holiday Gift Guide 2019.
For more information about which CBD oil will make the perfect gift for your loved one or any questions about our CBD products in general, please feel free to give us a call at 502-209-8808 or Contact Us here.
The products sold on this site and these statements herein have not been evaluated by the FDA. This product is not intended to diagnose, treat, cure, or prevent any disease.

---